Summary :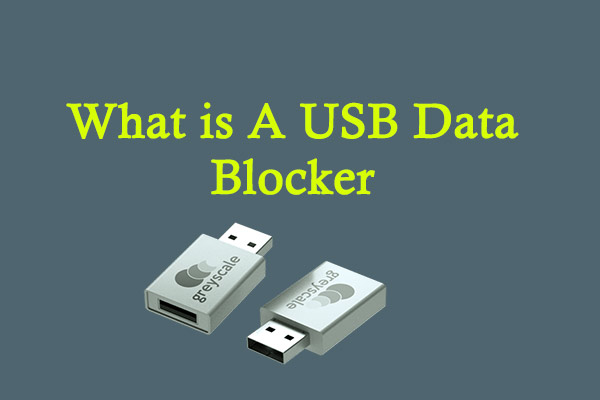 It is necessary to use a USB data blocker when you use public USB power plugs for data security. To help you better understand it, MiniTool Partition Wizard develops this guide from which you can also learn about some recommended USB data blockers.
What Is A USB Data Blocker?
A USB data blocker is also known as a USB condom. As its name implies, this tool is used to protect your data from being infected, copied or damaged via the USB ports. It is quite helpful for users who need to charge their devices via the public USB power plugs.
You might have heard about such a case where the data is leaked or the device is infected by malicious software after charging with the public USB ports. The USB data block is used to prevent such data leakage and protect your device.
It works as a protective layer that can block data pins from coming through your device to avoid any unexpected data exchange. In other words, if you a USB data blocker while charging, your device will charge only without any data flowing.
Related article: How to Transfer Files from Android to PC Effectively?
Why Do You Need A USB Data Blocker?
Nowadays, people are used to traveling with their portable devices, such as smartphones and tablets. Some of you might have experienced such a moment: the device is running out of power and you are frantically looking for a place to charge.
The safest way to charge a device outside is to directly using an AC power outlet or a portable power bank, but the reliable method might be unavailable sometimes. At this time, a public USB charging port might be a lifesaver for you. However, it is not so safe to charge your device via a public USB port.
Actually, hackers can load malware onto the public charging station (or the cables left plugged into the stations). Once you connect your device via the USB port, your password and other important data on the device might be delivered to the hacker's, or the device might be infected by the malware, which is known as juice jacking.
If you have no choice but using the public USB charging port, then you need a USB data blocker which can protect your device from data leakage or malware infection while charging. The USB data blocker is a portable tool and is not expensive, and it is a good choice to prepare one when you travel out.
Best USB Data Blockers You Can Choose
If you don't know what USB data blocker you can choose, just keep on your reading. Here are some recommended USB data blockers you can take into consideration.
#1. PortaPow 3rd Gen USB Data Blocker
This product can protect your smartphone (both Android and Apply devices) and tablet while charging. It is also designed with a Smartcharge chip which supports high-speed charging to enable you charge devices efficiently.
#2. SENHUO 3rd Gen USB Defender & Data Blocker
This brand-friendly product is also a popular tool to protect mobile devices from juice jacking. Besides, it comes with a Type-C cable that enables you to connect it to a USB-C port.
#3. EDEC USB Data Blocker
With its compact design, the EDEC USB data blocker is a better choice for users who'd like to take such a tool around to work or social meetings and initiate charging. It also compatible with Android and Apple systems.
#4. Amptec FC3XD Data Blocker
This USB data blocker can also allow you to charge your mobile devices quickly and securely. Besides, it features a robust PVC body, so you can put it into your pocket without worrying about damaging it.
#5. CHARGE DEFENSE Data Blocker
This USB data blocker should be a reliable tool for most common users, as it was designed based on the feedback provided by veteran engineers. It is worth mentioning that this product uses USB 2.0. So, if you need a Type-C USB adaptor, perhaps you need to choose another utility, such as SENHUO USB data blocker.