Sometimes, you might be unable to open Microsoft Office Excel due to the stole32.tlb error. In order to help you fix the issue, MiniTool Partition Wizard develops a simple guide that contains several feasible solutions. Keep reading to get the detailed instructions.
Microsoft Office Excel is widely used in workplace, but there have been plenty of reported errors with this program, such as Excel not responding. Today, we will talk about another common issue related to Microsoft Office Excel: stole32.tlb.
When you open Excel, a pop-up window might appear with the error message "stdole32.tlb" and your Windows will try to configure Microsoft Office. This error commonly occurs in Excel 2007, and some users of Excel 2010/2013 also report the issue. Besides, the stdole32.tlb error message might also happen to Microsoft Word.
To fix the issue, you can firstly scan your system for virus/malware and install any available Windows updates, which have been proven to be effective for some users. If this is not helpful for you, here are some technical solutions you can have a try.
Fix 1: Repair Microsoft Office
For any issues with Microsoft Office suite, the direct solution is to repair the Microsoft Office package. It is an easy operation and you can follow the steps below:
Step 1: Open Control Panel and choose Programs category.
Step 2: Click Programs and Features and find Microsoft Office among the list.
Step 3: Right-click your Microsoft Office and choose Change.
Step 4: Click Repair > Continue and the wait patiently until the repair process is completed.
After that, restart your computer and check if you can open Excel without the stdole32.tlb error.
Fix 2: Perform SFC Scan
If certain related system files are missing or corrupted, you might also encounter the stdole32.tlb in Excel. In this case, you can simply use the built-in System File Checker utility.
Just press Windows + R, input cmd, and press Ctrl + Shift + Enter to open Command Prompt as administrator. Then, input the command sfc /scannow and press Enter to start scanning your system files.
If there are any problematic system files, this tool will replace them with a cached copy. If the issue still exists after trying this method, you can move on to the next one.
Fix 3: Rename the Setup File
This is a recommended solution from users and it has helped some of them resolve the issue effectively. So, you can also have a try.
To do that, you need to open File Explorer and locate the setup file. This file might be saved in either of the following path:
C:\Program Files\Common Files\microsoft shared\OFFICE12\Office Setup Controller
C:\Program Files (x86)\Common Files\microsoft shared\OFFICE12\Office Setup Controller
Note: The number in the name of OFFICE12 might vary in different version of Microsoft Office program.
Then, right-click the setup file and choose Rename, and input something else other than setup. Once it's done, you might still receive the stdole32.tlb error message, but the configuration will not start up after click the OK button and you can use Excel properly.
Fix 4: Change Permission for Certain Windows Registries
Alternatively, you can also try changing permission for certain related registry keys. This is a risky operation, and you need to back up your Windows registry in advance. Then, follow the following instruction to complete the operation.
Step 1: Press Windows + R, input regedit and click OK to open Registry Editor.
Step 2: Go to Computer\HKEY_CLASSES_ROOT\Excel.Chart.8, right-click Exel.Chart.8 key and choose Permissions.
Step 3: In the pop-up window, click Add button. Then, in the box under Enter the object names to select, type everyone, click Check Names and OK.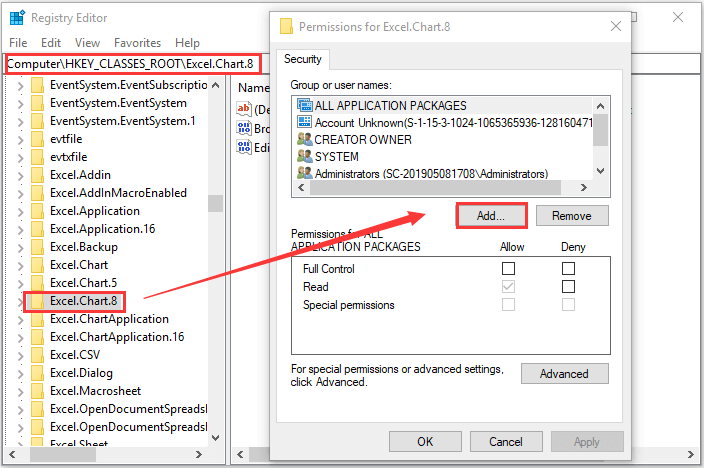 Step 4: When you go back to the Permissions window, click Advanced button. Then, click Change. Again, input everyone and click Check Names > OK, and you can see the Owner of the key has been changed to Everyone. Click Apply and OK to save changes.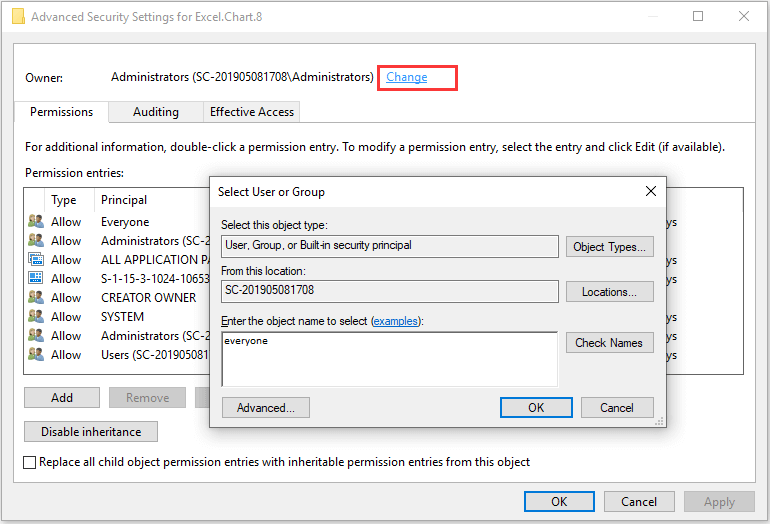 Step 5: When you go back to the Permissions window again, select Everyone in the list of Group or user names and check Full Control and Read permissions in Allow column. Click Apply and OK to close the window.
Step 6: Press F5 to refresh the registry data base and a new subkey called Protocol will appear under Excel.Chart.8 key. Repeat the step 3-5 to change permission for this new key. Then, refresh registry database again and change permissions for subkeys StdFileEditing\Server as well.
Once it's done, you can close the window and restart your computer to check if the Excel error stdole32.tlb is fixed.
If this fail to fix your problem, you need to restore the saved registry backup file and then try reinstalling your Microsoft Office suite.