Spotify is a popular music streaming service. There are millions of songs available on Spotify. In this post, MiniTool Partition Wizard introduces a tutorial on how to view Spotify listening history. You can have a try when you need to find your recently played songs.
Spotify is an audio and music streaming service that provides more than 80 million songs. It is a freemium service available on many devices, such as Microsoft Windows, macOS, and Linux PCs, iOS and Android phones/tablets, smart speakers, etc. Spotify users can get some basic features for free with advertisements and limited control. For more advanced features, users need to pay for subscriptions.
Spotify will save the listening history so that users can see their recently played songs and it can recommend more music according to users' preferences.
How to view Spotify listening history? Here are several methods. You can choose one when you plan to check your recently played music.
Method 1: View Spotify Listening History on PC
On a PC, you can access Spotify via the desktop client or a web browser such as Microsoft Edge or Google Chrome.
On the desktop client, Spotify allows you to view the last 50 songs you listened to. Please note that the listening history on Spotify desktop won't show the songs you played on web browsers.
Here is how to view Spotify listening history on a desktop client.
Tip: The following steps can also be applied to the web version of Spotify. Please be aware that the songs you played on your desktop client won't be included in the web version.
Step 1: Launch your Spotify client.
Step 2: When you get the main interface, click the Queue button located in the bottom right corner.
Step 3: Switch to the Recently played tab. Then you can view your Spotify history.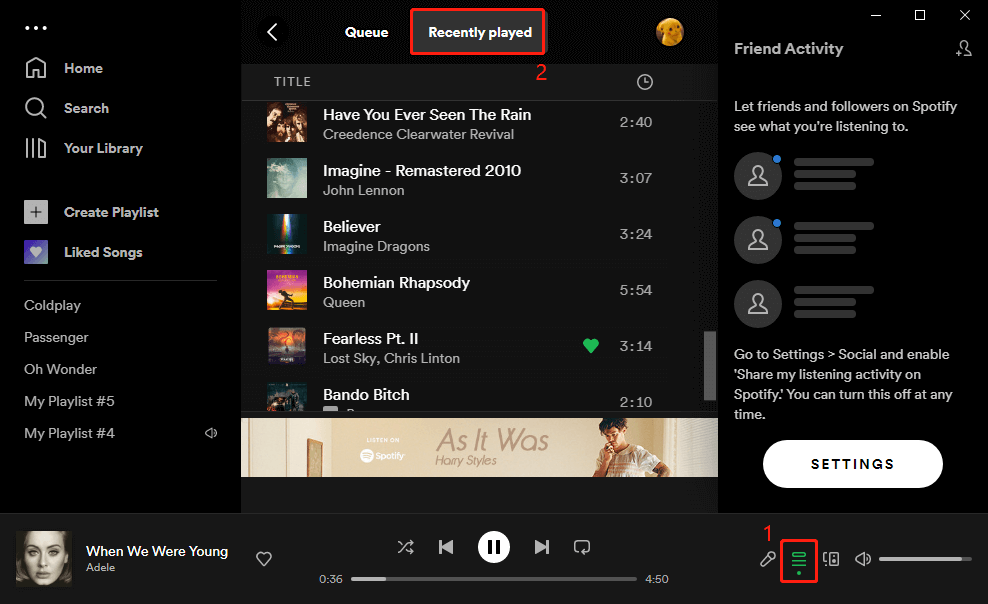 Alternatively, you can go to Spotify Home and there is a Recently played section where you can view some recently played songs. To view the whole list, you need to click the SEE ALL button.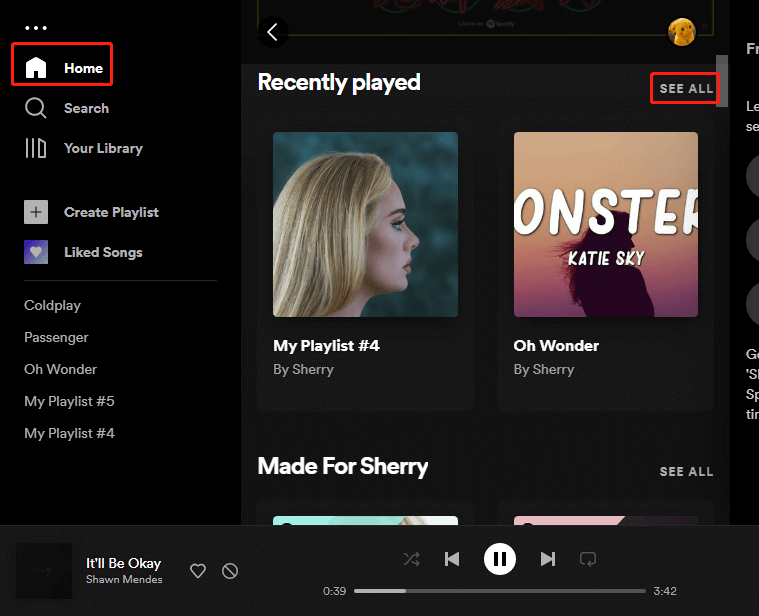 Method 2: View Spotify Listening History on a Mobile Device
On an Android or iOS mobile device, you can follow the steps below to view Spotify listening history.
Step 1: Open the Spotify application and go to Library.
Step 2: Open a playlist, and tap the Add songs button.
Step 3: Swipe to the left three times and you will be able to see the Recently played list. You can scroll down to view more songs in the list.
On an iOS device, you can also view listening history on Spotify by going to the Spotify Home page and tapping the Clock icon located in the top right corner.
You might wonder whether you can clear Spotify listening history. Unfortunately, Spotify doesn't allow you to delete Spotify listening history on mobile devices or web browsers.
You were able to delete Spotify listening history items on the desktop client one by one, but it seems that this option has been removed. A lot of users complain that it makes Spotify user-unfriendly.
By the way, if you have any ideas about this topic, you can share them with us in the following comment zone.