Summary :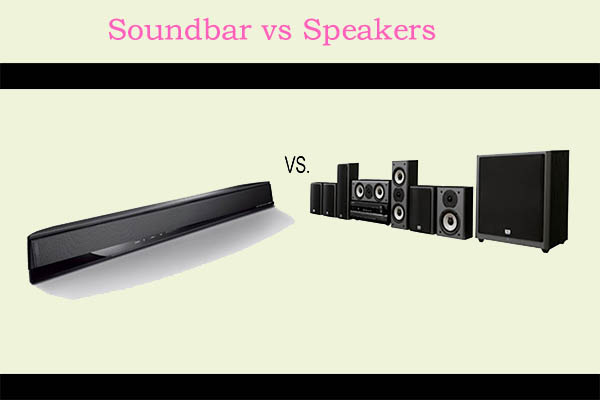 Soundbar vs speakers: what's the difference? To choose a sound system from them, it is necessary to talk about this question. After finding the features of them, you can make a wise choice. Here, MiniTool would focus on this question and explore the answer.
What Is the Soundbar
Soundbar (also called sound bar or media bar), is a kind of loudspeaker projecting audio from a wide enclosure. It is a slim and oblong-shaped device that can be mounted on the wall beneath TV or placed flat on the TV stand.
Tip: In a soundbar, multiple speakers are placed in a single cabinet to create surround sound and stereo effect.
Here are 3 main soundbar types:
Surround soundbars: They can create an immersive surround sound effect through multichannel surround sound formats. They usually support Dolby Atmos and are denoted as 5.1 or 7.1. Besides, they contain centre, left, and right channels.
3.1 soundbars: As they have a dedicated centre channel, they can provide clear sound for you when you have difficulty in hearing the voices while watching TV.
2.1 and 2.0 soundbars:  They are stereo soundbars with a left and right channel. If you want to boost the current speaker of your TV without costing much, they are good option.
Also read: How to Mount and Unmount Drive in Windows 10
The soundbar has both pros and cons. They are summarized as follows.
Pros
Affordable
Easy to set up
Self-contained
Advanced features included in some models
With better sound quality than TV speakers
Cons
Can't upgrade individual components or add new surround formats
Limited features compared with a receiver
Don't sound as good or play as loud as a full surround-sound systems
Costs more without improved sound quality
What Are Speakers
Speakers (or multimedia speakers) are output hardware devices that can connect to computers or other types of sound systems to generate sound. Speakers receive audio input from devices like computers or audio receivers and then convert electromagnetic waves into sound waves.
Tip: The sound produced by speakers is defined by frequency and amplitude. The frequency decides how high or low the pitch of the sound.
Pros
Power matching
Frequency and phase response
Space-saving
Remote control and monitoring
Cons
Overheating
PC power required
Slight audio delay
Recommended reading: PS5 VS PS5 Digital: Which One Is Better for Game Playing
Soundbar vs Speakers
This post would illustrate speakers vs soundbar from aspects of similarity and difference of the two items.
Similarity
Both the soundbar and speakers can offer you better audio than your TV. With them, you can enjoy better-quality sound for movies and TV shows. Besides, they can stream music through Bluetooth or Wi-Fi from the phone or enable control via a voice assistant like Alexa or Google Assistant.
Difference
Speakers vs soundbar: what's the difference. Here we would analyze the difference between soundbar and speakers from the aspects of features, audio quality, design, upgrade, installation, and price.
Features
Soundbar offers features like Bluetooth compatibility and embedded smart assistants. Most soundbars and AV receivers can connect to TV with the help of an HDMI cable. Soundbars usually have only one HDMI port on the back, which indicates that you can only connect soundbars to the TV.
With several HDMI ports, most AV receivers can connect to devices like game consoles, Blu-ray players, etc. Only if you have the right AV receiver, you can get all the same features and more.
Audio Quality
Though soundbars can boost the TV's audio, surround sound speakers usually offer the best audio quality. Generally speaking, speaker systems offer a much wider soundstage than even the most expensive soundbars.
Design
If you want to get a chic sound system for the home theatre, the soundbar is a great choice. Surround sound speakers occupy much space and don't look good. In order to make a surround sound system look as good as possible, you are recommended to get speakers from the same producers and the same line.
Upgrade
Surround sound speakers provide you with more options to upgrade the sound system. However, soundbars don't offer much upgradability.
Installation
Compared with surround sound speakers, soundbars are easier to set up. As soundbars are all-in-one devices, there is usually one wire. You just need to plug the soundbars into your TV. To set up surround sound speakers, you are required to wire each unit to an AV receiver as they contain many individual speakers.
Price
Soundbar vs speakers on cost, the latter charges higher fees. Speakers can easily cost as much as a soundbar. Besides, you need to buy an AV receiver to use the speakers.
Bottom Line
Soundbar vs surround sound speakers: which one to choose? You may have the answer now! Pick one according to your demand.