SBCGlobal not only provides users with e-mail services, but also can be used to share documents, images and other media. But sometimes you may encounter SBCGlobal email not working error. In this article from MiniTool Partition Wizard, we will discuss how to get rid of this error on the browser, iPhone or Android.
SBCGlobal email not working is an issue that happens when you want to use SBCGlobal to send and receive emails on your computer, phone, tablet, etc. It stops you from using SBCGlobal as normal.
The SBCGlobal email not working may happen for several reasons:
Poor internet connections.
The SBCGlobal server is down.
Use an older version of the browser.
Improper browser settings.
Incorrect login credentials entered.
Email settings are incorrect.
…
Based on these reasons, you can fix SBCGlobal email not working in order until it gets solved.
You should double-check that you have entered the correct username and password before trying the methods below. But if you don't remember your password, you need to reset your SBCGlobal password.
SBCGlobal Email Not Working on Browser
Way 1: Check Your Internet Connection and Speed
A good internet connection is required to access your SBCGlobal email. The poor internet connection can be the most common reason why SBCGlobal email is not working. Therefore, you should check whether your internet connection is enabled. If yes, you can then check the Internet speed to see whether it is fast enough to run SBCGlobal email.
Way 2: Check for Server Issues
The next way you should take is to check the server status of SBCGlobalif it is down. For this, go to this link and find the server status of AT&T. Because SBCGlobal has been acquired by AT&T, if AT&T is not working and the servers are down, then SBCGlobal will also have problems.
Way 3: Update and Optimize Your Browser
If you are using an outdated browser, you may encounter compatibility issues with SBCGlobal, so please update your browser and log in to your account. Also, clearing your browser's history, cookies, and cache may also fix the problem. Here is Chrome as an example.
Step 1: Open Chrome on your computer. Then click the three-dots icon on the right corner of the window.
Step 2: Then navigate to More tools > Clear browsing data.
Step 3: Check the Cookies and other site data and Cached images and files box, and then click the Clear data button.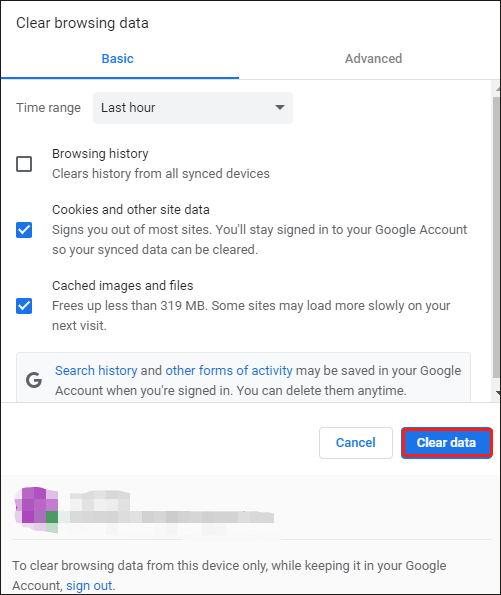 SBCGlobal Email Not Working on Android
Are you having trouble with SBCGlobal.net email on your Android device? If yes, then make sure you check out some of the methods we have listed below.
1. Restart your device.
2. Make sure your phone is connected to WiFi/active cellular network.
3. Set correct IMAP settings for SBCGlobal email on Android
Incoming Mail (IMAP) Server: mail.yahoo.com
Incoming port: 993
SSL Requirement: Yes
Outgoing (SMTP) server: mail.yahoo.com
Outgoing port: 465 or 587
SSL Requirement: Yes
Authentication Requirement: Yes
4. Uninstall and reinstall the app on your device
SBCGlobal Email Not Working on iPhone
If you encounter SBCGlobal email not working on iPhone, there may be a problem with the iPhone's Settings or the iPhone's iOS system. Poor internet connection may also be one of the issues if your phone is running on an older iOS version.
Bottom Line
All ways for fixing SBCGlobal email not working on different devices. If you have any doubts about this post or have any better way to this problem, you can share it in the following comment zone.