Recently some Roblox players reported that they encountered the Error Code: 610 Join Error. if you encounter the same error, don't be panic. This post from MiniTool will show you some top solutions to get rid of Roblox error code 610.
Roblox is a very popular multiplayer online video game which was launched in 2006. Roblox is primarily an online platform that allows users to create their own games. And they can also play different type of games created by others. Up to August 2019, Roblox has more than 100 million monthly active users.
However, recently, a lot of Roblox player are suffering from the Roblox error code 610. It seems that this error code usually occurs when you start the game and the reasons for the error are various such as Roblox server issue, account glitch, expired or bad cache DNS and other complicated reasons.
Many users don't know how to fix the error code 610 and ask if there are effective solutions to remove the error.
If you are one of them who have encountered the same issue, don't worry. After analyzing several posts on how to fix Roblox error code 610, here I have summarized some top solutions that may help you effectively remove Roblox error code 610.
If you don't know how to fix error code 610, try the following solutions one by one.
Solution 1. Log out and Log Back in Your Account
The Roblox error code 610 can be caused by an account glitch. If this is the case, you can log out your account first and then log back in. some users successfully remove the Roblox error code 610. If you think this may work for your case, you can have a try.
Step 1. After you log into your Roblox account, click Settings button on the upper right corner and click on Logout.
Step 2. Refresh the browser page and Log in again with the same account. Log In your account again.
Step 3. Switch to the Game tab and then start a game in Roblox again to see if the Roblox error code 610 disappears.
If this doesn't work, you can also try using another account or create a new account to see if this can remove the error code 610. If you're still encountering the 610 error code, try the next method below.
Solution 2.Refresh IP & DNS Configuration
According to some affected users, they found that refreshing your IP and DNS configuration in an elevated Command Prompt was an effective way to remove Roblox error code 610. If you still have the error code 610, you can try this method to flush the saved DNS addresses on your PC.
If you don't know how to refresh IP & DNS configuration, you can follow the steps below:
Step 1. Type cmd in the Windows Cortana search box, right click the best match Command Prompt and select Run as Administrator.
Step 2. After opening Command Prompt, type the following command and hit Enter to refresh the Internet connection:
ipconfig /flushdns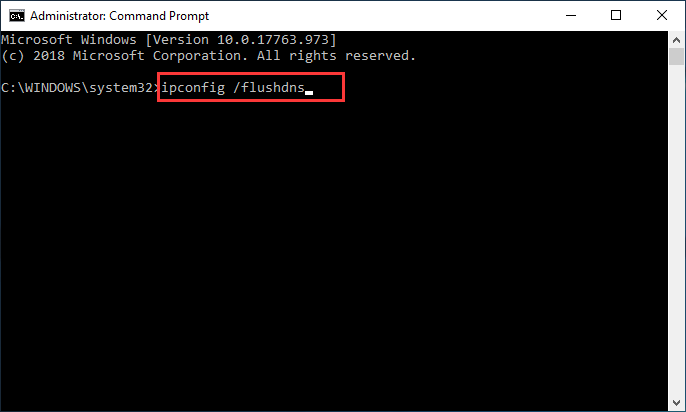 Step 3. When it is finished, click exit to close the elevated Command Prompt and restart your web browser.
After restarting the browser, you can open Roblox again and see if the issue gets resolved.
Solution 3. Download Roblox on Your PC If You Are Using Windows 10
If you are using Windows 10, another way for you to bypass the Roblox error code 610 is to download and install Roblox on your Windows 10 PC. Several Roblox players have managed to fix the error code 610 after install Roblox on Windows 10. If above solutions don't work, you can have a try.
Step 1. Download Roblox on your computer. You can click the Get button on the linked webpage and then click open Windows Store on the pop-up window.

Step 2. In the Windows store, follow the prompts to download Roblox. Once the download is finished, you can click Play to launch the application.
Step 3. Then log in with your own user account.
Step 4. Go the Game tab and launch a game to see if the Roblox error code 610 has been resolved.
You may be interested in this post: [Solved] How to Fix Roblox Error Code 110 on Xbox One?
After reading this post, now you should know how to fix the Roblox error code 610. Which solution works for you? Do you have better solutions? We are glad to have you share it with us.