Do you know what is AFK Arena codes? Are you confused about how to redeem AFK Arena codes? This post from MiniTool Partition Wizard tells you all the information about AFK Arena codes and offers a how to redeem AFK Arena codes.
About AFK Arena Redeem Codes
AFK Arena is an arena batting game that allows you to assemble teams and let them fight. Released in 2019, AFK Arena becomes one of the most popular arena batting games among gamers.
It's worth noting that AFK Arena is a mobile game. Like most mobile games, AFK Arena also has its monetization system. If you want a better game experience, you need a lot of different currencies.
Code, the best tool to help you play this game, deserves your attention. It could help you earn many diamonds and coins or collect other cosmetics. What is more, it also helps you play AFK Arena with less money.
If you're a veteran of AFK, you must know that AFK codes have certain timeliness. The following will show you a list of the codes including active and expired ones.
Also read: 5 Best Gaming Laptops under $1000
AFK Arena Codes 2022
Try your best to focus on the latest information, because the AFK Arena redeem codes have certain timeliness. Here are the most recent codes that are currently available.
Active AFK Arena Codes 2022 (April)
afk888
i43a5pk3jw
i4hhzxxvj7
i4musq8dr6
ithg8qup87(NEW)
ivbkiwausq
jinsuo666
LORDDREAF
Misevj66yi
Talene2022
Uf4shqjngq
Expired AFK Arena Codes 2022 (Incomplete Statistics)
AFKDLWNSUS
Zq6apizmr6
101nc107h
1FANFENGSHUN
2019MOTHEREDAY
25PG5GNPCF
26DNUIW8S4
2LONGTENGFEI
2N7GEK6RTC
2NZZY8Y67V
311j4hw00d
3AGHU4EGJE
3BAEE6V3V7
3GPASHA3CH
3YANGKAITAI
4rytg4u2q6
576W235SUW
57KH69FHZR
6u226crhtp
76SHWCV6E4
7k8n2s8bnx
7r3bbdqth2
85de5ar9ts
8e27shfk6b
8vws9uf6f5
9biwud4xrt
9qgzux8k82
aaz27uvgfi
afk2022
afkelijah
How to Redeem AFK Arena Codes?
The ways to redeem AFK Arena code on the mobile and the PC are the same. Here, the post walks you through the process on the PC.
Before redeeming AFK Arena codes, you need to find your UID. Now, follow the steps below to learn how to find your UID.
Step 1: Open AFK Arena and enter the main interface of this game.
Step 2: Tap your profile photo at the top left of this interface, and you will see the account details page. The UID can be found in the upper right of the details page.
Here, learn to redeem AFK Arena codes from the next full guide.
Step 1: Click here to proceed to AFK Arena's redemption website.
Step 2: In the log-in interface, just type your UID.
Step 3: Now, you have to find the verification code. Simply click How to find your verification code and follow the steps.
Step 4: After getting your verification code, you ought to copy it.
Step 5: Switch the page to the interface of log-in and paste the verification code.
Tip: The verification code will be invalid after 2 minutes.
Step 6: Click the option of Log In.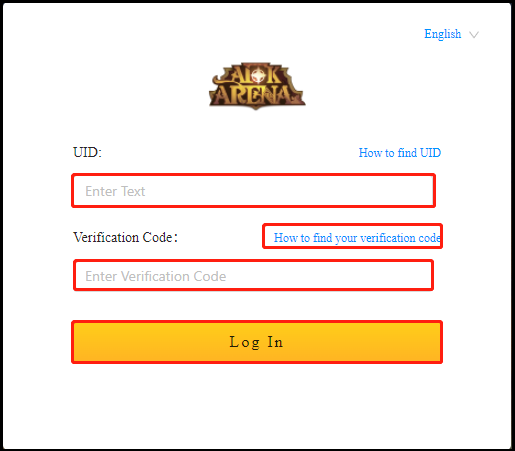 Step 7: Now, choose a code from the list above and press the Redeem button to get your rewards.
Tip: You need to get your rewards from your in-game mailbox.
Also read: Here Are 10 Tips to Optimize Windows 10 for Gaming
Bottom Line
From this post, you have known about the AFK Arena redeem codes and obtained the latest AFK Arena redeem codes. What is more, you have learned how to redeem AFK Arena codes. If you have any problems, you can contact us.