It must be annoying when you are trying to perform an important accounting task but QuickBooks won't open. Here, this post from MiniTool Partition Wizard introduces several methods that may help you solve the issue.
QuickBooks is one of the best full-featured accounting software that enables you to manage your personal and business finances better. With this tool, you can track your income, send invoices, etc. It's popular with almost everyone and every business, especially with those who have no accounting background.
Although QuickBooks is such a great tool, sometimes you might be disappointed with it when QuickBooks won't open. It's a common issue and the following are some possible reasons for it:
The missing or corrupted QBWUSER.INI file
Hard disk issues
Improper installation of QuickBooks
Destroyed program files
The outdated operating system
…
How to fix the "QuickBooks not opening" issue? Look at the following guide.
Solution 1: Perform A Restart for QuickBooks
When QuickBooks won't open, you can try to restart the program first.
Step 1: Right-click the Start icon on your desktop and select Task Manager.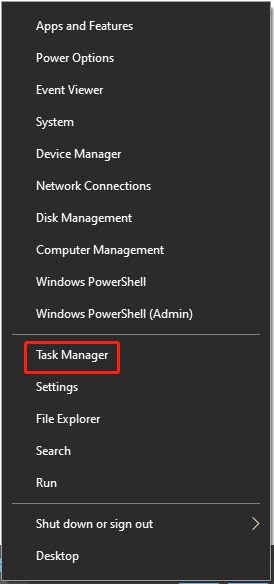 Step 2: Go to the Details tab and select the QBW32.exe process. Then click End task on the bottom-right corner of Task Manager. After that, QuickBooks will close.
Step 3: Restart QuickBooks to check if the error is fixed.
Solution 2: Restart the Desktop
A system restart will bring your system from the scratch and reset the current status of the application. It can repair many temporary glitches. Therefore, you can also try a restart of your computer to resolve the "QuickBooks Online won't open" issue.
If the issue persists after you restart your system, you need to continue with other solutions.
Solution 3: Enable the QuickBooks Database Manager Service
The "QuickBooks won't open" issue may also happen if the QuickBooks Database Manager service that manages communication between QuickBooks and your company files is disabled. Hence, it is recommended to check if this service is enabled when you meet the issue.
Step 1: Press Windows + I to open the Run dialog.
Step 2: Type services.msc in the box and then press Enter.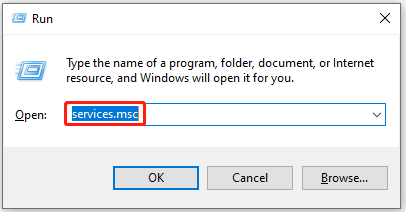 Step 3: In the Services window, scroll down to find the QuickBooks Database Manager service. Then right-click it and select Start to run this service.
Tips:
If this service has already been running, you can select Restart to enable it again.
Solution 4: Rename the QBWUSER.ini. File
As mentioned above, the "QuickBooks Online won't open" issue may come out if the QBWUSER.INI file gets corrupted. In this case, you can try to fix the issue by renaming this file.
Step 1: Press Windows + E to open File Explorer.
Step 2: Locate the QuickBooks folder and then find the file named QBWUSER.INI.
Step 3: Right-click this file and select Rename. Then add .OLD at the end of the name.
Step 4: Once done, try to open QuickBooks once again to see if the issue is resolved.
Solution 5: Suppress the QuickBooks Application
Another way to get rid of the "QuickBooks not opening" issue is to suppress the QuickBooks app. To do this, follow the simple steps below.
Step 1: Press and hold Ctrl and then double-click the QuickBooks shortcut icon on your desktop.
Tips:
Don't release the Ctrl key until the "No Company Open" window pops up.
Step 2: After that, you can select a company file you want to handle and click Open. 
Additional Feasible Solutions if QuickBooks won't open
All these solutions mentioned in this post are available. You can follow them when you get stuck in the "QuickBooks won't open" issue. If you have any other good ideas about how to solve the issue, you are welcome to leave a message in our comment part to share with us.