Summary :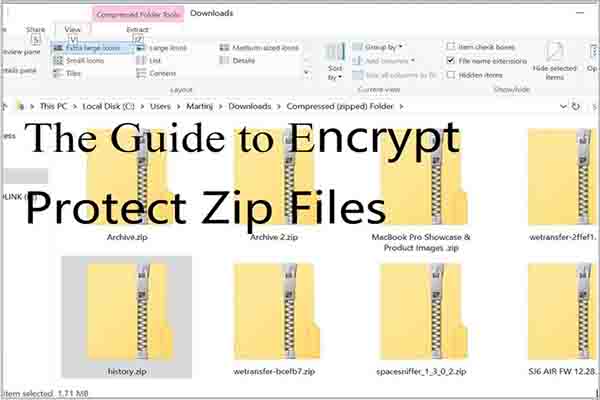 In modern society, privacy becomes more and more important. In order to keep zip files safe, many people want to encrypt or password them. However, this is not known to all. Here, MiniTool will offer you the steps to password protect zip file.
If you often work with files and documents, you may be very familiar with ZIP files. In fact, it is widely used in our life. For instance, you can see them on websites where you download files, the documents that you need to send to your colleagues and etc.
However, you don't want other see these zip files. At this time, encrypting the zip files is a great choice. Here comes the question - how to password protect a zip file. This question is often asked by users. Probably, you are one of them.
This post offers you 2 ways to password protect zip file.
You may also be interested in this: How to Zip and Unzip Files Windows 10 for Free
Method 1: Password Protect Zip File via 7-Zip
The 7-Zip program provides you with one of the fastest and most simply way to password protect zip file. After downloading and installing the program to your computer, you can follow the steps below to add password to zip file.
Step 1: Right click (drag or hold) the files or folders to protect, and then select 7-Zip from the contextual menu. Then, choose the Add to Archive option from the extended menu from the contextual menu.
Step 2: After the 7-Zip apps opens Add to Archive dialog window, you will see many options in the window. From here, choose a name for the Archive and choose zip as the Archive format.
Step 3: Read the Encryption section carefully. Then, enter and re-enter password in the corresponding section.
Step 4: Choose ZipCrypto as the encryption method.
Tip: Though the AES-256 is better from the aspect of security, it is not supported by default in Windows operating systems. If you use this method, the password protect file cannot be opened through File Explorer or Windows Explorer even if you enter the correct password.
Step 5: Finally, click OK to save the change and exit the operation.
You may also like this: Full Guide to Do ZIP File Recovery with MiniTool Software
Method 2: Password Protect Zip file Windows 10 via WinRAR
You can also password protect zip file via WinRAR (a well-known file compression app). Download WinRAR from here, and then install it to your computer. Then, you can follow the steps below to password protect zip file Windows 10.
Step 1: Find the files or folders that you would like to password protect, and then right click them and select Add to archive option from the pop-up menu.
Step 2: Inside the Archive name and parameters window, select a name to the zip file. Then, choose the ZIP as Archive format.
Tip: You can also change other compression parameters from the given options.
Step 3: Choose the Set password button to enter the password according to the notice. If you want to open the encrypted zip file via File Explorer or Windows Explorer, you should choose ZIP legacy encryption. If you don't choose it, you can only open the zip file through WinRAR, 7-Zip or other compression tools.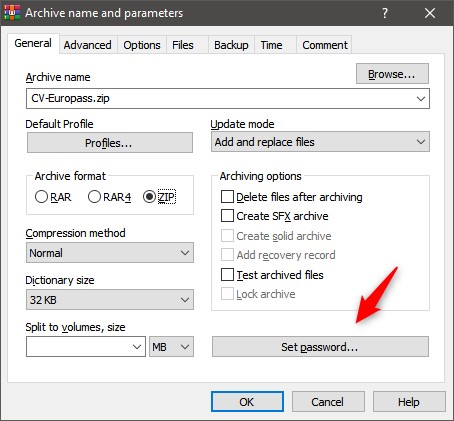 Step 4: Eventually, click on OK to save the operation.