Microsoft has released new Windows 10 update to Fast ring Insiders, namely the Windows 10 20H1 build 18965.1005 (KB4517787). There are some minor changes in this build. For detailed information, you may check out this post from MiniTool.
This week, Microsoft announced the release of Windows 10 build 18965.1005 to the Insiders in Faster ring. This build includes a new setting for controlling app restarts, Feedback Hub updates, and several general fixes. Let's have a look at the new features in the Windows 10 build 18965.1005.
What's New in Windows 10 20H1 Build 18965
Generally speaking, there is no big update in this build. Here are some minor changes. You may have a look at the detailed changes and updates if you are interested.
Control Over Restarting Apps at Sign-in
The only notable change in this build is the new option in the settings to restart the application when the user exits and logs in Windows again.
We know that apps have the ability to register for restart. It is helpful in a few situations, including enabling you to get back to what you were doing if you need to restart your PC.
Previously, this was bound to the option of "Use my sign-in info to automatically finish setting up my device" under Sign-in options in accounts settings. But Windows users prefer more explicit control over when Windows automatically restarts apps that were open when they restart the PC. So this time, Microsoft adds this option to Windows 10 20H1 build 18965.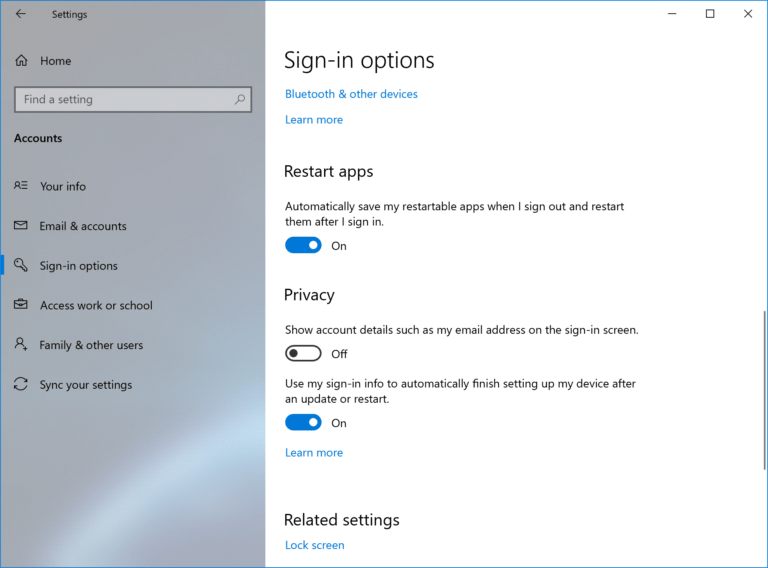 In the Windows 10 20H1build 18965, Windows enables you to manage your restartable apps with the new app restart setting.
When the Restart apps setting is turned on, Windows automatically saves restartable apps when you are signing out, restarting, or shutting down Windows. And then restart those apps next time you sign in.
This setting is off by default and you can turn it on whenever you want. Just locate to Settings > Accounts > Sign-in options. And you will find the setting by searching for restart apps in the Windows 10 Cortana search box.
Feedback Hub updates
The Feedback Hub has also made some minor updates in the latest build available in the Fast ring.
Feedback Search UI Updates
On the Feedback section of the app, you can now see more clearly the differences between Problems and Suggestions, each showing an icon, color and label.
And Microsoft also updated iconography and displays for Adding similar feedback to problems, upvoting suggestions, and adding comments to feedback.
Adding similar feedback
The new Add similar feedback feature enables you to select a problem with symptoms that match your case and take you to the feedback form with title pre-filled. You can edit the title and add your description of the problem you encountered.
Windows Insiders Achievements
Windows Insider Achievements page has been different in this preview build 18965. Microsoft makes achievements more discoverable by moving them from your profiles page to their own landing page. And additional features are added, allowing you to categorize and track your progress.
Other Bug Fixes and Improvements
This build also has some bug fixes and improvements. Check out the following contents for the details.
Fixed an issue resulting in the screens shown while updating Windows unexpectedly saying "managed by your organization" for some Insiders.
Fixed an issue that the taskbar unexpectedly hided sometimes when launching the touch keyboard.
Fixed an issue where some of the colors weren't correct in Language Settings if you are using High Contrast White.
Fixed an issue that could lead to background tasks not working in certain apps.
Fixed an issue where if you set focus to the notification area of the taskbar via WIN+B, then opened a flyout and pressed Esc to close it, then the focus rectangle would no longer show up correctly anymore.
Fixed an issue where on the Bluetooth & Other Settings page, the device type wasn't read out loud when using a screen reader.
Fixed an issue that help links was inaccessible when adding a new wireless display device on the Bluetooth & Other Settings page if the text scaling was set to 200%.
If you are a Fast ring Insider, just update to the newest Windows 10 20H1 preview build 18965 now to enjoy these new features and improvements.