What can you do if your MapleStory won't open? Don't be upset if you encounter the same problem. In this post, MiniTool Partition Wizard puts together four methods. You can try them one by one to fix the issue.
MapleStory, developed by South Korean company Wizet, is a 2D side-rolling multiplayer online roleplaying game. It was released in 2003.  Users can get the game on Nexon Launcher.
Unfortunately, some users reported that they encountered MapleStory not launching issue. If you are bothered by the same error, keep reading and try the following methods.
Method 1: Run MapleStory as Administrator
When your MapleStory won't launch, the first thing you should try is to run the game as administrator. Here are the detailed steps.
Step 1: Exit MapleStory and Nexon Launcher.
Step 2: Right-click the MapleStory shortcut on the desktop and select Properties.
Step 3: In the pop-up window, select the Compatibility tab. Then check Run this program as an administrator under the Settings section.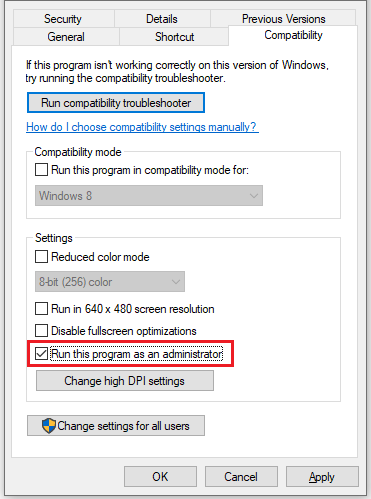 Step 4: Click Apply and OK to save the changes.
After that, you can run MapleStory and check if it works properly.
Method 2: Check for Compatibility Issues
Compatibility issues is another reason for MapleStory not launching. To solve the problem, you can try running the game in compatibility mode.
Step 1: Right-click the MapleStory shortcut and select Properties.
Step 2: Go to the Compatibility tab. Then check Run this program in compatibility mode for and select a previous version of Windows, such as Windows 7 or Windows 8.
Step 3: Click Apply > OK.
If you can't launch MapleStory again, move on to the next method.
Method 3: Update the Device Drivers
An outdated or corrupted device driver could also cause the problem that MapleStory won't launch, especially the graphics card driver. In this case, you need to install the latest driver software for your device. And you can do it by using a reliable third-party program, visiting the official website of the manufacturer, or following the steps below.
Step 1: Right-click the Windows Start button and select Device Manager.
Step 2: Expand the Display adapters category. Then right-click your graphics card and select Update driver.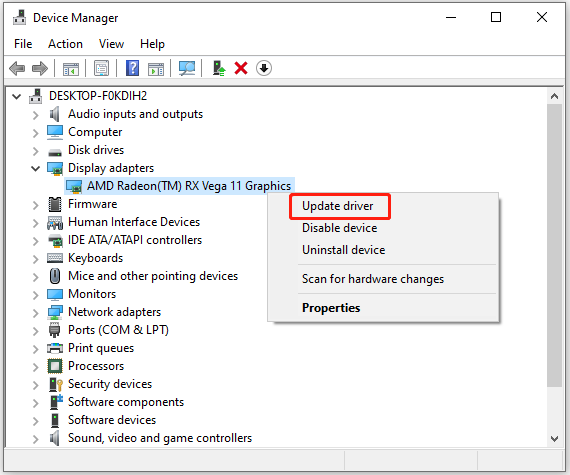 Step 3: In the pop-up window, choose Search automatically for updated driver software. Then follow the onscreen instructions to finish the process.
Restart your computer after installing the driver software. If there are any available updates for other drivers, you also need to install them.
Method 4: Perform a Clean Boot
It is also possible that you can't launch MapleStory due to software conflicts. If you have installed any software recently, you can try uninstalling it and check if this helps. If you are not sure whether you have software conflicts with MapleStory, you can check it by performing a clean boot.
You just need to:
Step 1: Press Win + R to invoke the Run window. Then type msconfig and click OK to open System Configuration.
Step 2: Go to the Services tab. Then check Hide all Microsoft services and click Disable all.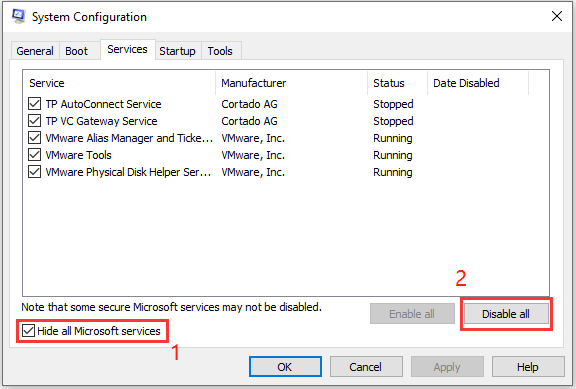 Step 3: Go to the Startup tab and click Open Task Manager. Then disable all the startup items.
Step 4: Restart your computer.
Then you can launch MapleStory. If the problem disappears, you can figure out the problematic services or programs by opening the System Configuration window and enabling all the services one by one.