A larger number of people want to use Logitech G Hub to optimize their game devices. Where to get the latest version of Logitech G Hub download? In this post, MiniTool provides a full installation guide and some extra tips you may need.
What Is Logitech G Hub
Logitech G Hub is a widely popular utility that can help you customize many Logitech G supported devices, including gaming mice, keyboards, headsets, speakers, and webcams. This software can be installed on both Windows 11/10/7 and macOS. At present, the latest version of Logitech G Hub 2021.12.4779 has been released, with a small size of 39.5 MB.
With the Logitech G Hub software, you can freely control your hardware using many features like automatic game detection, lighting control, stream control, integration to third-party apps, etc. There are 4 main benefits of this utility:
User-friendly Gear Settings: GHUB offers you a single portal for optimizing and customizing all Logitech G gear supported devices like mice, keyboards, speakers, and so on.
Wonderful Steam Experience: You can create your macros with in-app actions to launch media and switch scenes. Moreover, you can use the gaming gear to freely control the OBS studio for a faster and smooth streaming experience.
Share. Win: To enhance your game experience, you can download profiles from your fellow players, game pros, and popular streams.
Colorize and Sync Your Gear: You can choose from numerous animation effects, download lighting profiles, and create your own advanced effects for keyboards, mice, headsets, and speakers.
If you have Logitech G supported devices, it's worth using the G Hub software.
Logitech G Hub Download & Install
Let's see how to download Logitech G Hub.
Step 1. Click here to open the official Logitech G Hub download page and click on Download for Windows 10, and select your desktop as download location.

Step 2. After you download G Hub, double click the .exe file and click on Yes when you are prompted to continue.
Step 3. Click on Yes in the installation window. Now, it will start installing the Logitech G Hub software.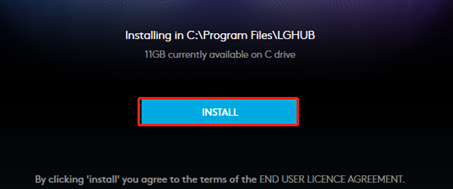 Step 4. Once completes, click on Launch G HUB to connect your Logitech G gears and access those customized features.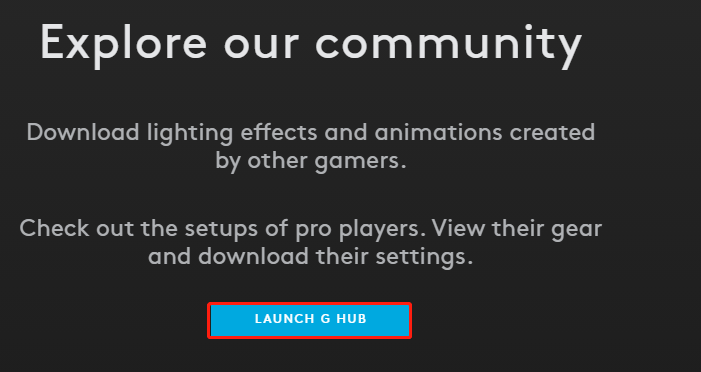 Now, you should get the GHUB downloaded and installed on your Windows PC.
Extra Tips: Update Your Logitech Device Drivers
Sometimes, however, you may run into issues like Logitech G Hub not loading/installing. It's possible that your Logitech device drivers get faulty or outdated. In this case, we recommend you update them to the latest version. Here's how:
Step 1. Press Win + R keys to open the Run dialog box, and then type devmgmt.msc in the box and hit Enter to open this program.
Step 2. In the Device Manager window, expand the category of the affected device. If you encounter issues with your mouse or keyboard, expand Human Interface Devices. For gaming headsets, you can expand Sound, video and game controllers.
Step 3. Right-click the Logitech G HUB driver and select Update driver.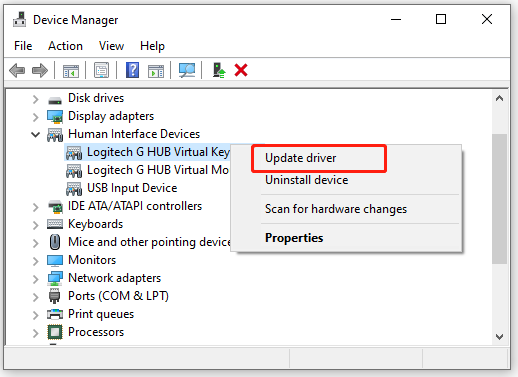 Step 3. Select the Search automatically for drivers option and follow the on-screen prompts to complete the update. Alternatively, you can download the driver from its manufacturer's website and install it on your computer.