LinkedIn not working is a common problem that a great many users may encounter. If you encounter this problem, then this article from MiniTool Partition Wizard will tell you what to do to fix this error in several ways.
When you find that LinkedIn is not working properly or crashes frequently, it can really affect your productivity. Why is LinkedIn not working? It could be a problem with your LinkedIn account, internet connection, browser, or operating system.
Well, how to fix the LinkedIn no working issue? Please keep reading.
Way 1: Check LinkedIn's Service Status
If you can't access your LinkedIn account or find that LinkedIn doesn't work for you in the Chrome, Firefox, or Phone apps, please check if it's turned off first. You can simply navigate to this site to see its current status. If there are no questions, you will see a green bar labeled No questions on LinkedIn. If there is an outage, you will see a red bar on LinkedIn marked with the problem.
Way 2: Log Back in or Use Another Account
Log out of your account and log back in. If the problem occurs immediately after logging in, try logging in with a different account. Create a temporary account if you don't already have one. However, if you can't log in to any of your accounts or the LinkedIn website doesn't open at all, the problem might be with your browser or system.
Way 3: Clear Your Browser and Cache
Clearing your browser's cache and cookies helps your browser to clear all saved data and reload all information. This may help load the web page you are trying to open in your browser. Here is Chrome as an example.
Step 1: Open Chrome on your computer. Then click the three-dots icon on the right corner of the window.
Step 2: Then navigate to More tools > Clear browsing data.
Step 3: Check the Cookies and other site data and Cached images and files box, and then click the Clear data button.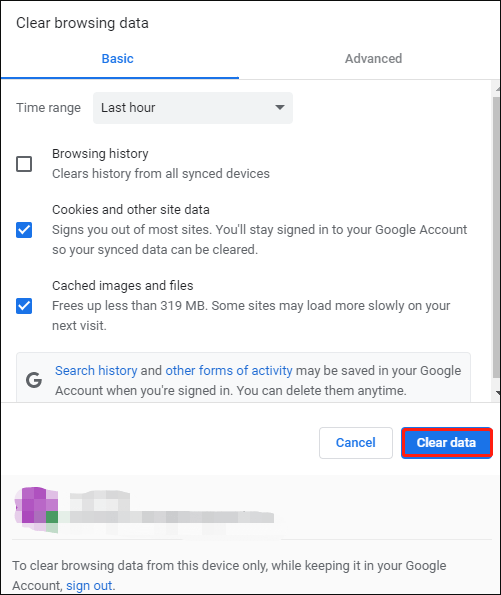 Once done, you can re-open your browser and check if the LinkedIn is not working issue disappears.
Way 4: Disable Ad-Blocking Extensions
An ad blocker blocks ads, giving you an ad-free browsing experience. It enhances your browsing experience but can cause unexpected problems even on sites without ads.
To disable ad-blocker extensions, follow these steps:
Step 1: Open Chrome on your computer. Then click the three-dots icon on the right corner of the window. Then navigate to More tools > Extension.
Step 2: Locate the ad-blocker extension and turn its toggle to the left to turn it off.
Way 5: Try LinkedIn on the Other Device
If you're trying to access the desktop version of LinkedIn services and can't get through, switch to the mobile app and see if it resolves the LinkedIn not working issue.
If none of the above fixes fixed the problem, and you're using Google Chrome, the problem may be worse. So, you should reset your browser as this might fix the problem.
Bottom Line
That's all about how to fix the LinkedIn not working issue. If you have other methods, you can share them with us in the following comment zone.