This post from MiniTool will show you how to get help in Windows 10 when you encounter problems that cannot be solved by your own. Now check out this post for 6 ways to get help in Windows 10.
Do you know how to get help in Windows 10 when you encounter Windows 10 issues? The following will show you 6 different ways. Let's have a look one by one.
Way 1. Get Help in Windows 10 with F1 key
The simplest way is to get help in Windows 10 is to press F1 key on your keyboard to perform a Bing search for how to get help in windows 10.
F1 is also very helpful when you need to get help in many other applications. Pressing F1 in Chrome will open Google's Chrome Support site. Pressing F1 in Microsoft Office will open Microsoft's Office support site. You can try it in whatever application you're using when you need to get help.
Now, just focus on your Windows Desktop and tap F1 key to have a try and learn how to get help in Windows 10 now.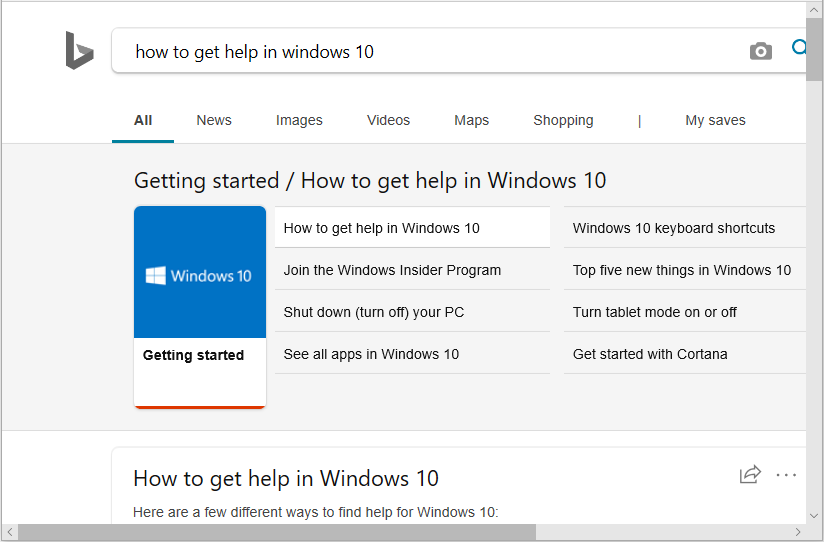 Way 2. Visit Microsoft's Support Website
You can also visit the Microsoft's support website for help if you don't know how to get help in Windows 10.
Just type your questions in the search box of the website page and hit Enter. Then you will find lots of related results listed on the page. You can find solutions from the results.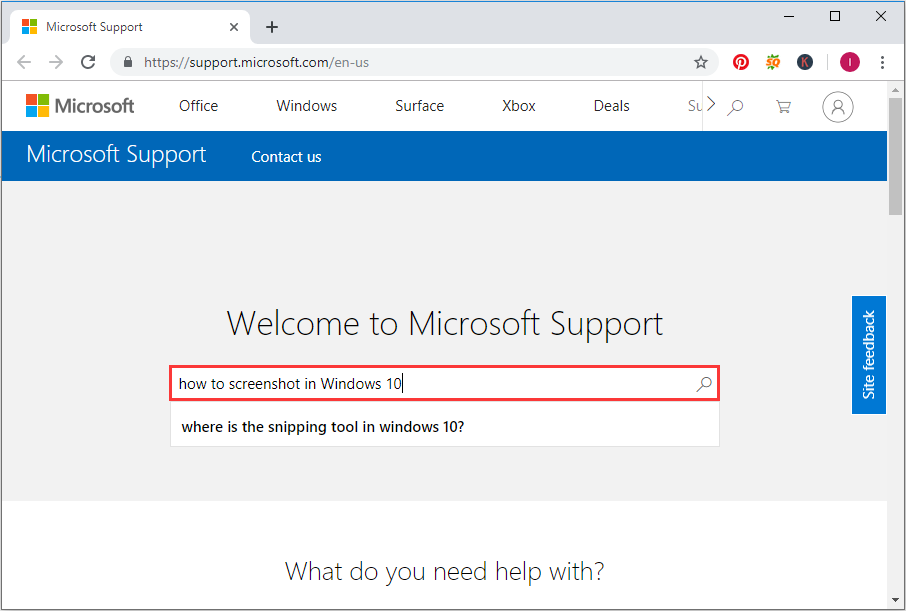 Besides, Microsoft Community discussion forum is also very useful when don't know how to get help in Windows 10. You can search through the community for previously answered questions. You can also click Ask a question at the top of the page to post your question (you need to sign in your Microsoft account if you want to post your question to the community).
Way 3. Use Windows 10 Contact Support App
Windows 10 has a build-in Contact support app that enables you to contact Windows technical support to solve your issue directly. When you encounter some Windows 10 issues and don't know how to get help in Widows 10, you can launch Contact Support via the search box in taskbar.
Just type Contact Support in the Windows Cortana search box. You can also press Windows + R key on the keyboard to bring up the search box. Then click on the best match Contact Support to launch it. Type the issue you have in the box and follow the prompts to find solutions.
If this way doesn't work, try below ways to get help in Windows 10.
Way 4. Run Windows Built-in Troubleshooters
If you have a problem with Windows 10, the built-in troubleshooters may help you. You can access Windows 10 Troubleshooter by following the path Settings > Update & Security > Troubleshoot. Alternatively, you can search for Troubleshoot in the Cortana search box and click the best match Troubleshoot Settings to open it.
If you encounter some problems in Windows 10, Windows may prompt you to run certain troubleshooters sometime. If not, you can also scroll through the troubleshoot list and click a relevant troubleshooter.
For example, if you have problems with the Bluetooth setting on your computer, you can scroll down to find Bluetooth then click on it to run the troubleshooter.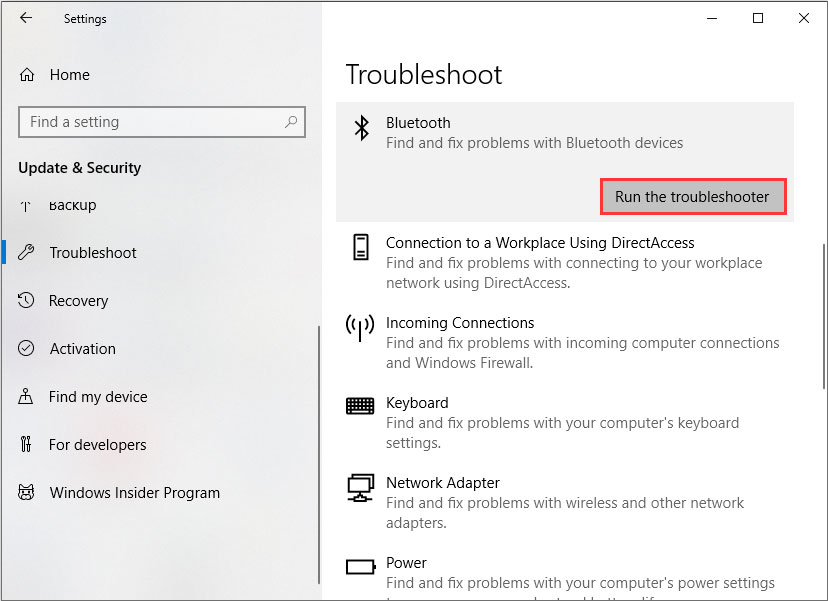 Sometimes, Windows 10 Troubleshooter can resolve some issues for you. However, if the Troubleshooter cannot help you, you need to try others methods to get help.
Way 5. Use the Tips App
With the Tips app, you can find out what's new and see some helpful Windows 10 tips and tricks. So if you don't know how to get help in Windows 10, the Tips app might help you to get the latest Windows 10 tips.
Way 6. Follow Twitter Account
If you have a Twitter account, you can contact Microsoft via the Microsoft Support Official Twitter Account @MicrosoftHelps.
Now you should know how to get help in Windows 10. If you need to get Windows 10 support and don't know how, you can follow the 6 ways above to get help in Windows 10.