MiniTool Partition Wizard - a perfect solution to solve the question how to create fat32 partition on external hard drive. Let's scan the details.
Question:
To make my 1TB Toshiba USB external HDD work on Xbox to play music, movie, or something else, I need to recreate a FAT32 partition as the first partition on external hard drive. Nevertheless, when connecting the hard drive with my Windows 7 computer and opening Disk Management, I find there is no unallocated space for me to create such a partition. My question is how to create FAT32 partition on external hard drive in Windows 7 when there is no unallocated space available. 
In fact, the above problem is very common and this article will introduce you the reason and solution to this issue.
Why to Create a FAT32 Partition
FAT32 is an old file system which is used to replace the older FAT 16 file system. FAT32 file system defines each cluster as 4KB which can make full use of disk space. But compared to NTFS, FAT32 has a limitation that it can only support up to 4GB single file. Nevertheless, sometimes you need to create a FAT32 partition in the following three situations.
FAT32 only can be used in some earlier Windows operating systems, such as Win 95, Win98.
Besides, in USB flash drives and other portable external drives, it is FAT32 format by default.
Moreover, some old game consoles only support FAT32 format, for example, PS3 and PS4.
In such cases, you need to set your drive as FAT32 to be compatible with those operating systems and consoles.
How to Create FAT32 Partition on External Hard Drive
Create FAT32 Partition with Disk Management
When using an external hard drive, you may need a FAT32 partition sometimes. Generally, you may firstly consider creating such a partition with Disk Management.
A. If there is a new external hard drive, you can easily create a FAT32 partition by using its "New Simple Volume". During the process of creating the new simple, you can format this volume as FAT32 file system.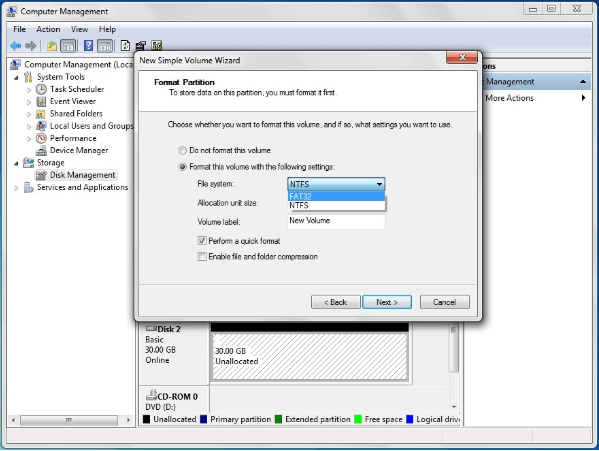 B. If there are partitions created in your external hard drive, you can reformat external hard drive to fat32, which can cause all data loss on the target partition.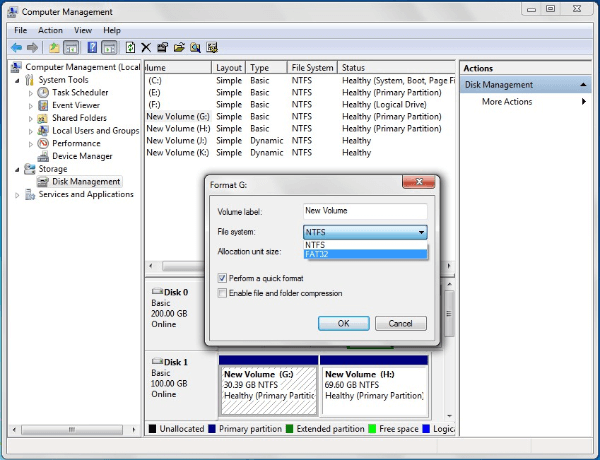 However, there is still a limitation of Disk Management:
If your partition is larger than 32 GB, this partition tool can't format partition as FAT32. You can only create/format partition smaller than 32 GB to FAT32 format.
Format Drive to FAT32 with MiniTool Partition Wizard
To make up for the deficiency of Disk Management, a third-party software is quite necessary. MiniTool Partition Wizard, an excellent, powerful and reliable partition management software, is highly recommended to you. This tool can help you to create FAT32 partitions without any limitation in partition size and can be applied on Windows Vista/XP/7/8/8.1/10.
Download MiniTool Partition Wizard Free Edition to Create FAT32 partition for free.
MiniTool Partition Wizard FreeClick to Download100%Clean & Safe
1.Unallocated Space Is on Your External Hard Drive
Step 1: Launch this partition manager and go to main interface. If there is some unallocated space at the beginning of your external HD, you can use its "Create Partition" feature by clicking it in "Operations" after you choose a target partition. Or right click the target partition to select "Create".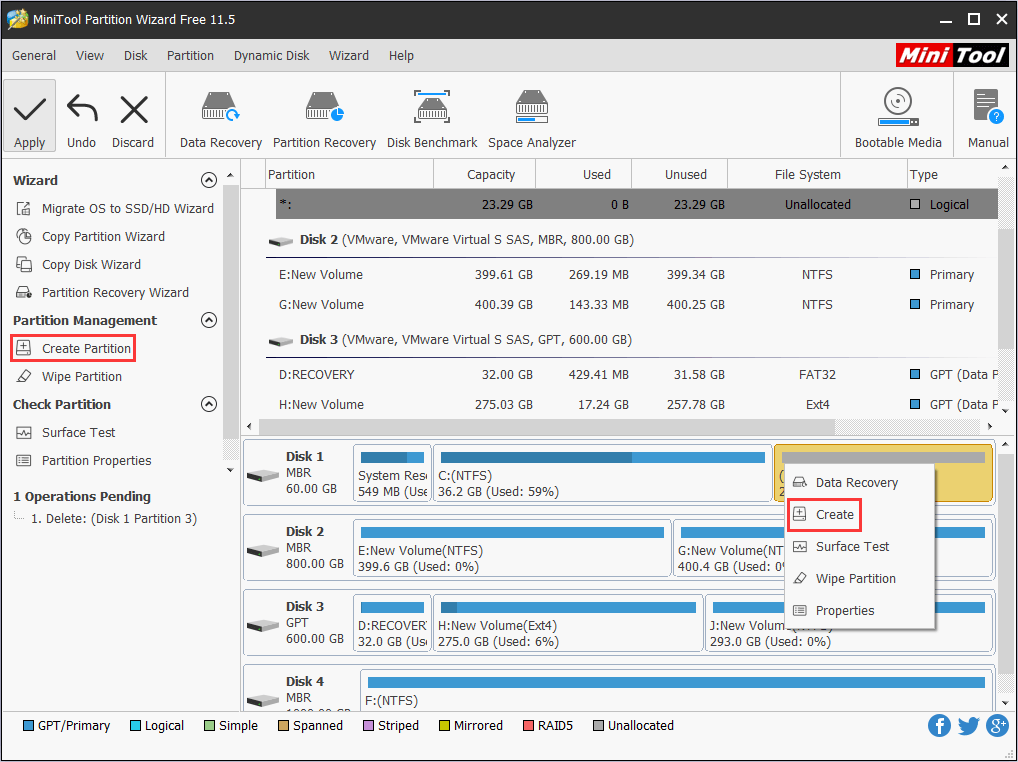 Step 2: During the process, you can choose FAT32 as the file system. Click "OK" to continue.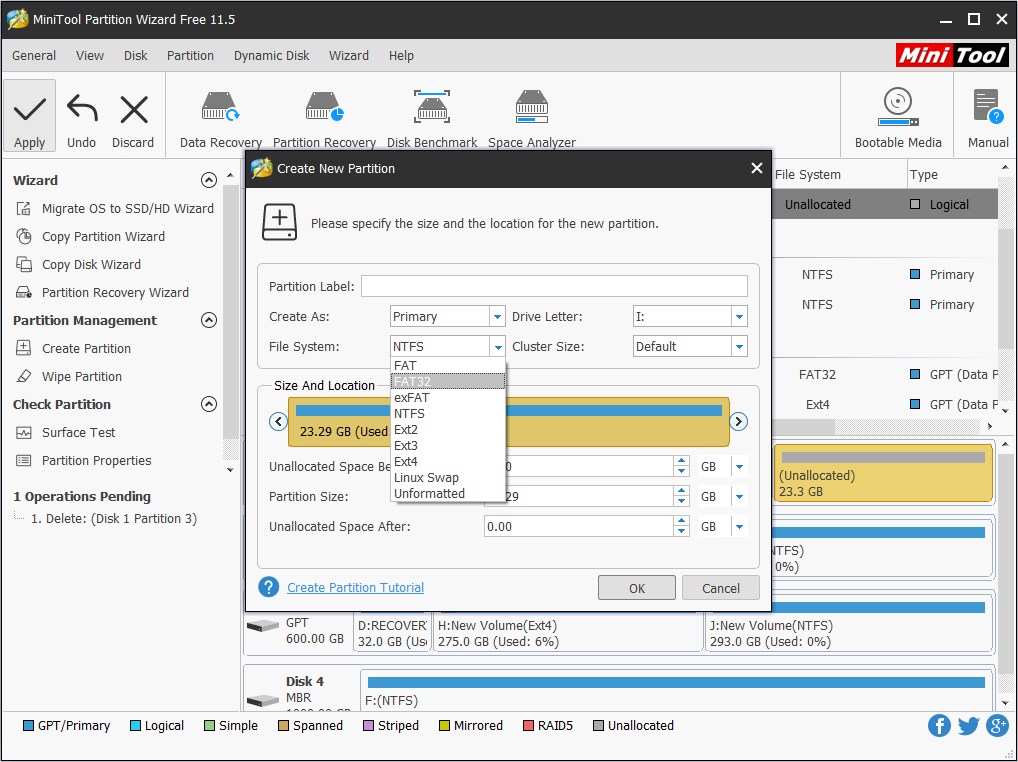 Step 3: Then click "Apply" to perform the operations.
2. No Unallocated Space on External Hard Drive
Step 1. If there is no unallocated space on your external hard drive, you can take some free space by resizing partition and then create a FAT32 partition according to the above steps.
Step 2. In addition, you can also convert to FAT32 from a NTFS partition to achieve aim. This way is fast and convenient for you, and won't cause any data loss. Please do this operation with its "Convert NTFS to FAT" feature.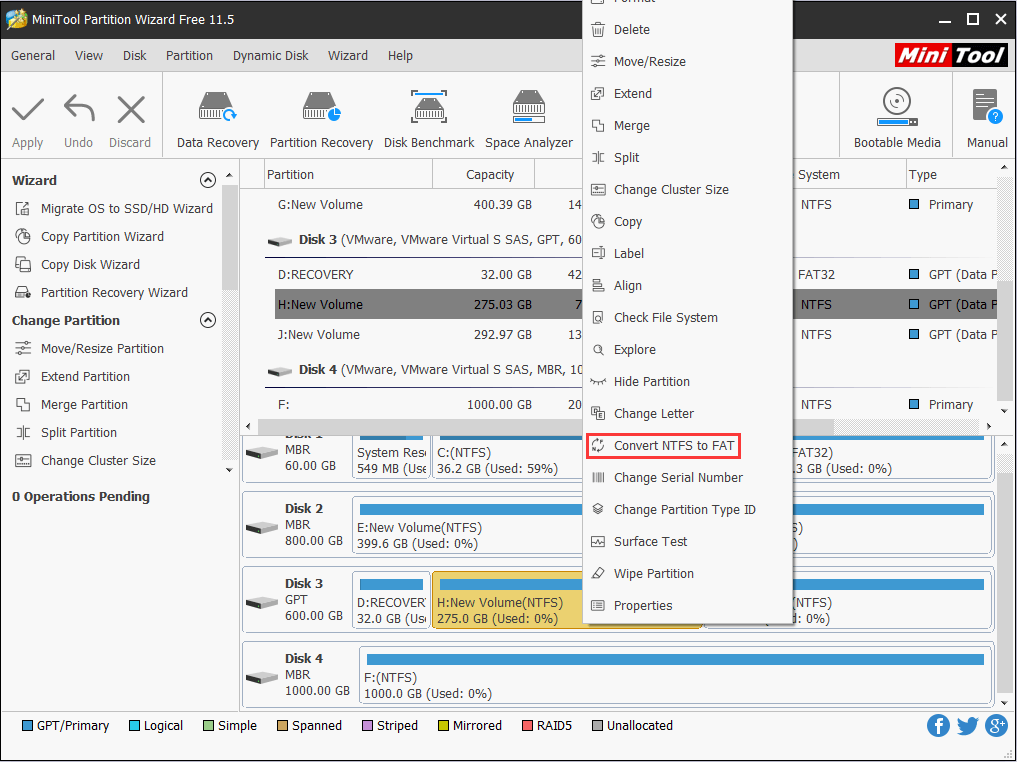 With the powerful functions of MiniTool Partition Wizard, you can easily create FAT32 partition on external hard drive without data loss and limitation in partition size. Just try this freeware at once.