Zoom is a popular communication tool providing video teleconference and online chat services. Zoom allows users to cancel subscriptions and add-ons at any time. And this post from MiniTool Partition Wizard introduces how to cancel Zoom subscriptions.
Can I Cancel Zoom Subscription? How About the Refunds?
Zoom Meeting, commonly shortened to Zoom, is a communication program developed by an American communications technology company. It provides various services, such as video teleconference, online chat, audio conference, cloud storage, etc.
This program provides various plans and add-ons for different users. Some of the basic features are available in the free plan. For more advanced features, users need to subscribe to higher plans. For the detailed differences among the Zoom plans, you can visit the official website of Zoom.
You might wonder can you cancel Zoom subscriptions. Actually, depending on the plan you choose, your subscription renews every month or year. And you can cancel Zoom subscriptions at any time during the plan term to stop the auto-renewal of the subscription. Whenever you don't need your Zoom subscription, just cancel it.
In addition, when you decide to cancel Zoom subscriptions, you might also be concerned about refunds for paid plans.
According to Zoom, your account shouldn't have been used since the last time it was billed if you want to be eligible for a refund. If your account is eligible for a refund, you can request it while canceling Zoom subscriptions. For more refund policies, you can check Zoom's terms of service.
Keep reading to learn how to cancel Zoom subscriptions.
How to Cancel Zoom Subscription
Now, let's see how to cancel Zoom subscriptions. Please note that you can't cancel Zoom subscriptions on the Zoom client. To achieve the goal, you have to visit the Zoom service via a web browser. And here are the detailed steps.
Step 1: Launch a web browser such as Google Chrome. Then visit Zoom and sign in to your account.
Step 2: On the left side, click Account Management to expand it. Then select Billing.
Tip: If you are a member of your account and cannot access the Billing service, you should contact your account owner.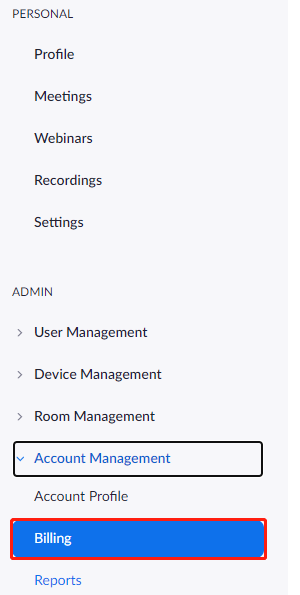 Step 3: On the left side, select the Current Plans tab to view your subscriptions. Then click the Cancel Subscription option for the plan that you want to stop.
Tip: If the Cancel Subscription is unavailable and the page displays Contact Sales, you might need to contact Zoom's sales team or your account executive to cancel the subscription.
Step 4: On the next page, read the notification carefully and click the Cancel Subscription button to confirm that you want to cancel Zoom subscription.
Step 5: Select why you plan to cancel Zoom subscriptions and click Submit to start canceling Zoom subscription.
Then the status of the Zoom plan will be canceled. If you want to continue the subscription, you can click the Reactivate Plan option next to the status on the current plans page. By the way, you can still use the paid plan during the remainder of your subscription term.
It is similar to cancel add-ons subscription. You just need to go to Account Management > Billing > Current Plans and click the Cancel Subscription option for your purchased add-ons.
That's all about "Zoom cancel subscription". If you are looking for a way to cancel your Zoom subscription, you can follow the above steps one by one.