The game crashing issue is a common problem for players, and the same issue has been reported with the game Hearts of Iron 4. If you are experiencing Hearts of Iron 4 crashing, you might be interested in this article. Here, MiniTool Partition Wizard will guide you to fix the problem with 5 methods.
Hearts of Iron IV, also known as Hearts of Iron 4 or HOI4, is a grand strategy computer wargame focusing on World War II. It was developed by Paradox Development Studio and published by Paradox Interactive. Released on 6 June 2016, this video game is available on multiple platforms including Microsoft Windows, macOS, and Linux, and it has won great popularity among game lovers.
However, similar to many other games, Hearts of Iron 4 was not immune to the crashing issue, and many players have reported the HOI4 crashing problem on the forum. If you encounter the issue unfortunately, you should first restart the game or your computer, as a simple restart can help to reconfigure certain settings and may fix the problem.
If HOI4 keeps crashing after restarting, then you can try the following solutions. Let's check them out one by one.
Fix 1: Give Administrator Permissions and Disable Fullscreen Optimization
The game requires administrator permissions to access certain critical files for proper functioning. If it lacks permissions, you are very likely to encounter the crashing issue during the gameplay. Besides, the fullscreen optimization feature is also reported as one of the reasons for HOI4 crashing.
Luckily, you can modify the properties of the game to set the related settings to fix the issue. You just need to:
Step 1: Right-click the shortcut icon or the executable file of the game and choose Properties.
Step 2: Under the Compatibility tab, check both Disable fullscreen optimizations and Run this program as an administrator options.
Step 3: Click Apply and OK to save changes.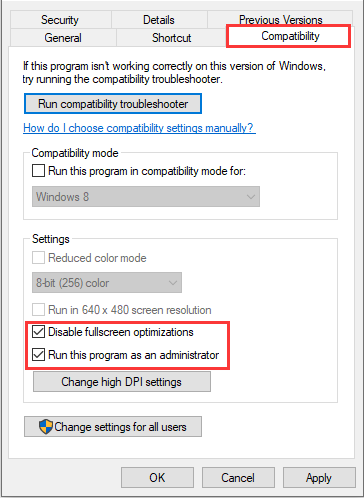 After that, you can launch your game again to check if the HOI4 crashing issue is fixed.
See also: How to Disable Fullscreen Optimizations Windows 10
Fix 2: Change Power Plan
The improper power plan of your system could also lead to Hearts of Iron 4 crashing. According to the reports from affected players, this problem appears when the PC use the Balanced power plan, and it disappears after switching to the High performance one.
To change the power plan, you should:
Step 1: Press Windows + S, input control panel, and click the search result to open it.
Step 2: Choose to view by Small icons and click Power Options.
Step 3: In the right pane, choose High performance.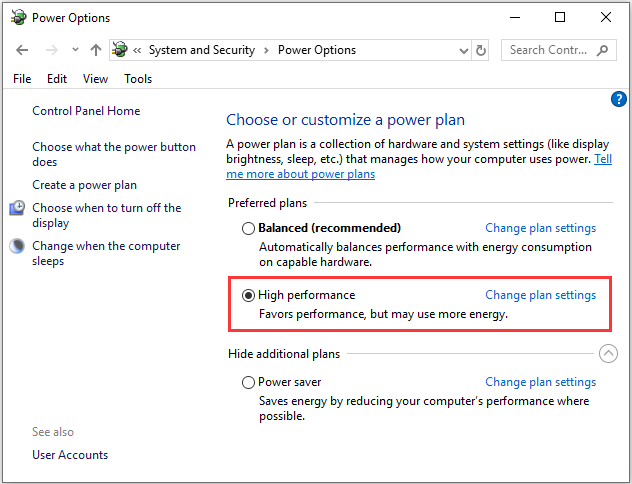 Fix 3: Verify the Integrity of The Game File
If Hearts of Iron 4 keeps crashing on your PC, perhaps some of the game files are missing or damaged. To fix the problem in this case, you can make use of the built-in feature of Steam to repair the game files. Here's what you need to do:
Step 1: Open your Steam client and click LIBRARY to show all your installed games.
Step 2: Right-click Hearts of Iron IV and choose Properties.
Step 3: Now, switch to the LOCAL FILES tab and click VERIFY INTEGRITY OF GAME FILES.
Then, Steam will start scanning and try to fix your game files. Wait until the verification process is completed. Restart the game to check if it can run without the crashing issue.
Fix 4: Update Your Windows
As you know, Windows regularly releases updates that contain new features or bug fixes for certain known issues. Updating your Windows to the latest version might be helpful to keep your programs running smoothly and fix the game crashes.
Here's a simple guide for you:
Press Windows + I to open Settings.
Navigate to Update & Security > Windows Update.
Click the Check for updates in the right pane and follow the onscreen instructions to finish updating.
Related article: 7 Solutions to Fix Windows 10 Won't Update. #6 Is Fantastic
Fix 5: Update Graphics Card Driver
In most cases, game crashes are related to the graphics card driver. If the above methods fail to fix HOI4 crashing, you can consider updating your graphics card driver.
Here's what you need to do:
Step 1: Right-click the Start button and choose Device Manager.
Step 2: Expand the Display adapters category, right-click your graphics card driver, and choose Update driver.
Step 3: In the pop-up window, choose Search automatically for updated driver software and proceed with the onscreen instructions.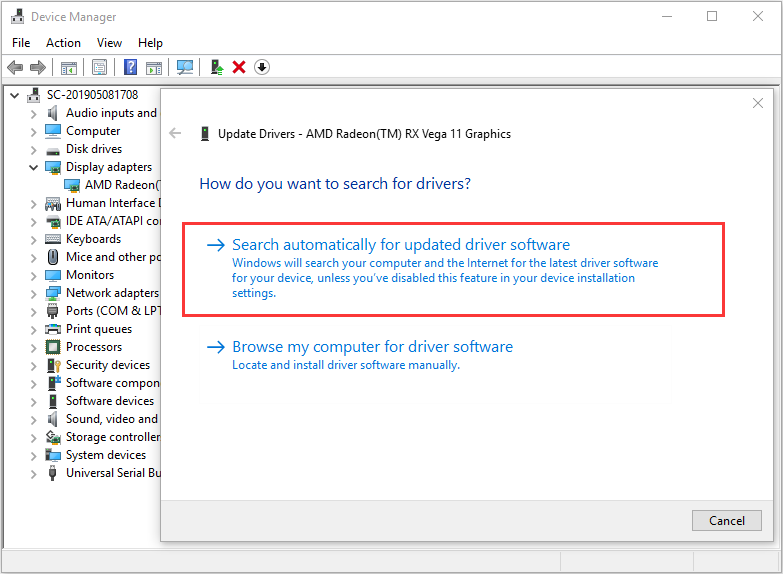 Once it's down, restart your computer and game to check if the problem has been resolved. By the way, if Windows cannot find driver software for your device, you can download the latest version of your graphics card driver from the manufacturer's website and perform driver update manually.