In this post, MiniTool Partition Wizard made a brief introduction to the Google Voice verification code scam and shared some methods to help you stay safe from the scam. To keep you and your account safe, don't miss this guide.
What Is a Google Voice Verification Code?
Before we discuss the Google Voice verification code scam, let's learn about the Google Voice verification code first. What is a Google Voice verification code?
Well, as the name indicates, it is a verification code for the account of Google Voice, a telephone service that provides call forwarding and voicemail services, voice and text messaging, as well as call termination for customers of Google account in the US and Google Workspace accounts in select markets.
This is an added security step that ensures only you (and the one you have authorized) can access your account to protect your personal information. When you sign up for Google Voice or add a phone to your account, Google will send you a text message with a verification code. You need to enter this code to active Google Voice on your phone.
Of course, there are other situations where you may be asked for a Google Voice verification code:
You are trying to reset your password.
You are signing into your account on a new device.
You are creating a new account.
See also: How to Protect Your Computer from Viruses? (12 Methods)
What Is Google Voice Scam?
When you find that your phone number gets hijacked and a Google Voice account in your name is created by others, you are very likely to have suffered from a Google Voice verification code scam. Generally speaking, victims of the scam has ever displayed their phone number on the Internet, and scammers start a Google verification code scam by getting the number.
Commonly, this Google Voice scam is developed in the following scheme:
A user shares his/her phone number on a public website, either in an ad or a personal post.
Scammers contact the user via the public number and pretend to be interested in the ad or the post.
Scammers start to create a Google Voice account using the number and then fabricate some special excuses to ask the user to share the verification code that has been sent to his/her phone.
Scammers complete the account creation and then proceed to scam other people in the name of the victim user.
If someone has created a Google Voice account using your phone number, you will receive the following message:
Please note that the forwarding number (XXX) XXX-XXXX was deleted from your Google Voice account ([email protected]) because it was claimed and verified by another Google Voice user.
If you still want this forwarding number on your account and believe this was an error, please click here to learn more.
If you know, trust, and authorize the operation in advance, you can ignore it. Otherwise, you had better get your number back and beat the scam as soon as possible. What should you do? Just keep on your reading.
See also: Fix Problems With Google Voice Not Working 2020
How to Stay Safe from Google Voice Verification Code Scam
If you encounter a Google verification code scam unfortunately, you can follow the steps below to get your phone number and Google Voice account back. Here's what you should do.
Step 1: Go to the official website of Google Voice.
Step 2: Click the For personal use option and then choose the right platform from the context menu: IOS, Android, or Web.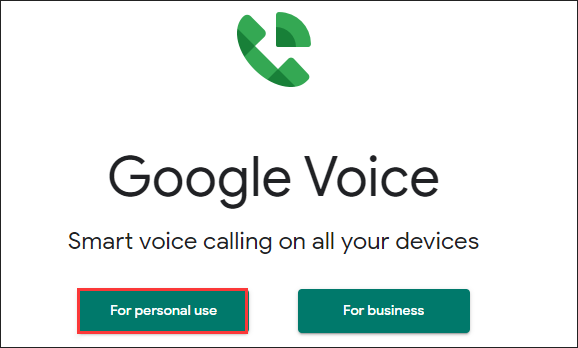 Step 3: Create a new Google Voice account by following the on-screen instructions and press Continue.
Step 4: Sign up using a different number from the one that has been stolen from you. The number should have never been used to create a Google Voice account.
Step 5: After logging into the newly created account, go to Settings > Account > Linked numbers (Devices and numbers in Android and iPhone &iPad) and then click New linked number.
Step 6: Enter the number that has been stolen from you and verify by the received verification code.
If scammers are still using your number, you will receive a warning saying that this number is used by another account. You just need to click Yes to confirm the operation.
That's all about how to get your number and account back and protect your number from been used for any malicious purposes. All in all, scams are endless, and the Google Voice verification code scam is one of them. Bear in mind that do not share your verification code with anyone.
See also: How to Recover Deleted Contacts on Android with Ease?