Are you stuck in the Fallout 76 error 4:7:1? Do you wonder how to solve this error? In this post, MiniTool Partition Wizard offers a couple of feasible solutions. You can follow them to see if the error is fixed.
Fallout 76 is a 2018 online action role-playing video game that was developed by Bethesda Game Studios and published by Bethesda Softworks. It's a very fantastic game that you can enjoy on different platforms, such as the Windows PC, PlayStation 4, Xbox One, and so on.
As a prequel to the Fallout series, this game has been reported with many bugs. The Fallout 76 error 4:7:1 is one of the most common issues. This error might be caused by authenticity problems and always comes along with the error message: an unknown error has occurred.
To help you solve the Fallout 76 unknown error 4 7 1, we summarize some possible fixes below.
Method 1: Check the License Key
To avoid the Fallout 76 unknown error 4:7:1, you need to redeem a retail game code first and this code is different from the B.E.T.A code you redeemed previously.
Usually, if you purchase Fallout 76 via Bethesda.net Digital Store, Xbox One Marketplace, or PlayStation Store, the retail game code will be applied automatically to your account. You just need to download and launch the game for fun.
But if you buy this game from other participating retailers, you will receive your retail game code from the retailer at a particular time. Then redeem the game code on your account so that you will not run into the annoying error.
If the Fallout 76 error 4:7:1 persists after you redeem your game code, you should continue with other solutions.
Method 2: Scan and Repair Fallout 76
The Fallout 76 error 4 7 1 may also occur due to corrupted or missing game files. In this case, it's recommended that you use the Scan and Repair tool. The following is a full tutorial for the operation. 
Step 1: Open the Bethesda.net launcher.
Step 2: Click the Fallout 76 icon and then click Game options.
Step 3: After that, select Scan and Repair. Then the launcher will begin scanning the game files automatically and download clean copies of the missing or corrupted files.
Step 4: Once the process is completed, relaunch Fallout 76 and check if the Fallout 76 unknown error 4 7 1 is removed.
Method 3: Update Your Drivers
Certain outdated drivers on your PC may lead to the Fallout 76 unknown error 4:7:1 as well. Therefore, to get rid of this error, you'd better update your drivers. To do this, follow the steps below.
Step 1: Right-click the Start icon and then select Device Manager.
Step 2: Right-click the target driver and select Update driver.
Step 3: Select Search automatically for drivers. Follow the on-screen instructions to update the latest driver software for your computer.
Once done, relaunch Fallout 76 to see if the Fallout 76 error 4:7:1 is resolved.
Method 4: Run the SFC and DISM Scans
The Fallout 76 error 4 7 1 may also happen due to corrupted system files on your PC. On this occasion, you can try using the SFC (System File Checker) and DISM (Deployment Image Servicing and Management) utilities to fix this error.
Step 1: Press Windows + R to open the Run dialog.
Step 2: Type cmd in the text box and then press Ctrl + Shift + Enter to open the elevated Command Prompt.
Step 3: In Command Prompt, type sfc /scannow and press Enter.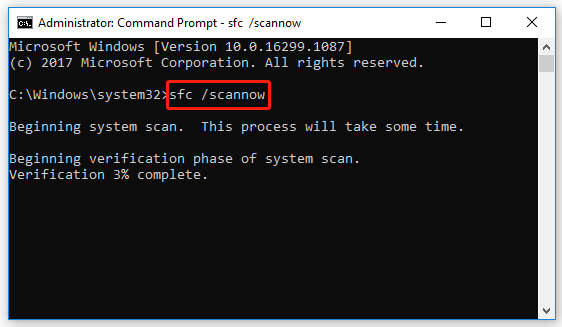 Step 4: After the process finishes, restart your system and run Command Prompt as an administrator again.
Step 5: Type the following commands and press Enter after each to execute them.
DISM /Online /Cleanup-Image /CheckHealth
DISM /Online /Cleanup-Image /ScanHealth
DISM /Online /Cleanup-Image /RestoreHealth
After the scan is completed, restart your computer and relaunch Fallout 76. The Fallout 76 error 4:7:1 may disappear this time.
Method 5: Contact Bethesda Customer Support
If the above solutions don't help you solve the Fallout 76 error 4:7:1, then you can contact Bethesda Customer Support for more assistance. In this way, you might be able to solve the Fallout 76 error code 4:7:1 with professional troubleshooting fixes.
Hope you can fix the Fallout 76 error 4:7:1 with the methods mentioned in this post. If you have any problems with this error, you can leave a message in our comment part.
If you want to obtain more information on this comprehensive partition manager – MiniTool Partition Wizard, you can visit the official website.