When your Windows 10/11 system shuts down unexpectedly, you will receive the event ID 6008 in the system event log. Do you know what it means and how to solve it? Here, this post from MiniTool Partition Wizard introduces the details about this event ID. You can try to work it out by this post.
About Event ID 6008 Unexpected Shutdown
The Windows Event Viewer is a tool that displays information about hardware and software events on the Windows OS. It's a useful tool for troubleshooting different kinds of system and application issues on your Windows 10/11.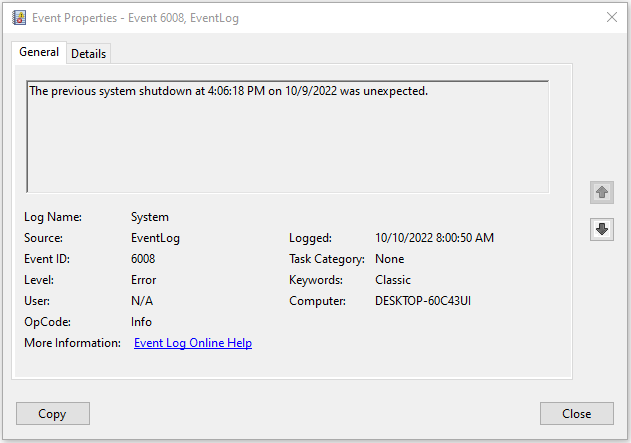 The event ID 6008 is one common error that appears in the Event Viewer. You are likely to see this event ID after your system shuts down automatically and unexpectedly. It is always recorded with this message: The last system shutdown at [Time] on [Date] was unexpected.
The event ID 6008 Windows 10/11 can be caused by multiple reasons, such as CPU over temperature, damaged power supply unit (PSU), certain security threats, etc. Based on these reasons, you can try solving it via the following methods.
How to Fix Event ID 6008 Unexpected Shutdown
To solve the Windows event ID 6008, you can try the effective methods below.
Method 1: Check Your Hardware
The event ID 6008 Windows 11/10 may come out due to hardware issues. For instance, your CPU is overheating or some power issues happen. To solve this issue, here are some essential steps you should execute:
If the error is still here after you finish the above steps, you need to go on with other solutions.
Method 2: Roll Back Driver
To repair hardware issues that lead to the Windows event ID 6008, you can also try the Roll Back Driver feature on the PC. To do this, follow the steps below.
Step 1: Right-click the Start icon and select Device Manager.
Step 2: In the Device Manager window, expand Display Adapter. Then right-click your graphics driver and select Properties.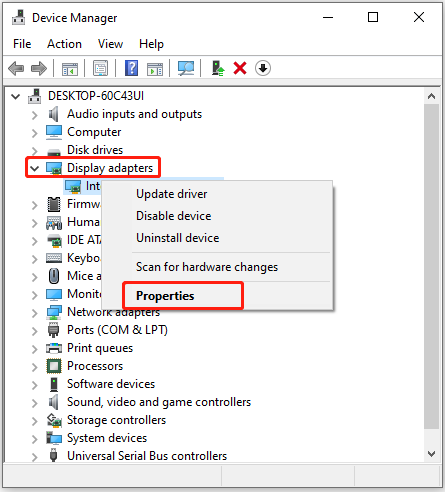 Step 3: Go to the Driver tab and then click Roll Back Driver.
After that, restart your computer to see if the issue is resolved.  
Method 3: Check for Windows Updates
In some cases, you can fix the event ID 6008 Windows 10/11 by updating your Windows to the latest version as well.
Step 1: Press Windows + I to open Windows Settings and select Update & Security.
Step 2: In the Windows Update section, click Check for updates from the right side.
Step 3: If any updates are available, download and install them.
After you update the Windows, go to check if the event ID 6008 is fixed.
Method 4: Uninstall Feature Updates
If the event ID 6008 Windows 11/10 occurs after you install Windows updates, it's recommended that you uninstall the specific updates to get rid of this error.
Step 1: Press Windows + R to open the Run dialog.
Step 2: Type control.exe in the text box and press Enter.
Step 3: After you enter Control Panel, click Uninstall a program under the Programs section.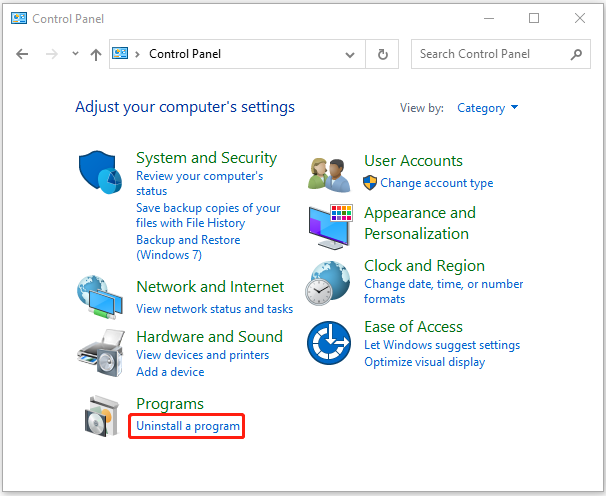 Step 4: In the next window, click View installed updates. Then right-click the recent Windows update that may cause the event ID 6008 and select Uninstall.
Once down, restart your computer and the event ID might be repaired.
Don't worry when you experience the Windows 10/11 event ID 6008. You can follow the above methods one by one until you resolve this issue. If you have other great solutions, please share them with us in the following comment zone.
If you are interested in MiniTool Partition Wizard, the all-in-one partition management software, you can visit its official website to learn more about it.