Do you know what a .dst file is and how to open this file? Well, this article from MiniTool Partition Wizard describes the different file formats that use the DST file extension, as well as how to open each and the options for converting specific DST files to the different formats.
What Is A DST File?
A DST file means the file with the DST file extension. Generally, there are three types of files that use this file extension:
AutoCAD Sheet Set
Tajima Embroidery Format
DeSmuME Save State
AutoCAD Sheet Set
A file with the DST file extension can be an AutoCAD Sheet Set file created by Autodesk's AutoCAD program to save multiple sheet layouts. It contains XML-formatted information about an organized collection of drawings that are selected drawing layouts extracted from multiple .DWG drawing files.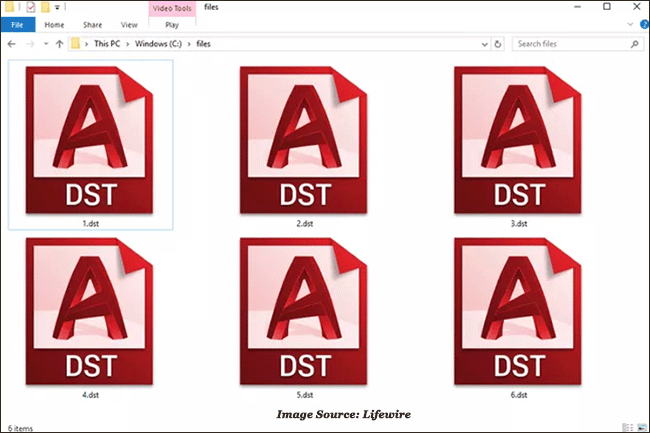 Tajima Embroidery Format
The Tajima Embroidery Format file also uses the DST file extension. This file stores stitching information describing how the software should control the sewing needle. It is used by various embroidery machines and programs. DST format is one of the most common embroidery formats, other common embroidery formats include PES, JEF, EXP, VP3 and VIP.
DeSmuME Save State
Other DST files may be DeSmuME Save State files associated with a Nintendo DS emulator named DeSmuME. These are what you create when you save your game state in DeSmuME.
How to Open and Convert DST File in Windows 11/10?
The following guides show you how to open and convert different files with the .dst file extension in Windows 11/10.
Open and Convert the AutoCAD Sheet Set File
AutoCAD's built-in Sheet Set Manager tool can open DST files as sheet set files. You can display it via View > Palettes > Sheet Set Manager.
When opening a DST file in AutoCAD, the information is displayed in the SSM Drawing List tab, and each drawing name acts as a shortcut that you can click to view the layout of the DWG drawing file. The same tool is used to make DST files.
You can convert its DST file to any other format using AutoCAD. From the Save drop-down list, you can select one file format you want to convert.
Open and Convert the Tajima Embroidery Format File
Since there is no default application on Windows to view DST embroidery files, we will use some third-party software and online tools to open them.
Some compatible file viewers include Wilcom's TrueSizer, Embroidermodder, Embird's Studio, BuzzXplore (formerly Buzz Tools Plus), and BERNINA ArtLink. Wilcom also has a free online DST viewer called TrueSizer Web.
For example, you use the BERNINA ArtLink software to convert DST files. You can click the Export Machine File option from the File menu. This option allows you to convert DST to EXP, ART, SEW, PES, PCS, EMD, and some other file formats.
Open and Convert the DeSmuME Save State File
Use DeSmuME to open the DeSmuME Save State file. It can also create DST files via File > Save State File.
DeSmuME state files are unlikely to be converted to the new format, as this data is useful for games played in that particular emulator.
Bottom Line
In this article, we have introduced what the DST file is and how to open it in Windows 11/10. We hope this simple guide can help you know more about the DST file. If you have some questions about this article, please contact us and we will answer them as soon as possible.