Divinity Original Sin 2 is a game available on many platforms. Unfortunately, some players reported that they received a DirectX error message while playing the game. To solve Divinity Original Sin 2 DirectX error, MiniTool Partition Wizard puts together some solutions in this post.
Divinity Original Sin 2 is a role-playing video game developed by Larian Studios. It is the sequel to Divinity Original Sin. This game is available on various platforms, including Microsoft Windows, PlayStation 4, Xbox One, macOS, Nintendo Switch, and iPad. Users can play solo or enjoy the Divinity Original Sin 2 multiplayer mode with up to three teammates.
A lot of people love this game, but some users encountered crashing issue with the DirectX error message, as the following picture shows: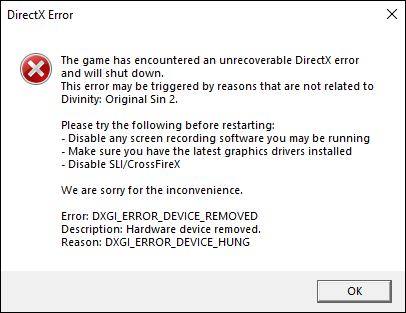 How to fix Divinity Original Sin 2 DirectX error? The problem could happen due to various reasons. Here are some solutions that you can try one by one.
Solution 1: Use Recommended Resolution Settings
If you have made any changes to the resolution of your system screen and the Divinity Original Sin 2 DirectX error appears, the first thing you should do is resetting it to default.
You just need to right-click any empty space on your desktop and select Display settings. Then select the Recommended display resolution under the Scale and layout section.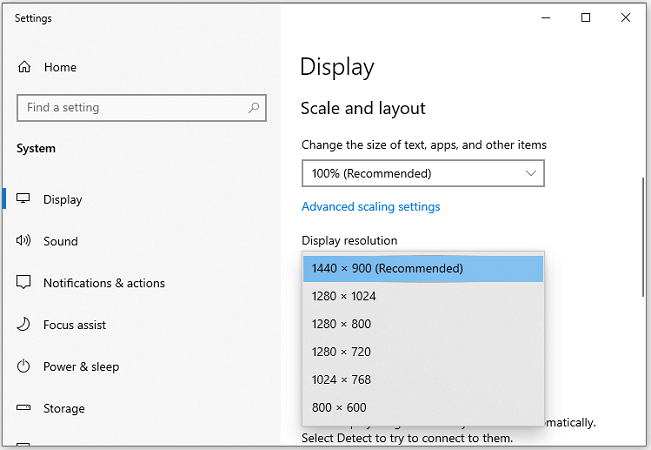 Solution 2: Disable Overclocking Software
Overclocking could also lead to the Divinity Original Sin 2 DirectX error. If you are using any GPU/CPU overclocking programs such as MSI Afterburner, you need to try disabling or uninstall them.
To uninstall a program, you can:
Step 1: Go to Control Panel.
Step 2: Select View by Category and click Uninstall a program.
Step 3: In the list of installed programs and features, find your overclocking software and right-click it. Then select Uninstall and follow the on-screen instructions to finish the operation.
In addition to overclocking software, you might also need to uninstall some programs that might be conflicted with Divinity Original Sin 2. Some of them are listed below:
Screen recording or capturing programs
Spotify
Xbox Game bar
Discord
Twitch
Solution 3: Update Your Graphics Card Driver
An outdated or corrupted graphics card driver is another reason for the Divinity Original Sin 2 DirectX error. To fix it, you should install the latest driver software for your graphics card. If you are using an NVIDIA graphics card, you can update the driver with the GeForce Experience app. You can also visit the official website of the manufacturer or follow the steps below to update it.
Step 1: Right-click the Windows button and select Device Manager.
Step 2: Expand the Display adapters category and right-click your graphics card. Then select Update driver.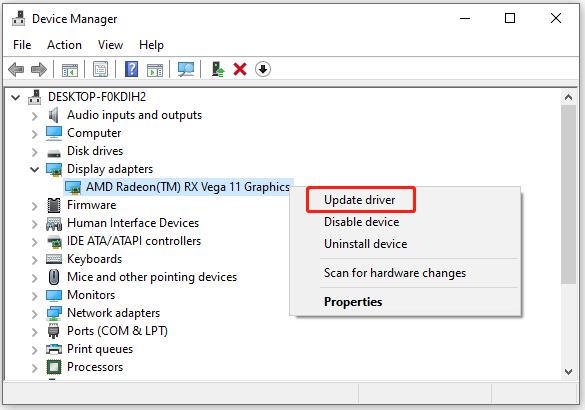 Step 3: In the pop-up window, select Search automatically for updated driver software. Then Windows will search for the latest driver and install it automatically.
After installing the driver, you should restart your computer. Then check if your game works properly.
Solution 4: Reinstall DirectX
If the version of your DirectX is incorrect or the files are corrupted, you might also get the Divinity Original Sin 2 DirectX error. To solve it, you can try reinstalling DirectX.
According to the Divinity Original Sin 2 system requirements, you need DirectX 11. Click here to download DirectX 11 from Microsoft. Then install it and restart your computer to check if the error disappears.