You may notice the consent.exe process in the Task Manager but don't know what it is. What is consent.exe? This post from MiniTool will introduce you more information about the executable consent.exe on your computer.
What Is Consent.exe
The consent.exe, also known as Consent UI for administrative applications, is a software component of Microsoft Windows. It is part of the User Account Control feature and can launch the user interface for the User Account Control (UAC).
When a non-windows program attempts to start up with administrative permissions, it pops up a new window asking if you want to allow the program to load. This efficiently prevents unauthorized changes to the OS.
The consent.exe process is vital for the installation of most applications. It is a genuine and safe process and it should only become active when User Account Control is operating. You can find the process on your PC if you are running Windows Vista, Windows 7, Windows 8 and Windows 10 operating system.
Is It a Virus?
The genuine consent.exe file is a Windows system file. As we mentioned before, it belongs to the Windows Operating System. However, some malware may disguise itself as consent.exe. How to distinguish whether it is the genuine consent.exe file or it is a virus?
Well you can distinguish them by checking their locations. If the conset.exe file is not located in the C:\Windows\System32 folder, it could be a virus. If this is the case, you should run an antivirus program as soon as possible.
To check its location, you can follow the steps below:
Step 1. Open Task Manager, right click the consent.exe process and select Open file location.
Step 2. Check if the consent.exe file is located in the C:\Windows\System32 folder. If it is, it is the genuine consent.exe file. If it is in other locations, then it could be a virus.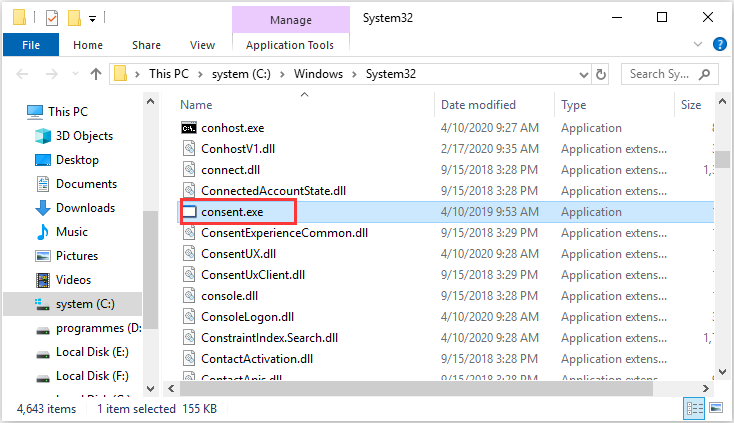 Note that the consent.exe is an important file, so do not delete the executable file unless you're sure it is a virus.
Can I Disable Consent.exe?
Sometimes consent.exe may cause high CPU consumption and slow the computer performance. It is possible because the file has enhanced system privileges and is in a secure location. Many people ask: can I disable the consent.exe?
Well, it is not recommended to disable the consent.exe process. However, if the consent.exe constantly freezes up your PC, you may try temporarily disabling the User Account Control. After turning off UAC, the consent.exe will not load.
Step 1. Type UAC in the Windows search box and then click on the best result Change User Account Control settings.
Step 2. In the User Account Control Settings window, move the the slider to Never notify and click the OK button.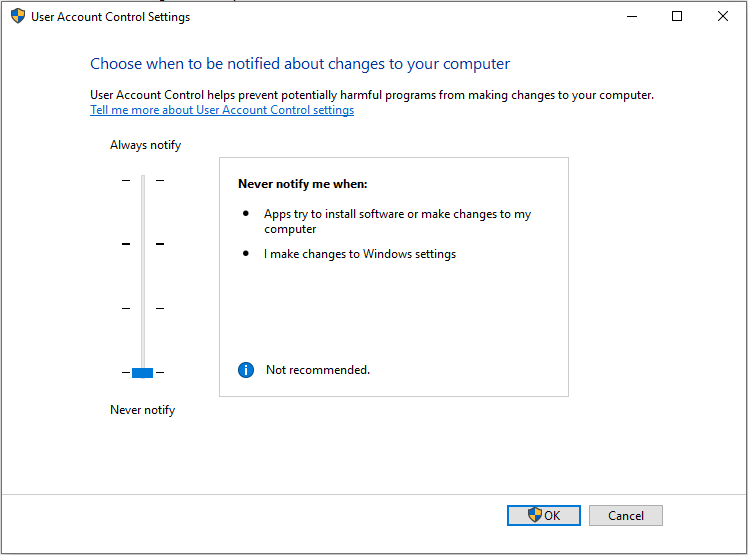 However, it is not recommended to keep the UAC disabled.. Once your problem gets resolves, you should follow the steps above to access Users Account Control Settings and move the slider back to what it was before.
You may be interested in this post: This App Can't Be Activated When UAC Is Disabled
Conclusion
Now you should know what consent.exe is and whether it is a virus. If you have any different options toward the consent.exe Windows 10 process, you can share it with us by leaving a comment in the following comment zone. We are glad to have you share it with us.