Summary :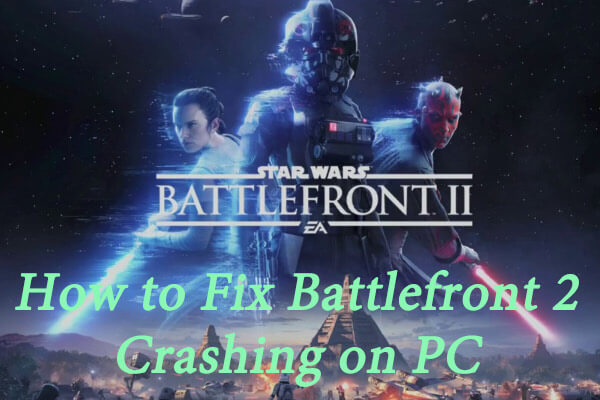 Some players report that Battlefront 2 keeps crashing and they cannot play the game at all. If you are struggling with the same issue, you are at the right place. In this article from MiniTool Partition Wizard, you will learn about 5 solutions to Battlefront 2 crashing issue.
Battlefront 2 (Start Wars Battlefront II) is an action shooter video game that features both single-player and multiplayer game modes. Without further introduction about the game itself, today we will talk about how to fix Battlefront 2 crashing issue.
Actually, Battlefront 2 might crash on your PC due to various reasons, including outdated graphics driver, virus attack, lack of administrative privilege, and etc. But you don't need to worry, and you can fix it by yourself with the following solutions and enjoy the game again. Let's see the details.
Tip: If Battlefront 2 keeps crashing when you are trying to launch it for the first time, you had better check if your computer meets the system requirements to run the game.
Fix 1: Run the Game as Administrator
If you cannot run a program properly on your computer, chances are that this program don't have the administrative permissions. So, try running your Battlefront 2 as an administrator if it keeps crashing.
Step 1: Right-click the shortcut or the executable file of Battlefront 2 and choose Properties.
Step 2: Switch to Compatibility tab and check Run this program as an administrator option.
Step 3: Click Apply and OK to save changes. Launch the game again to check if it can run properly.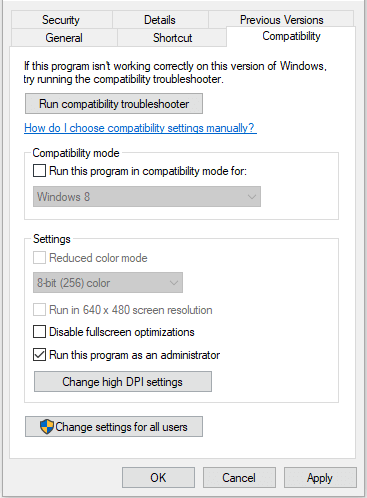 Fix 2: Verify Integrity of The Game Files
If you encounter Battlefront 2 crashing on PC, perhaps there are certain problems with the game files. In this case, you can make use of your game platform like Steam to repair the game. Here's how to do that:
Step 1: Launch your Steam client and go to LIBRARY.
Step 2: Among the list of installed games, right-click Start War Battlefront 2 and choose Properties.
Step 3: Switch to the LOCAL FILES tab and click VERIFY INTEGRITY OF GAME FILES option.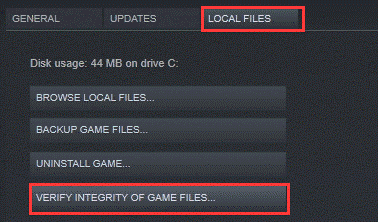 After the process is completed, you can restart the game and check if the crashing issue is fixed. If Battlefront still crashes on PC, just move on to the next solution.
Fix 3: Temporarily Disable Antivirus
Although antivirus can protect your computer from potential threats of virus or malware, it might seep into your system settings and alter them without your consent, making Battlefront 2 blocked by your system. And some antivirus might mistakenly regard Battlefront 2 as a negative program and stop it from running on your PC.
So, it might be helpful to disable your antivirus temporarily. If you are using Windows Defender Antivirus, you can refer to the steps below to disable it as well.
Step 1: Press Windows + I to open Settings.
Step 2: Navigate to Update & Security > Windows Security and click Virus & threat protection in the right pane.
Step 3: In the Windows Security window, click Manage settings under Virus & threat protection settings section.
Step 4: Toggle off the button below Real-time protection to disable Windows Defender Antivirus.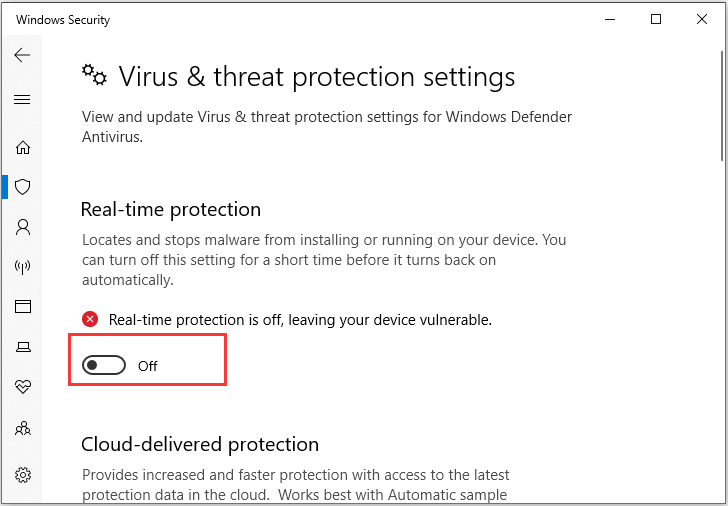 If Battlefront 2 still keeps crashing with antivirus disabled, you can re-enable your antivirus and then try the next method.
Fix 4: Update Your Graphics Driver
Graphics card driver is very important for the proper functioning of video games, and you may encounter problems while playing games if it's outdated or corrupted. In this case, you can try updating your graphics driver to fix the Battlefront 2 crashing issue. Here's how to do that.
Step 1: Right-click the Start button and choose Device Manager.
Step 2: Expand the Display adapters category, right-click your graphics driver and choose Update driver.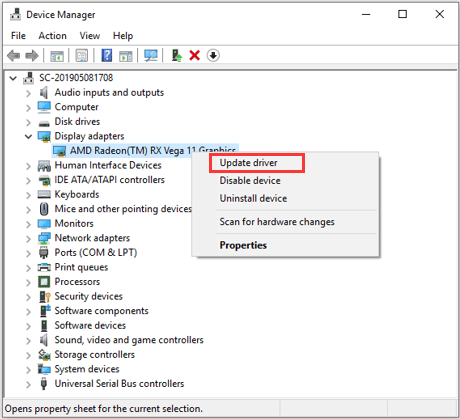 Step 3: Choose Search automatically for updated driver software to continue. If there are any available updates for your driver, install them according to the onscreen instructions.
Fix 5: Clean Boot Your Computer
It is possible that there is a certain program or service is conflicting with your Battlefront 2 and cause it crashing on PC. To resolve the problem, you can go to clean boot your computer.
Step 1: Press Windows + R, input msconfic and click OK to open System Configuration.
Step 2: Go to the Services tab, check Hide all Microsoft services and click Disable all button.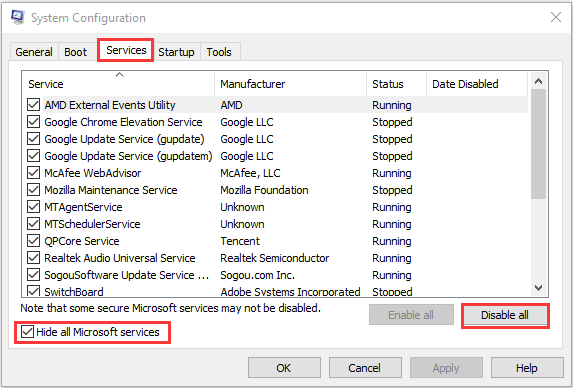 Step 3: Under the Startup tab, click Open Task Manager.
Step 4: In Task Manager, disable all the displayed startup items by selecting them and clicking Disable.
Step 5: Go back to the System Configuration window, click Apply and OK to save changes.
After that, restart your computer and see if your Battlefront 2 can launch normally. If you want to figure out the problematic item, you might need to reenable them one by one. If Battlefront 2 crashing issue appears again after re-enabling it, then it should be the problematic one.
Have you fix Battlefront 2 crashing on PC with above methods? If you fail to get rid of this problem, perhaps you need to reset or reinstall your Battlefront 2, or replace your game files with a fresh copy that can run properly on another computer.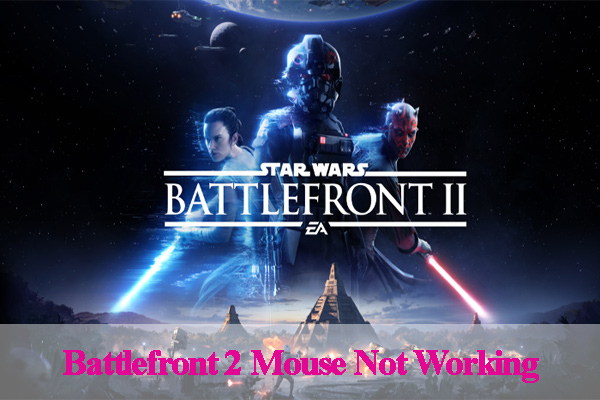 A large number of players complain about Battlefront 2 mouse not working. Are you also troubled by the issue? This post sharer many effective methods to fit it.