The Apple Watch is a line of smart watches produced by Apple Inc. It incorporates fitness tracking, health-oriented capabilities, and wireless telecommunication, and integrates with iOS and other Apple products and services.
Because of its versatility, the Apple Watch is popular around the world. Just like other smart watches, the Apple Watch is also a wearable device which runs on a battery. Although the battery of the Apple Watch can run for up to 18 hours, it also needs to be charged.
The Apple Watch uses a wireless charging method. It uses a wireless sensor on the bottom of the watch to receive battery charging. It displays the battery status with a green lightning and a red lightning bolt.
When you place your Apple Watch on the magnetic charging part, a green lightning bolt should appear on the screen.
A red lightning bolt flashes on the screen if your watch needs to be charged.
When you charge your watch, the red lightning bolt transforms into a green lightning bolt.
If your screen is blank or if you see the charging cord indicator and a red lightning bolt on the screen, you need to charge your watch for up to 30 minutes.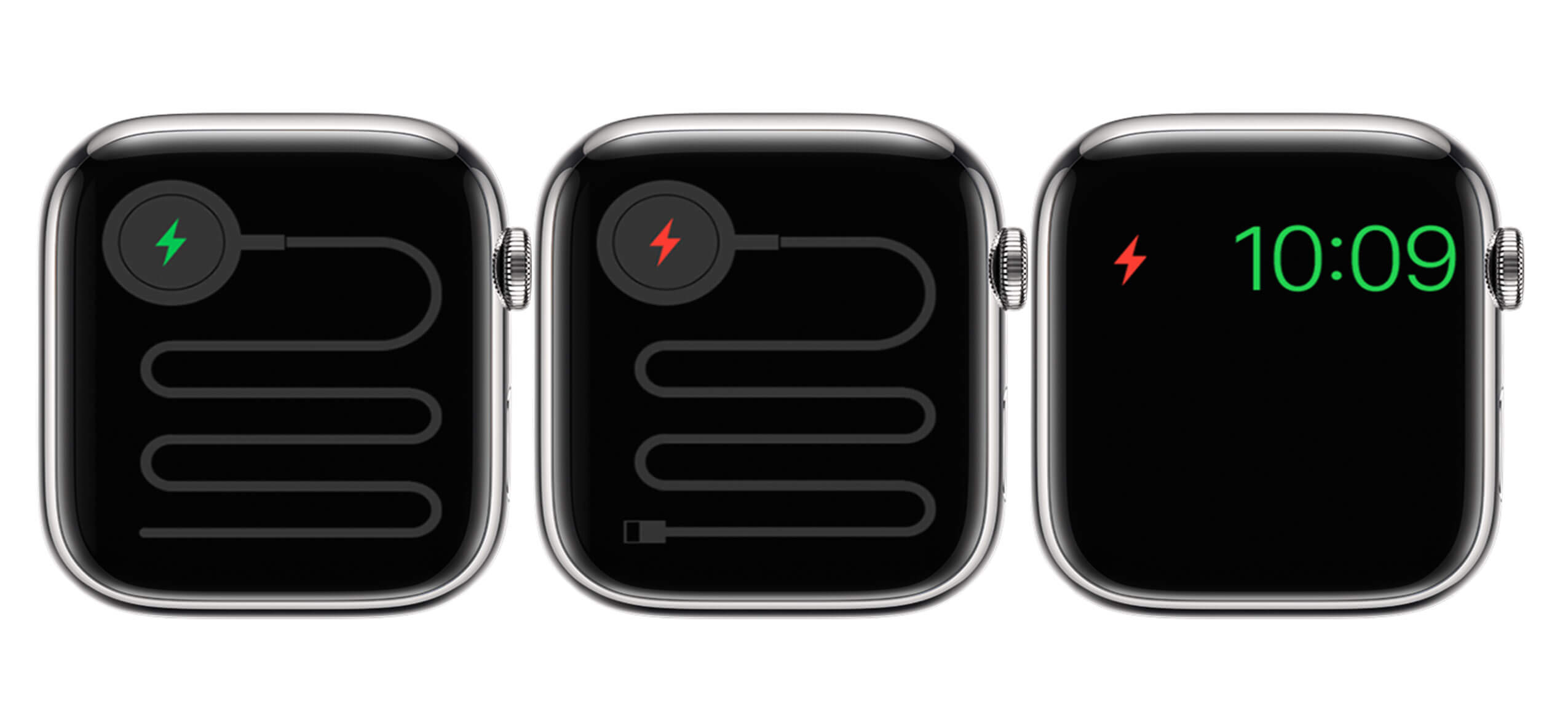 In many conditions, the Apple Watch can charge normally and show a lightning bolt like above. However, some users have encountered the "Apple Watch not charging" issue, and this issue bothers them a lot.
So, how can you solve this issue? In this post, you can get some useful solutions to solve this issue.
Solution 1. Check the Connection Between Cable and Power
If you have already placed your Apple Watch on the magnetic charging part but don't see the lightning bolt, you can try checking the connection between the magnetic charging cable and power.
Your Apple Watch may not charge if the magnetic charging cable is not plugged completely into the USB power adaptor or the power adaptor is not plugged completely into the wall outlet.
Solution 2. Restart Your Apple Watch
If you suspect the charging problem is caused by software, you can try force resting it to solve the problem. But you need to make sure your Apple Watch still has some battery power, or you can't restart it.
To restart an Apple Watch by force, you need to hold down the Digital Crown and the side button at the same time for at least 10 seconds until you see the Apple logo on the screen.
Solution 3. Clean Charger and Watch
Any dirt or debris that prevents your Apple Watch from forming a secure connection to the charger may result in the charging issue. So, you need to use a slightly damp washcloth to clean the back of the Apple Watch and the magnetic charging disk.
Meanwhile, you need to remove all the plastic used to protect the watch and charger, because it can also affect charging.
Solution 4. Use Another Charging Cable or Outlet
Sometimes there may be something wrong with the charging cable or outlet. It can also cause the "Apple Watch not charging" issue. So, you can try your friend's charging cable to check if there is anything wrong with your own charging cable.
Or, if you suspect there is something wrong with the wall outlet, you can change it to another one.
Solution 5. Delete All Apple Watch Content and Settings
Some users have reported that deleting all Apple Watch content and settings can solve this issue Here's the way:
Navigate to Settings on your Apple Watch.
Touch on General.
Then tap Reset.
Next, touch Erase All Content And Settings.
Type your password when a notice shows on your screen and then touch Erase All to confirm.
Re-link your Apple Watch to your iPhone.
After that, charge again to check whether the issue is solved.
Solution 6. Contact Apple Support
If all the solutions above can't work for this issue, you can try contacting Apple Support. Apple Support can give you a proper suggestion and help you solve this issue.