Are you getting error code 0x80242008 when trying to update your Windows PC? This issue can prevent you from installing the latest features and security patches for your system. What causes the 0x80242008 error? How to fix it? Don't worry! In this post, MiniTool Partition Wizard will tell you the answers.
What Causes the Windows Update Error 0x80242008?
The 0x80242008 error may occur due to various reasons. Below we summarize some possible causes.
Corrupted system files or folders
Disabled Windows update services
Third-party applications interfering with the update process
Weak internet connection
After knowing the causes, you may wonder how to fix the Windows update error 0x80242008. Depending on the cause of the issue, you can try the following methods to get rid of this update problem.
Method 1. Run the Windows Update Troubleshooter
Windows update troubleshooter is a built-in tool that can help you diagnose and fix common issues related to Windows updates. You can follow these steps to run it.
Step 1. Navigate to Settings > Update & Security > Troubleshoot > Additional troubleshooters.
Step 2. In the next interface, select Windows Update and click Run the troubleshooter.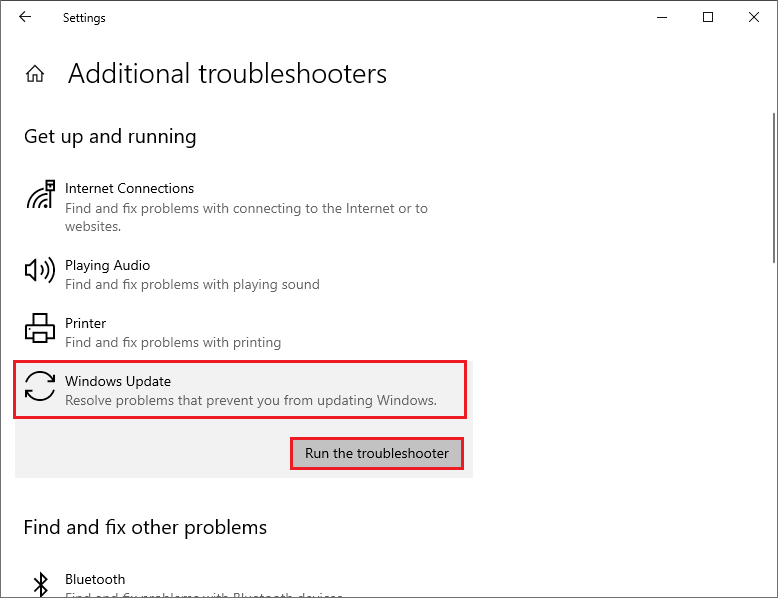 Step 3. Then you can follow the on-screen wizard to complete the process. Once done, reboot your PC.
Method 2. Enable Windows Update Service
Windows update service is a crucial component that manages the download and installation of Windows updates. You should ensure that this service is enabled. Here's how to do that:
Step 1. Open Services by searching it in the Windows Search tool.
Step 2. Then in the list of services, locate Windows Update and double-click it.
Step 3. In the pop-up window, ensure that the Startup type is set to Automatic.
Step 4. If the Service status is Stopped, click Start. Once done, click Apply > OK to save the changes.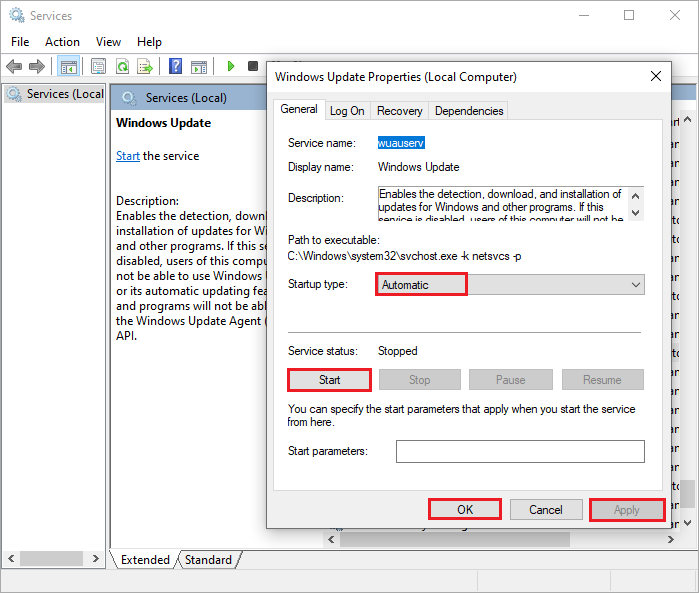 Step 5. Then repeat the same steps for Windows Update Medic Service. Once done, reboot your PC and try to update again.
Method 3. Repair Missing or Corrupted System Files
To fix the error code 0x80242008, you can run SFC and DISM to repair missing or corrupted system files. Follow these steps:
Step 1. Press Win + R to open the Run command box. Then type cmd and press Ctrl + Shift + Enter to run Command Prompt as administrator.
Step 2. Then type sfc /scannow and press Enter. Once the process completes, check if the issue is fixed.
Step 3. If the issue still exists, you can run DSIM. Type the following commands and press Enter after each one.
DISM /Online /Cleanup-Image /CheckHealth
DISM /Online /Cleanup-Image /ScanHealth
DISM /Online /Cleanup-Image /RestoreHealth
Step 4. Once done, restart your PC and check if the issue disappears.
If you encounter issues like SFC scannow not working or DISM failed errors while using the above two tools, you can download and install MiniTool Partition Wizard to check file system errors and bad sectors with this post.
Method 4. Perform Clean Boot
To get rid of the error code 0x80242008, you can perform a clean boot with the steps below.
Step 1. In the Run box, type msconfig and press OK. In the pop-up System Configuration window, click the Services tab.
Step 2. Then check the Hide all Microsoft services box and click Disable all.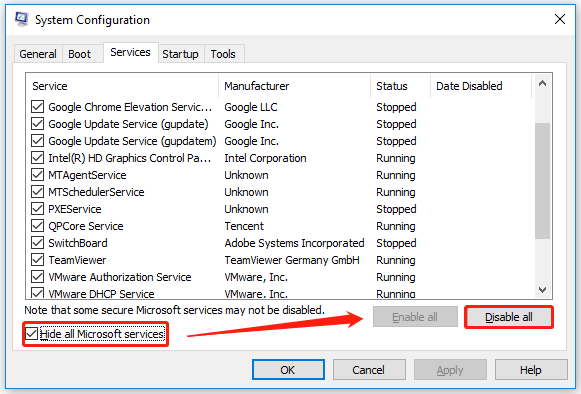 Step 3. Then click the Startup tab and click on Open Task Manager.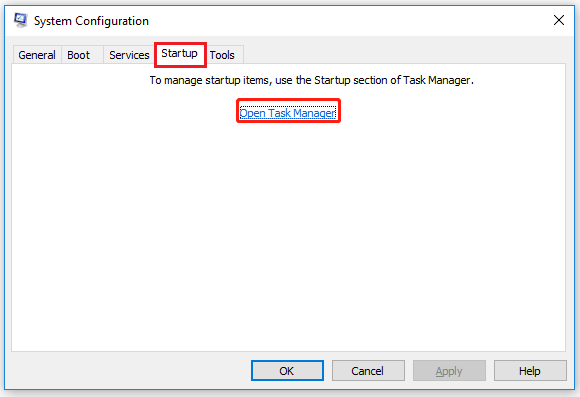 Step 4. In the Task Manager window, disable all the startup programs by right-clicking them and selecting Disable.
Step 5. Once done, close Task Manager and go back to the System Configuration window.
Step 6. Click OK and reboot your PC. Then try to update again.
In addition to the above methods, you can try manually downloading and installing the Windows updates or clearing the Windows update cache to fix the 0x80242008 error.
Conclusion
In this post, we have learned several ways to repair the Windows update error 0x80242008. We hope that this post can solve your problem successfully. Do you have any other nice fixes? You can feel free to leave a comment below.