What is the reliable Windows 7 backup software? In fact, Windows 7 comes with built-in backup utility that is easy to use. In addition, more reliable Windows 7 backup software can be found on the net which will save your time and effort.
What Is Your Backup Strategy – Software of Choice?
When asking this question, we believe different users give different answers. For computer newbie, what they usually back up are some kinds of files like paper, pictures, films, etc. and the common solution they adopt is copy and paste.
For those average computer users, they know the importance of data backup as well as operating system backup, so they are likely to choose professional backup software to do this job. And in this post, we are going to explain 3 useful backup software for Windows 7 – the most popular operating system in the world.
MiniTool ShadowMaker
MiniTool ShadowMaker is a brand new backup solution for Windows 7/8/10 all editions put forward by MiniTool Software Ltd. No matter you want to back up system or files, it can handle the tasks very well. Besides, you can schedule the backup tasks to save time and effort. 
How can we back up Windows 7 with MiniTool ShadowMaker? Here we would like to explain how to back up and restore Windows 7 altogether by using this brand new software. Download and install MiniTool ShadowMaker on our computer.
MiniTool ShadowMaker TrialClick to Download100%Clean & Safe
Step 1. Immediately after we launch this program, we will see a selection page asking to choose a computer to manage. Is that Local or Remote? Usually, we select Local (This Computer) unless we intend to back up another computer. Then we can see its Home tab as shown below.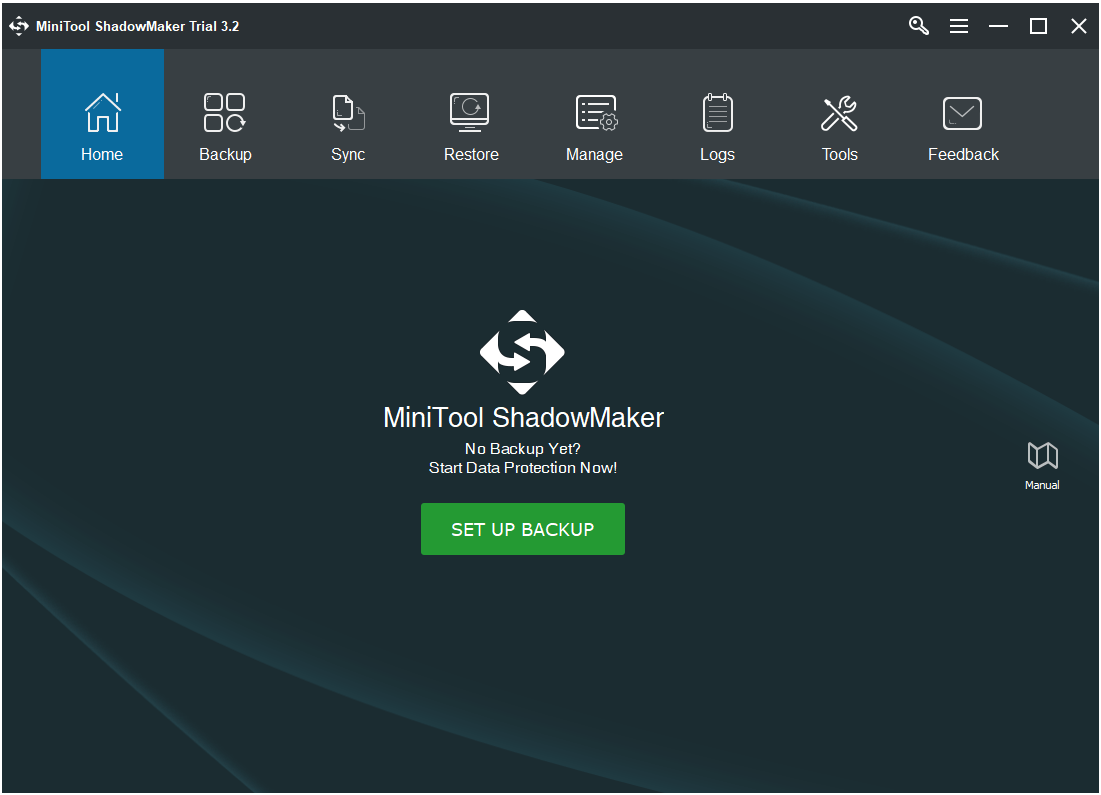 Step 2. Navigate to Backup, and then choose what to back up and where to store the backup image file. MiniTool ShadowMaker automatically detects the system required partitions at Source, so we only need to select a location to store the backup image. It is worth mentioning that backing up to a hard drive partition is highly suggested.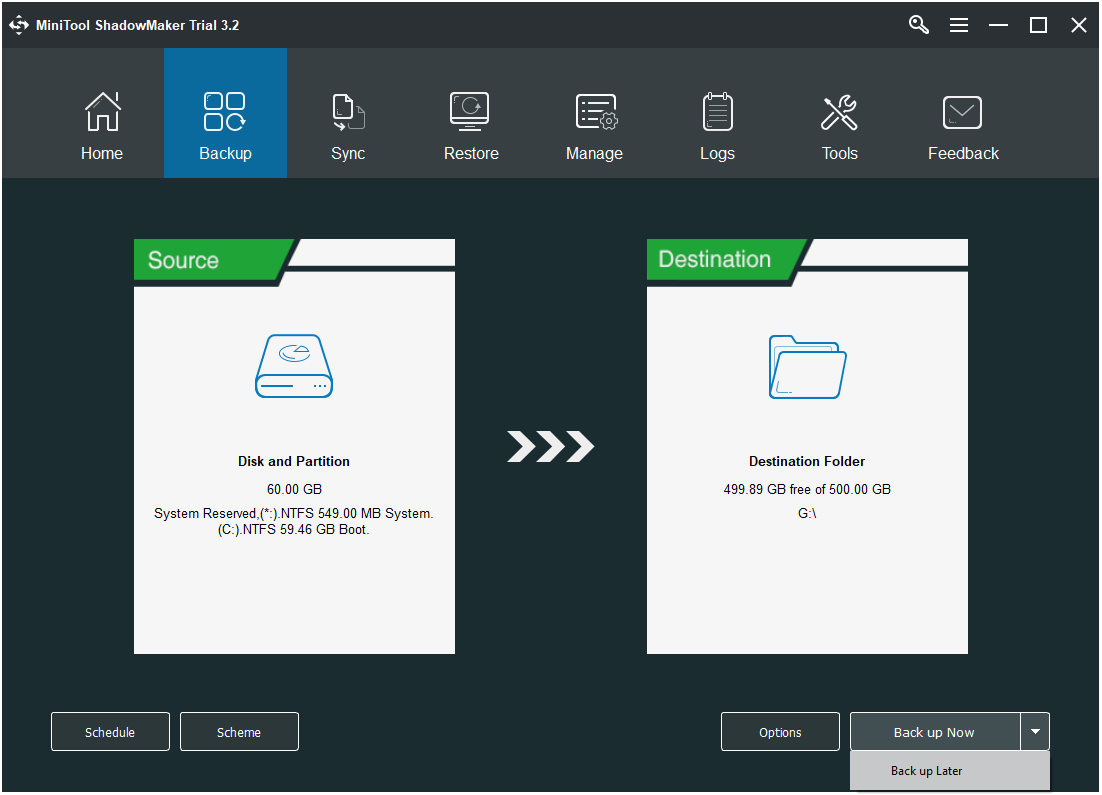 Tip: There are 3 useful features listed at the bottom line, and they are Schedule, Scheme and Options. Apply these functions to customize your backup tasks.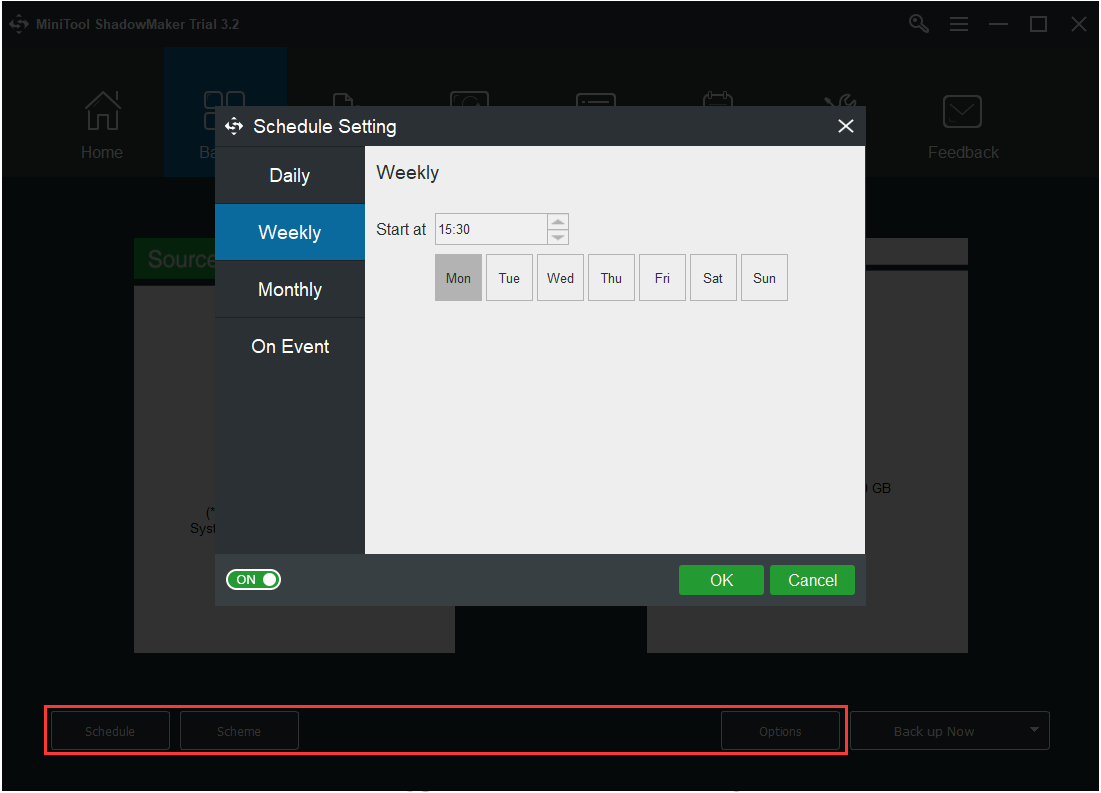 Note: To those who have system partition and data on the same drive, it is better to do disk backup instead of system backup. This is because you never know when a hard drive can fail and data recovery is expensive. Just select all partitions on the same disk at the Source tab.
To restore Windows 7 system image, first of all we need to make use of a feature called Media Builder (which can be found under Tools) to do two things.
Go to system restore.
I used MiniTool ShadowMaker to back up and restore my Windows 7 successfully. It is easy to use and I love the convenience it brings to me…Click to Tweet
Windows 7 Built-in Backup
When it comes to Windows 7 backup software, another good choice is to use Windows 7 built-in backup utility. To know more details, please read on.
What Is Windows Backup?
Backup and Restore (formerly named Windows Backup and Restore Center) is a component of Microsoft Windows introduced in Windows Vista and is included in all later versions that allow users to create backups and restore from backup files. It is a replacement of NTBackup, which was included in previous Windows versions.
How to Access This Free Windows Backup Software?
At Start icon, enter Control Panel where we can adjust computer's settings. Here we need to select Back up your computer under System and Security.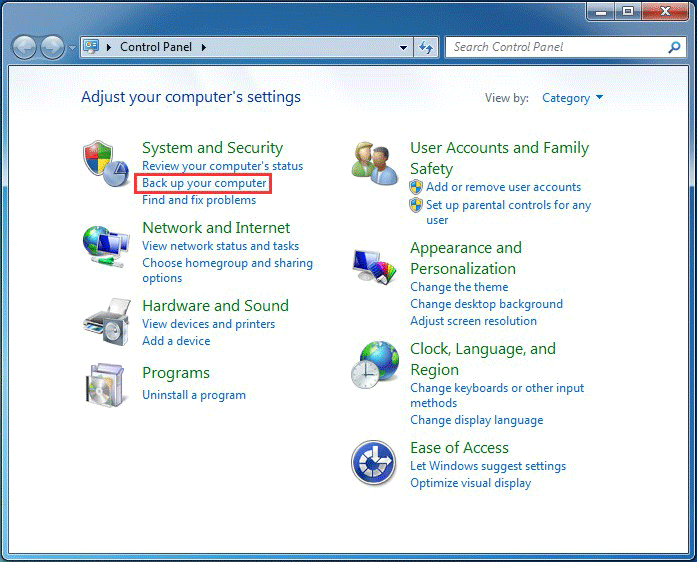 How to back up Windows 7?
Step 1. At Backup and Restore, select Create a system image from the left menu to activate system backup.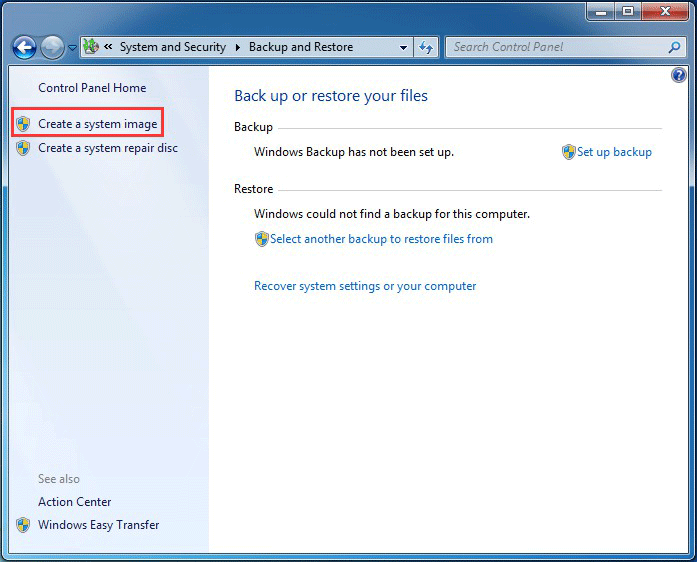 Step 2. Windows 7 backup software will ask where do we want to save the backup, which means to choose the destination location. See we can choose a hard disk, a DVD drive, or a network location as the target location (we recommend backing up to another hard drive or external hard drive). After the selection, click Next to go on.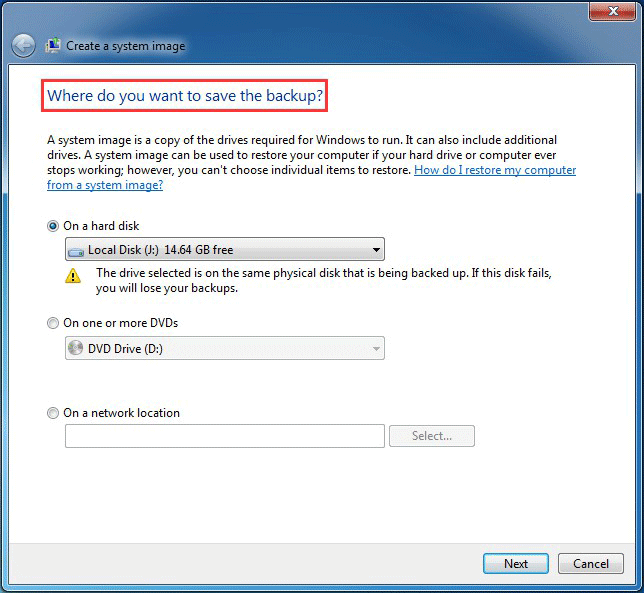 Step 3. Here we need to choose which drives to be included in the backup. We can see that the system related partitions are checked by default and cannot be excluded. Also, we can add some other partitions. After that, click Next to continue.
Step 4. Finally, we can confirm the backup settings and click Start backup button if everything is alright. Then Windows will create a system image quickly.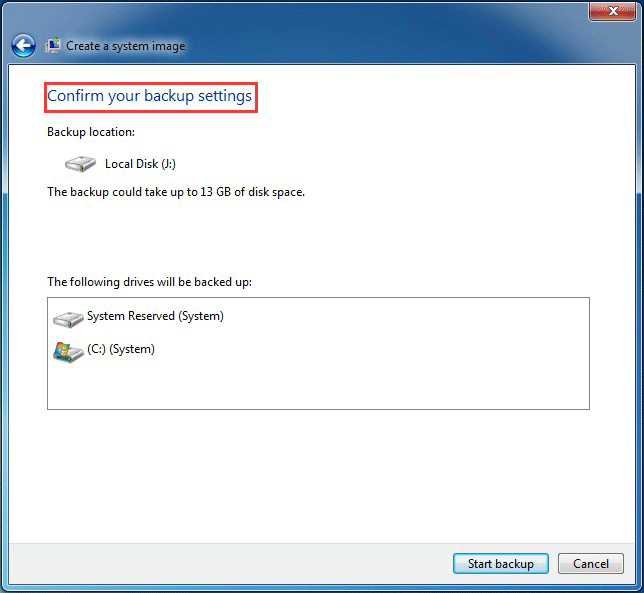 When all is done, we can find the backup file on the appointed partition which is named WindowsImageBackup.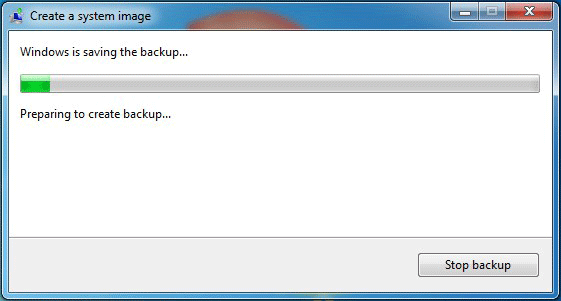 Use MiniTool Partition Wizard
The third solution we can put forward is partition management software, which is able to clone operating system and hard disk drives – another way to back up Windows 7. Such kind of software is especially useful when you need the backup copy in a short time.
Here we think MiniTool Partition Wizard is competent to do this job. To be brief, this is an all-in-one partition manager able to clone system, hard drive and partitions. To back up Windows 7, follow the tutorials below:
MiniTool Partition Wizard FreeClick to Download100%Clean & Safe
Step 1. After downloading this disk cloning software, launch it to the main interface and select Migrate OS to SSD/HD.
Note: This feature only works for the current running OS.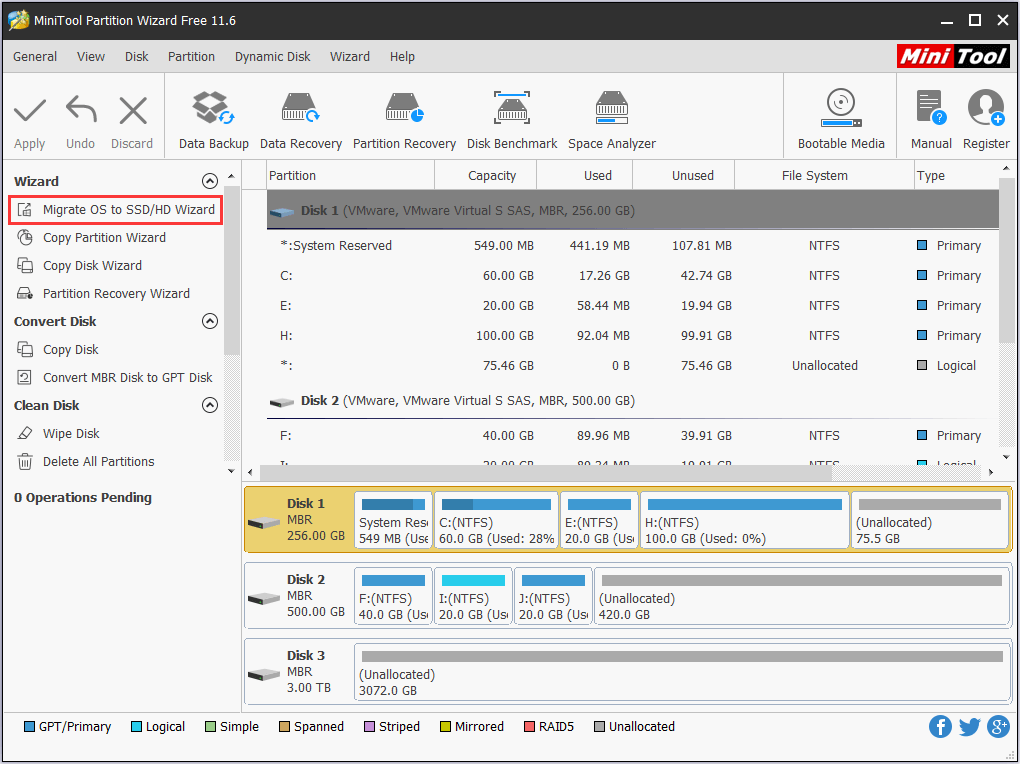 Step 2. Choose what to migrate: all partitions on the system disk OR the system required partitions only. Then click Next to go on.
Tip:
If you need to clone all partitions on the system disk, you can also employ
Clone Disk
feature.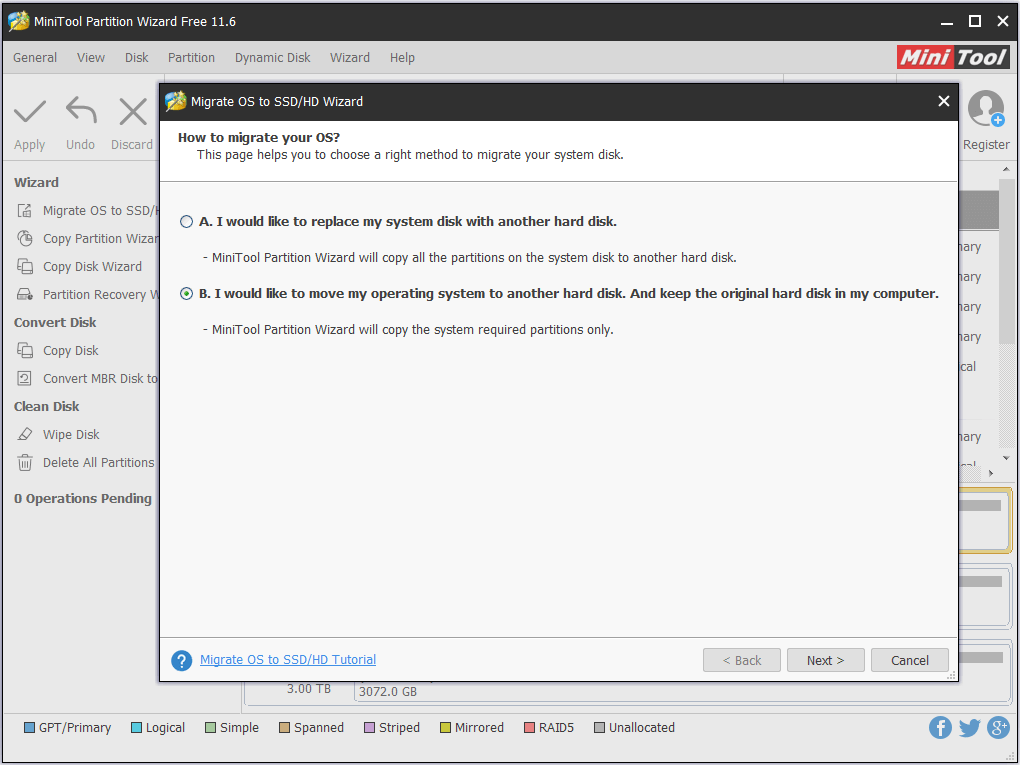 Step 3. Here we need to choose a target disk to store all data on the system disk and then hit Next. Note that all contents on the selected disk will be removed in order to finish the migration. So please ensure that you are selecting the right disk.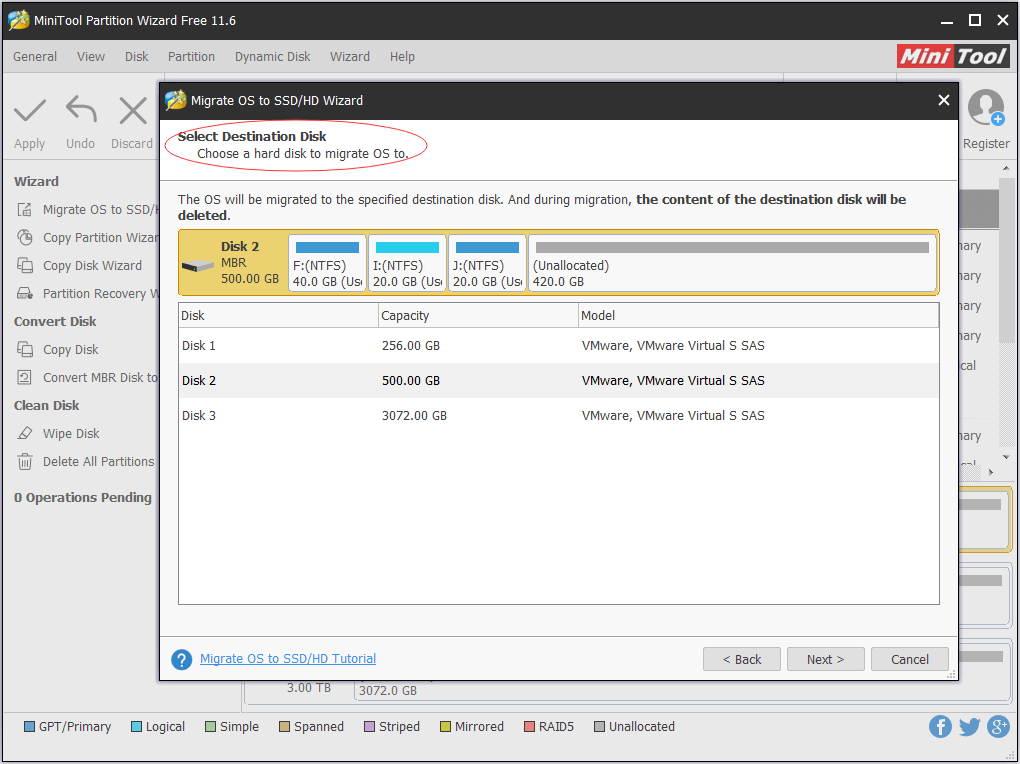 Step 4. Now it's time to confirm how would you like to do the migration. Then click Next to continue.
Fit partitions to entire disk: the partitions to be cloned will occupy all the storage space of the target disk.
Copy partitions without resize: the partitions to be cloned will keep their original size. Hence this option is available only when the target disk is large enough.
Align partitions to 1MB: enhance the performance of the target disk if it is an SSD or advance format disk.
Use GUID partition table: the target disk will turn into GPT disk and is commonly used when the target disk is larger than 2TB. However, this option is available in the paid editions only (view edition comparison).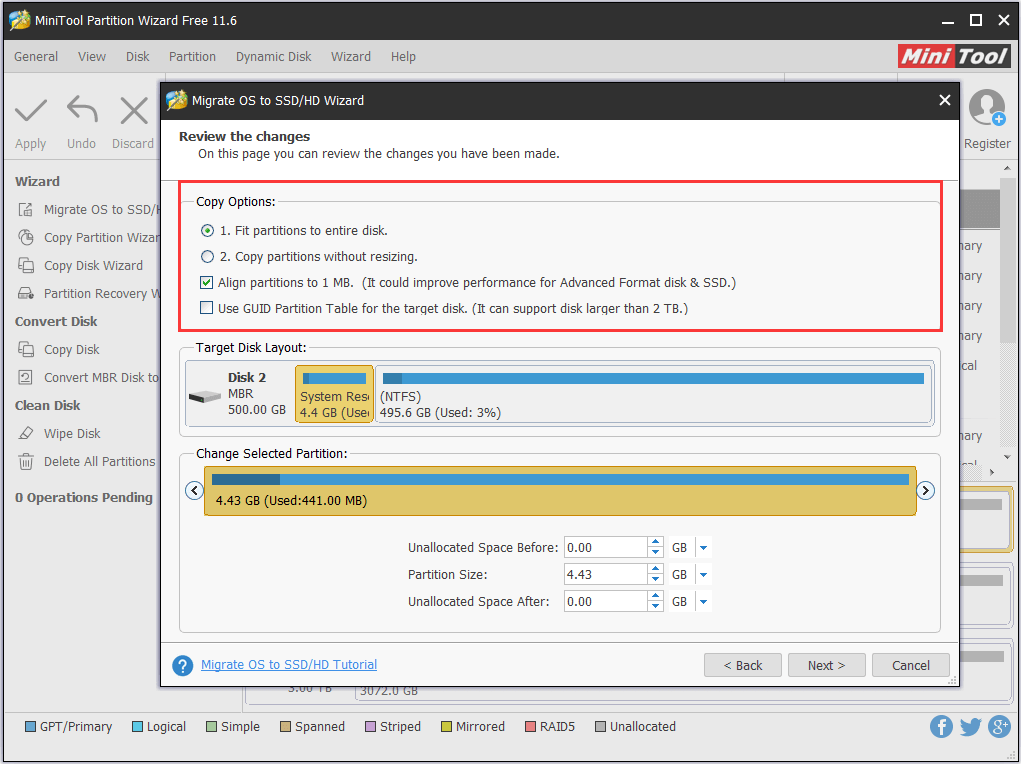 Step 5. Note MiniTool Partition Wizard tells how to boot form the destination disk. Keep this in mind and then hit Finish.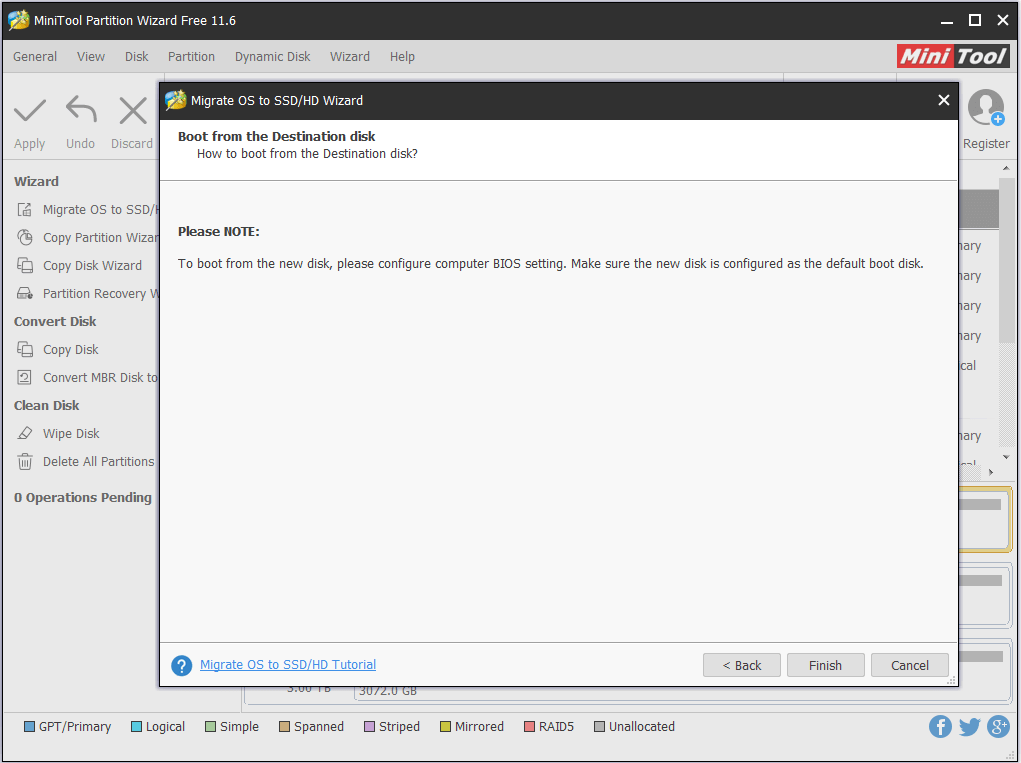 Step 6. Finally we can press the Apply button to start system migration. Since this operation is closely related to the booting OS, MiniTool Partition Wizard requires a reboot to finish this job. Now all is done and you can use the copy anytime even when your OS is affected by ransomware.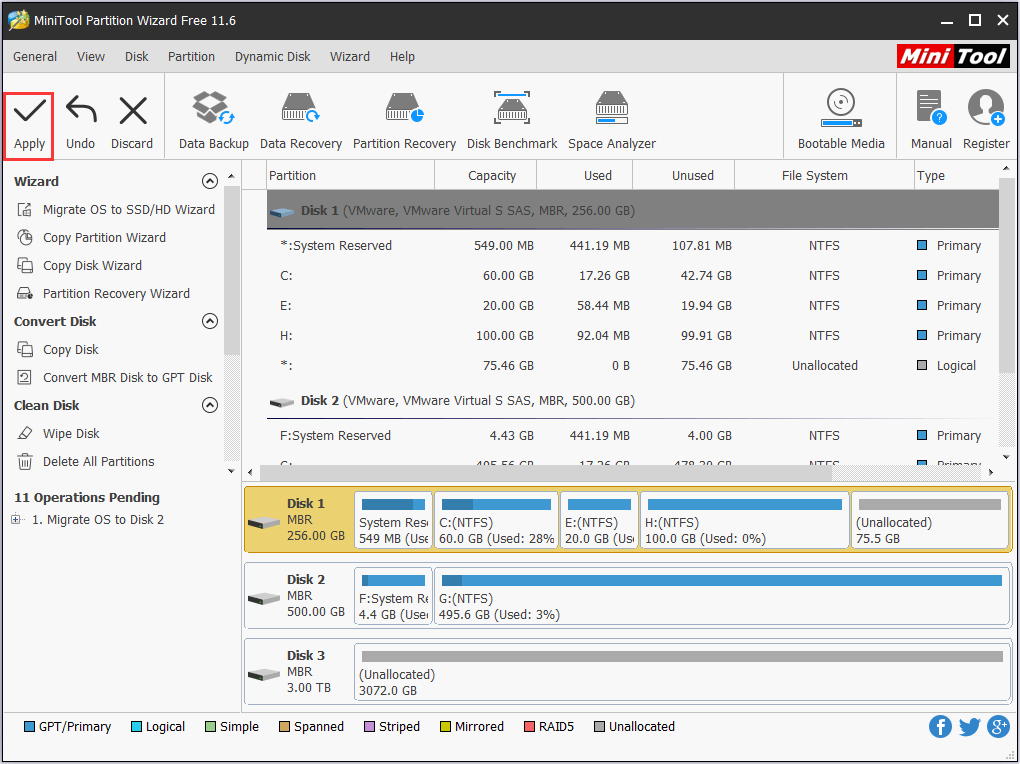 You may also like: Migrate OS to SSD/HD VS. Copy Disk in Partition Wizard.
Why Back up Windows 7
Although Windows is aggressively pushing Windows 10, Windows 7 is still the most widely used operating system in the world. Besides, most of our files are saved on computer, and the daily business with our files all relies on a normally running OS. Hence it is rather important to back up Windows 7. However, Windows 7 can be damaged due to the following reasons:
Human errors: While data saved on hard drives are growing steadily, we may need to free up some disk space to cope with the red partition bar. However, if we do not know what files cannot be removed, Windows 7 gets damaged easily. Besides, in WinPE, when we intend to format a partition, we may select the system partition mistakenly. So back up before you proceed any important system change.
Hard disk failure: The problem is that you never know when a hard drive failure can occur. Regularly back up system and important data give you timely protection from unpredictable disk failures.
Virus invasion: Internet is full of information, and viruses. Once infected, they proceed to weaken your system, cause errors, and lead to data loss. A reliable back up can restore data lost through virus infection.
Nature disasters: natural disasters can happen without notice, such as fire, floods, and lightning. If such a misfortune occurs, how will your business survive? Back up systems and hard drives to external location protect your data against such calamity
Now that we know why backing up Windows 7 is so important, we need to do this consistently and reliably. Just try MiniTool ShadowMaker!
Summary
In this post, we list 3 tools to do Windows 7 backup. You can choose any Windows 7 backup software you like. In summary, Windows 7 backup is very important and we need to form the habit of data protection through various ways. If you have any questions towards using MiniTool product, leave us comments below, or you can contact [email protected].