Many people are troubled by Windows 10 recovery USB size. If the USB capacity is too small, the creation will fail. But too much space will cause waste. This post from MiniTool will help you learn more about the Windows 10 recovery USB size.
What Is a Windows 10 Recovery USB
Due to human error, blue screen error, virus attack, power failure, etc., computer system failures often occur. If your PC encounters these problems when running Windows, the recovery USB can help you reset the system, troubleshoot and repair the problems.
What's more, you can also use the recovery USB to reinstall Windows with backing up systems files to it. When the computer cannot start, a recovery USB with Windows system files allows you to reinstall Windows and restore the computer to a normal state.
Unable to Create the Recovery USB due to Size Issue
Windows 10 provides users with a built-in utility named "Recovery Media Creator" to create a recovery USB. Although it is a simple and handy tool, many users still fail to create a recovery USB and get an error message "We can't create the recovery drive".
Among the many reasons for creation failure, the insufficient USB capacity is very common. Regarding the size of a Windows 10 recovery USB, Microsoft recommends using a USB that's at least 16 gigabytes to create a recovery drive, but the actually required size of the USB may vary depending on the situation of your computer and your needs.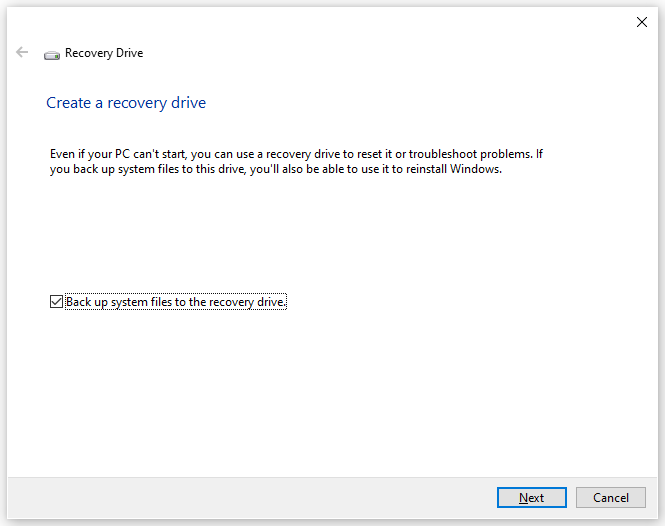 A recovery USB stores a copied image of your Windows 10 environment. The size of the image is affected by many factors, such as the number of device drivers, operating system updates, language packs installed, and which version of Windows it is. If the USB you prepare is not enough to store the Windows 10 image, then the creation will fail.
Windows 10 Recovery USB Size Requirement
So what is the size of a USB that can be used to successfully create a Windows 10 recovery drive? Please read the following contents to get the answer.
Creating a basic recovery drive without the system files requires a USB of at least 512MB in size.
For a recovery drive that contains Windows system files, the size of the USB should be at least 16GB.
A 32-bit Windows operating system generally requires a 16GB USB, and for a 64-bit Windows, a 20GB USB is better.
You should note that a Windows 10 recovery USB prepared on a 32-bit version of Windows 10 cannot be used on 64-bit Windows 10, and vice versa.
When you cannot create a Windows 10 recovery USB successfully, you can firstly try to uncheck the "Back up system files to the recovery drive" option or use another USB to replace the smaller one to solve the problem of insufficient USB capacity.
If this method still fails, please use the Windows 10 media creation tool to make a recovery USB. The recovery USB made in this way can help you upgrade or reinstall your computer.
In addition to the capacity requirements, you should also make sure that the USB you prepare is empty to avoid data loss because creating a Windows 10 recovery USB will erase all data information on it.
All in all, after finishing the preparatory work, you can refer to the following post to learn the detailed steps about how to create a Windows 10 recovery USB: 2 Alternative Ways to Back up System Files to the Recovery Drive.