Are you confused about what is QtWebEngineProcess? Where is the file located? Should I delete it? A great number of people are searching for these answers on Google. Now, you will get all these answers and some useful tips to fix its related common problems from this post of MiniTool.
What Is QtWebEngineProcess?
QtWebEngineProcess.exe is a file that is embedded in a software component of QtWebEngine developed by Qt Company. It is built for embedding web content into these programs using Qt QtWebEngineProcess.exe.   

QtWebEngineProcess.exe was originally designed to be a legitimate file that could be used to make sure some certain programs run properly. However, it is neither a Windows system file nor an essential file for Windows to run.
The .exe extension file indicates that is a 32-bit executable file, but it does not work as a Windows service. In most cases, you can find the .QtWebEngineProcess file/process in this software like Dropbox, Origin, Hipchat, etc.
However, sometimes this file may do harm to your computer and be regarded as a virus. Whether you should remove it depends on where the file is located in. So, if you want to know more about the location of the QtWebEngineProcess, please keep reading the following part.
Where Is QtWebEngineProcess File Located in?
Usually, QtWebEngineProcess.exe file is located in the subfolder of C:Program Program Files (x86). According to the survey, if you find the file is located in a subfolder of the user's profile folder, the dangerous rating is about 63%.
If the QtWebEngineProcess.exe file is located in a subfolder of C:, the dangerous rating is about 40%. If the file is located in a subfolder of the Windows folder for temporary files, the dangerous rating is about 56%.
In addition, some viruses/malware camouflage themselves as a Qt QtWebEngineProcess especially when it is located in the C:Windows or C:WindowsSystem32 folder. For that, you should check if it poses threats to your computer using an antivirus program.
How to Remove QtWebEngineProcess.exe
After reading the above content, you may wonder how to remove QtWebEngineProcess.exe file when it is harmful. You can follow the quick guide below.
Step 1. Press Ctrl + Shift + Esc keys at the same time to call out the Task Manager window.
Step 2. Navigate to the QtWebEngineProcess.exe process, and then right-click it and select the End Task option from the context menu.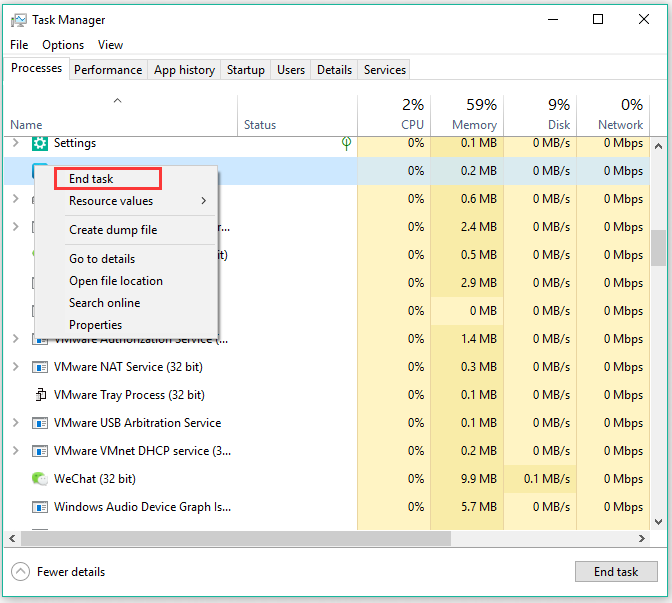 This operation can only stop the process. If you want to remove the .QtWebEngineProcess from the system, you need to find out which software is using it. Here's how.
Step 3. Right-click the QtWebEngineProcess.exe in Task Manager and select Open file location.
Step 4. Then you will see which program is using the file. You can decide whether this program is important based on your needs and remove QtWebEngineProcess by uninstalling the program.
For example, if the programs in question are Dropbox and you just use it unregularly, you can consider uninstalling it.
How to Fix Some Common Problems Related to the QtWebEngineProcess File
Right now, I believe that you already have an overall understanding of the Qt QtWebEngineProcess file. What should you do if you encounter some common problems that are related to QtWebEngineProcess? Among them, the most common problem is that the file often gets corrupted or missing.
Method 1. Use System File Checker
System File Checker is a Windows built-in tool that is often used to restore the corrupted or missing system files. It is very simple to use. Here's how.
Step 1. Type cmd in the search box, and then right-click Command prompt from the top result and select Run as administrator.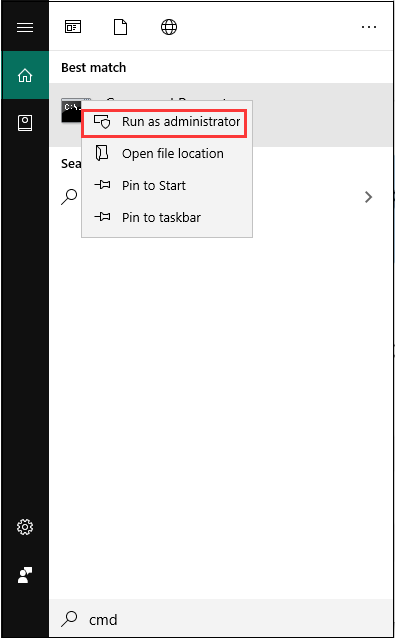 Step 2. In the elevated command prompt, type sfc /scannow command and hit Enter. After that, Windows will start scanning the whole system and repair the corrupted ones.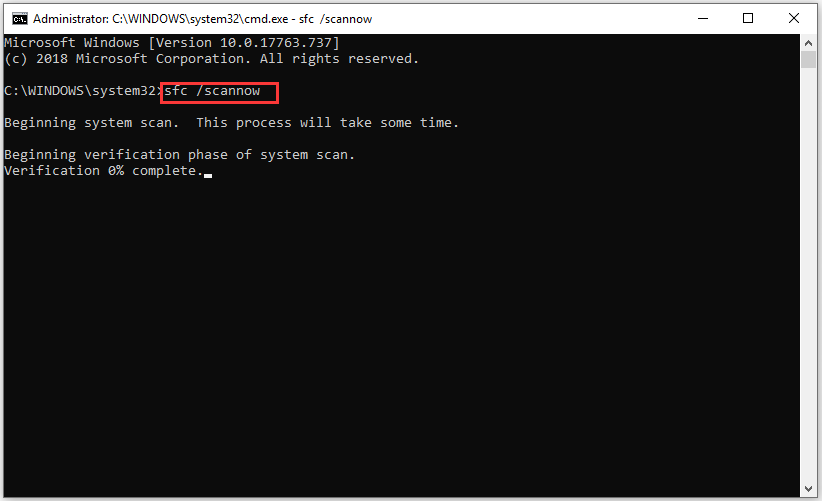 Method 2. Run a DISM Scan
DISM is another utility that is used to repair corrupted files. Here is how to do that:
Step 1. Open the elevated command prompt through the above method.
Step 2. Type the DISM /Online /Cleanup-Image /RestoreHealth command and hit Enter.
Here comes to an end of this post. Right now, you probably have a deeper understanding of QtWebEngineProcess and get some extra useful tips.