Do you want to mine cryptocurrency? Is crypto mining still profitable? This post from MiniTool Partiton Wizard will explain some questions about crypto mining and show you how to build a mining rig step by step. You can have a try.
Why Do You Need to Build a Mining Rig
A cryptocurrency is a digital asset that can circulate without the centralized authority of a bank or government, while a mining rig is a device used to mine different cryptocurrencies.
In general, you can decide to buy cryptocurrencies online or mine them using a crypto mining rig. But if you are bullish on cryptocurrencies for the long term, mining cryptocurrencies is more profitable. According to research by The Block, $15 billion in revenue was made by Bitcoin miners in 2021.
Crypto Mining Rig Types
In general, there are 4 types of crypto mining rigs.
CPU Mining Rig: It is just an ordinary personal computer. As mining competition increased, CPU mining rigs quickly became outclassed because they are not optimized for crypto mining.
GPU Mining Rig: It looks like a regular personal computer, but it typically has several GPUs connected to its motherboard. It usually has significantly more mining power than a CPU.
FPGA Mining Rig: A Field-Programmable Gate Array is an electronic circuit that can be programmed to execute specific operations. Theoretically, it can be used to mine a specific cryptocurrency and then reprogrammed to mine a different one. But this process is difficult and FPGAs have a lower energy efficiency than ASIC mining rigs.
ASIC Mining Rig: Application-Specific Integrated Circuit is the most popular mining rig today. It is a chip that is customized and manufactured for a particular. When an ASIC is optimized for mining, it will far outclass the power efficiency of other computers.
Why do people pursue high-performance mining rigs? The reason is that a specific cryptocurrency's number is limited. Therefore, when more and more people mine the same cryptocurrency, the cryptocurrency mining difficulty will grow.
In general, the cryptocurrency mining difficulty is related to the cryptocurrency network hash rate. The higher the cryptocurrency network hash rate, the bigger the cryptocurrency mining difficulty. If your mining rig has a higher hash rate than the network hash rate, you can get a cryptocurrency more easily. Otherwise, the profit may become 0.
To solve this problem, mining pools occur, which can combine a small amount of computing hash rate to mine cryptocurrency together. The cryptocurrency rewards obtained are also shared by multiple people according to their contributions. Nowadays, most people will join mining pools because the cryptocurrency network hash rate is too high.
Tips:
Here are 3 mining pool websites that may help you: nanopool.org, suprnova.cc, and miningpoolhub.com.
Everything You Should Know Before Building a Mining Rig
Before building a crypto mining rig, you should know the following things.
Can I Build My Own Mining Rig?
Yes, you can. But you can only build a GPU mining rig. As for other higher-end mining rigs, you need to purchase them online. In addition, a crypto mining rig is usually used to mine POW cryptocurrencies.
PoW vs PoS
PoW is short for Proof of Work. How much PoW cryptocurrency you earn depends on the effective work you contribute to mining. Namely, the higher the computer hash rate and the longer the mining time, the more cryptocurrency you will get.
PoS is short for Proof of Stake. It is a system that pays you interest based on the amount and time of the cryptocurrency you hold. Once a PoW cryptocurrency is transferred to PoS, most individual miners will be eliminated.
Top 10 PoW Tokens by Market Capitalization
According to the CoinMarketCap website's data on November 7, 2022, the top 10 PoW tokens by market capitalization are as follows:
Bitcoin (BTC): $397 billion market cap; $20,650 per Bitcoin.
Dogecoin (DOGE): $15 billion market cap; $0.11 per Dogecoin. Unlike many other cryptos, there is no limit on the number of Dogecoins that can be created, which leaves the currency susceptible to devaluation as supply increases.
Litecoin (LTC): $4.9 billion market cap; $69.5 per Litecoin.
Ethereum Classic (ETC): $3.4 billion market cap; $24.8 per Ethereum Classic.
Monero (XMR): $2.8 billion market cap; $155.7 per Monero.
Bitcoin Cash (BCH): $2.2 billion market cap; $116.5 per Bitcoin Cash.
Bitcoin SV (BSV): $0.9 billion market cap; $47 per Bitcoin SV.
Zcash (ZEC): $0.8 billion market cap; $50.6 per Zcash.
EthereumPoW (ETHW): $0.6 billion market cap; $5.9 per EthereumPoW.
Ravencoin (RVN): $0.4 billion market cap; $0.03 per Ravencoin.
Tips:
The real data will vary all the time. The above data is the approximate value.
To know more PoW cryptocurrencies and their prices, go to this website page.
GPU Mining Rig Profitability
Is mining rig profitable? How soon can I get my money back? Some people may ask these questions. They depend on many factors, for example:
The price of the cryptocurrency. It will vary in real time. When the cryptocurrency price goes up, you can get your money back sooner.
The investment in the crypto mining rig, especially in the GPUs. The more investment you pay, the longer you can get the money back.
The GPU hash rate. Although the higher the GPU hash rate, the better, it and GPU profitability are not positively correlated.
Electricity cost. The lower the better.
Calculating the mining rig's profit is a tough job. Fortunately, Some tools can help you, for example, WhatToMine, 2CryptoCalc, and SimpleMining. They will tell you the GPU hash rate and portability for some cryptocurrencies. According to them, you can decide to buy which GPU and mine which cryptocurrency.
Warning:
Invest with caution. This article is not guaranteed to help you make money.
How to build a mining rig? Before you do that impulsively, you should figure out whether you can earn money from it. Here are some things you should know.Click to Tweet
How to Build a Mining Rig
In this part, I will show you how to build a crypto mining rig step by step.
Stage 1. Choose Hardware
What do I need to build a mining rig? Here is the list: 
GPUs: How many GPUs do you want to use? If you want to use more than one GPU, you need to make sure of the GPU card compatibility. In addition, GPUs should have a large VRAM capacity.
Motherboard: If you want to use more than one GPU, you should make sure the motherboard can hold so many GPUs. You should check the GPU slot number, GPU slot type, and CPU slot type.
CPU: Because you are using GPUs to mine cryptocurrency, you just need to use a moderate or low-end CPU like an Intel 8th or 9th Generation 1151 Socket CPU.
RAM: It is a necessary but comparatively less important component for a mining rig. 4GB to 8GB is OK.
Storage: Any SATA 240GB SSD is OK. Some people even use a USB flash drive and Ubuntu to mine cryptocurrency. Here I still use Windows and an SSD.
PSU: Any PSU with a 1200 W Platinum rating.
Cooling System: A mining rig will produce a lot of heat. You need to pay more attention to the CPU and GPU cooling. Burning your GPUs can quickly put you out of business.
Other parts like a GPU riser, a chassis, a display, a keyboard, a mouse, and various cables.
How much does it take to build a mining rig? Some people may ask this question. It depends on what hardware components you choose.
Stage 2. GPU Mining Rig Setup
First, you should assemble these hardware components into a PC. Then, you can start to install Windows on your PC. After that, open Device Manager on your PC to check every GPU is detected correctly by your PC. Then, update their drivers.
Then, you need to optimize Windows. For example:
Open Settings > System > Power & Sleep. Under "Sleep," set the two boxes to "Never."
Search "adjust the appearance and performance of Windows" and open it. Make sure the "Adjust for best performance" option is checked.
On the same window, go to the Advanced tab, and click the Change On the new window, uncheck the "Automatically manage paging file size for all drives" option, check Custom size, and set both the Initial size and Maximum size to 1.5 times or twice that of the physical memory.
Then, you need to set up the BIOS for mining. If you use multiple GPUs, this step is necessary. Taking ASUS BIOS as an example, the process is as follows:
Tips:
If you use a different motherboard, the specific steps may vary.
Enter firmware > Advanced tab.
Go to APM Configuration and change Restore AC Power Loss to Power On.
Go to Onboard Devices Configuration. Change M.2_1 Configuration to PCIE, and change PCIe Bandwidth Configuration to X2 Mode. The specific names may vary, but the "M.2_1" and "PCIe" words are relatively fixed. Sometimes, there are two items that should be in X2 Mode. You can expand those items one by one to find them.
Go to System Agent (SA) Configuration > PEG Port Configuration to keep PCIEX16_1 Link Speed to Auto.
Go to PCH Configuration > PCI Express Configuration and change PCIe Speed to Gen1.
Find the Above 4G Decoding to enable it. This item may be under PCI Subsystem settings or Boot.
Save changes and exit the firmware.
Stage 3. Install Mining Software
After the mining rig setup is completed, you can install mining software to start mining. Different cryptocurrencies may have different mining software. You need to search for them online.
If you want to build a Bitcoin mining rig, you can use CGMiner, BFGMiner, MultiMiner, etc. In addition, this Bitcoin forum may help you: bitcointalk.org. If you want to build an Ethereum mining rig, you can use NBMiner, GMiner, etc.  
Here is a complete guide on how to build a crypto mining rig. With this mining rig, you can mine Bitcoin, Ethereum Classic, or other PoW cryptocurrencies.Click to Tweet
Migrate the Mining Rig System
If you want to set up multiple mining rigs, you can migrate the mining system to other PCs, so that you can save a lot of effort. Here is the guide:
MiniTool Partition Wizard DemoClick to Download100%Clean & Safe
Step1: Connect an external hard drive to the mining rig. Launch MiniTool Partition Wizard. Click on Migrate OS to SSD/HDD in the toolbar.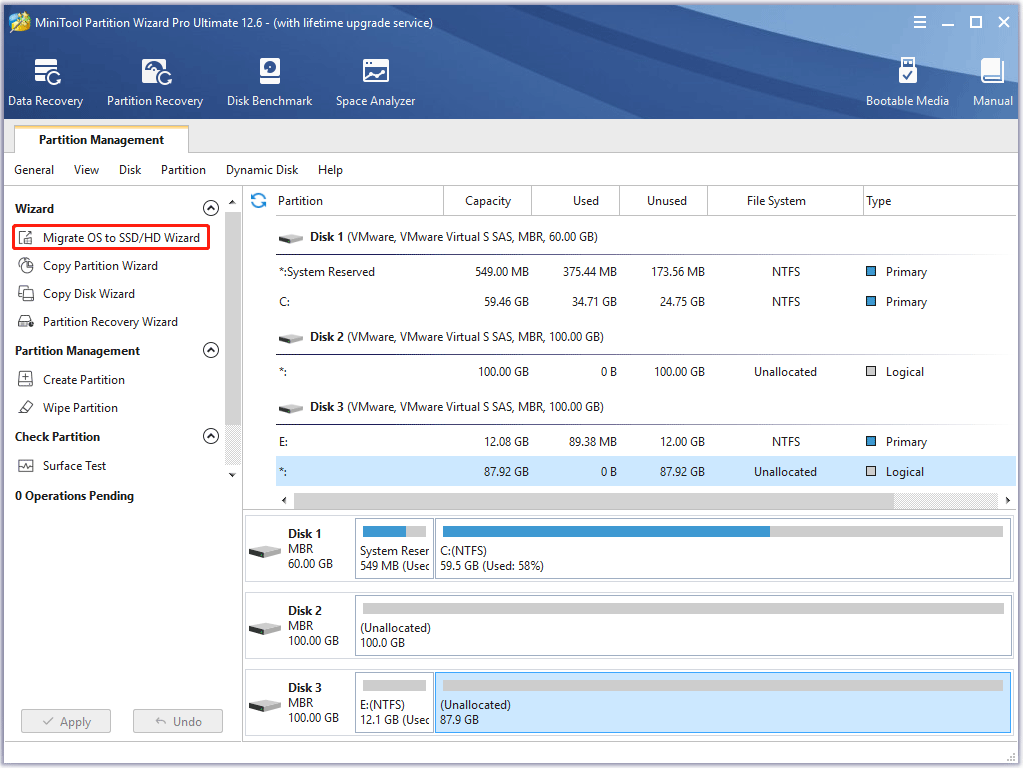 Step 2: Choose the Option A method. It will clone all partitions and data to the new drive. Thus, the mining software can work normally on the new mining rig.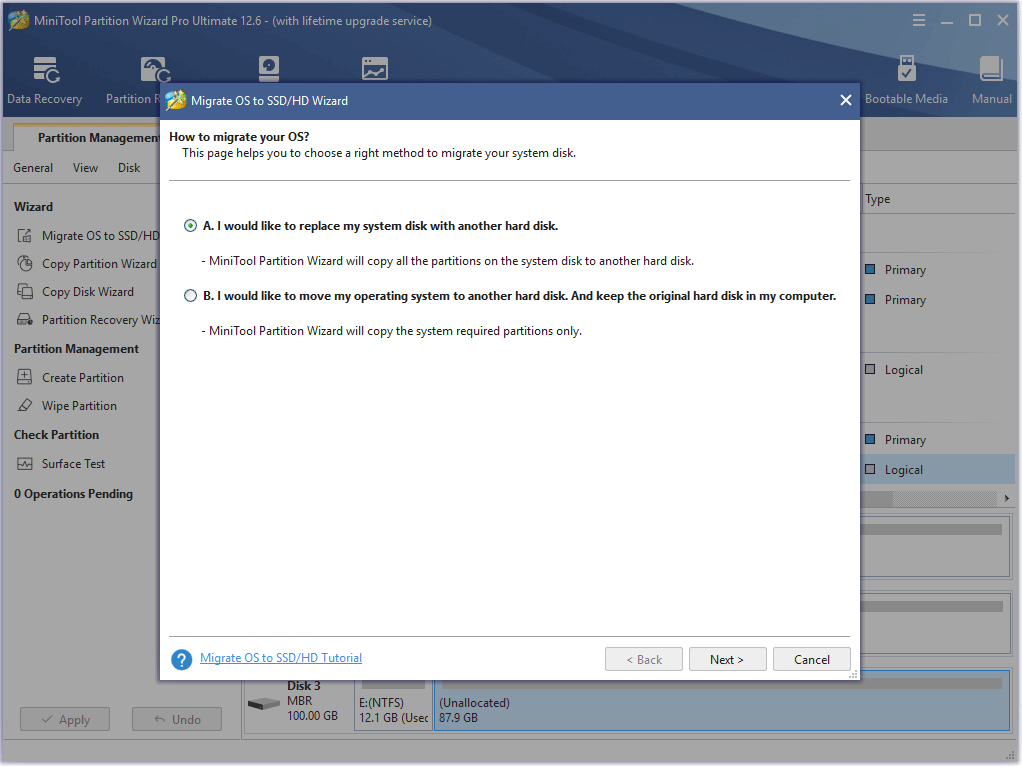 Step 3: Choose the external hard drive as the destination disk and click Next.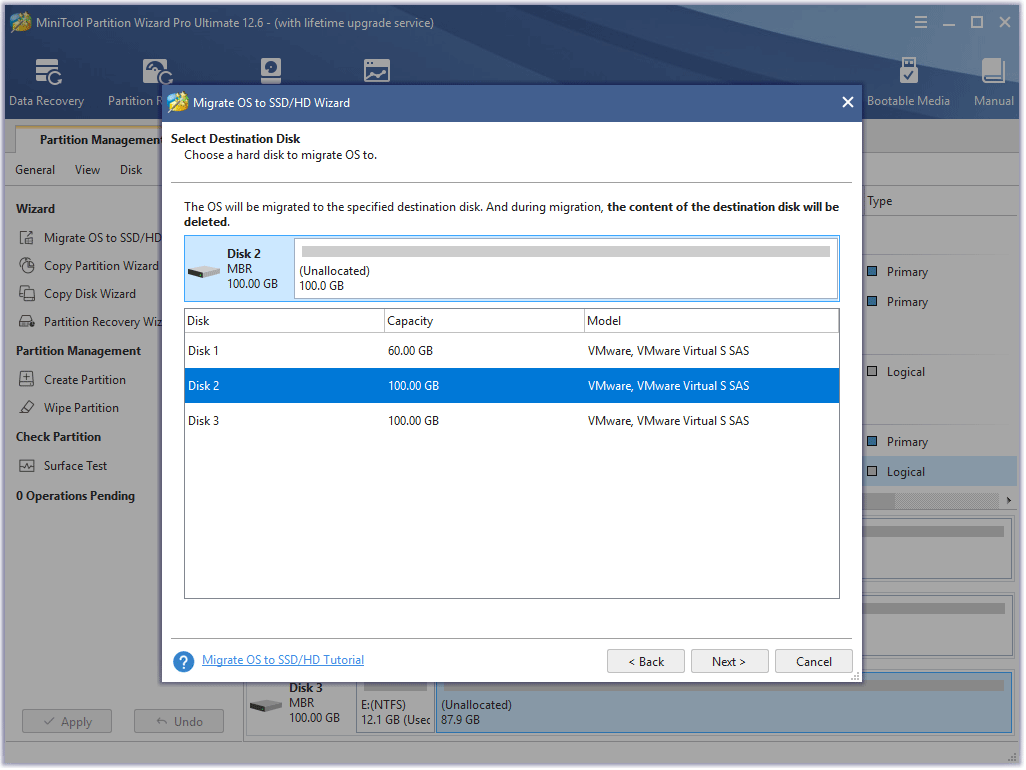 Step 4: On the Review the changes window, keep all to the default options and click Next.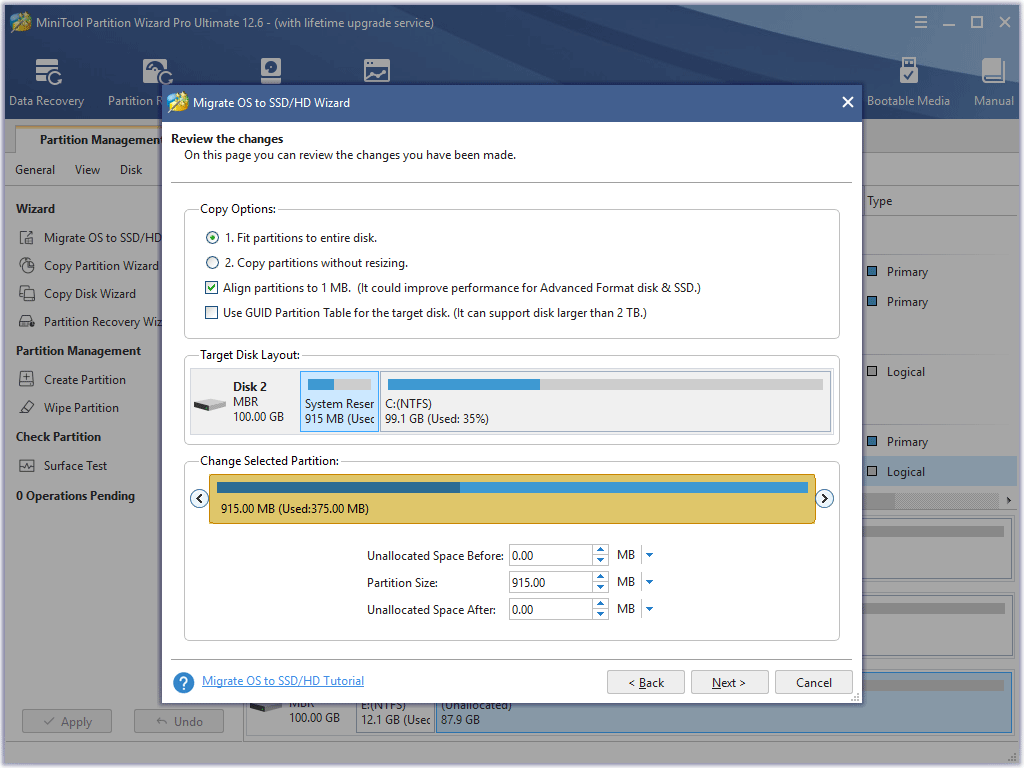 Step 5: Read the note and click Finish. Then, click the Apply button to execute the pending operation. A window may pop up, click Yes.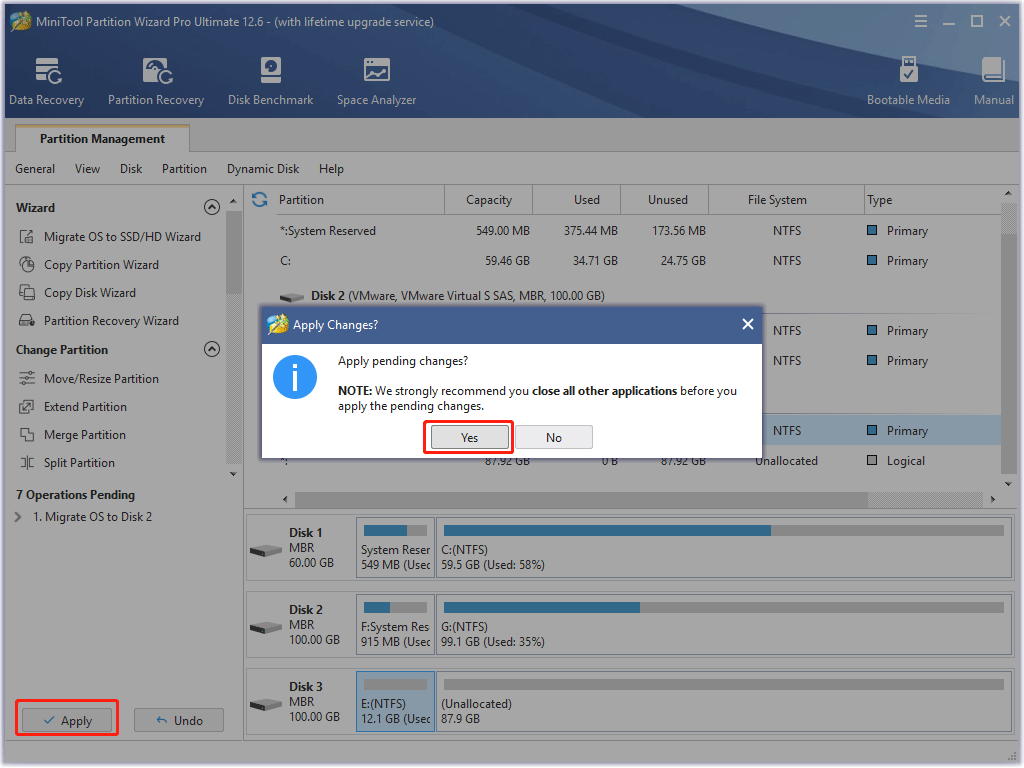 Step 6: Connect the external hard drive to the new mining rig. Enter BIOS and make the new mining rig boot from the external hard drive. Then, go through the above OS migration process to install the mining rig system on the new mining rig.
Bottom Line
Do you have other ideas about how to build a mining rig? Do you know other better ways to calculate the crypto mining profit? Please share them with us in the following comment zone. In addition, if you encounter problems when using MiniTool Partition Wizard, please feel free to contact us via [email protected]. We will get back to you as soon as possible.