Summary :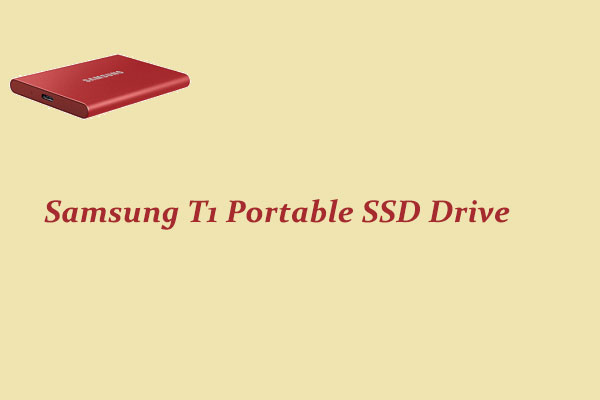 Do you know Samsung T1 portable SSD? In this post I will compare Seagate Backup plus USB 3.0 Mobile HDD 1TB with Samsung T1 USB 3.0 SSD 1TB as well as show steps to well partition a Samsung T1 portable SSD drive.
Samsung Portable SSD T1
Samsung T1 portable SSD has been released for a few years and it once was regarded as another revolutionary portable device. Compared with traditional USB 3.0 removable hard disk, Samsung T1 is different in the following 4 aspects:
Smaller and more lightweight: it measures 53x71x9mm and weights 30 grams while a 1TB Seagate HDD measures 113.5 x 76 x 12.1mm and weights 140 grams.
Improved chip: Samsung T1 portable SSD drive takes 3D Vertical NAND Technology which stacks 32 cells on top of each other to remove previous interfere.
Safer: by default, Samsung T1 contains a safe partition and a storage partition, and users can only see the safe partition before activating the drive. In addition, if users encrypt the device during the process of activating, keep the password in mind, because without typing the code users will see the safe partition only, too.
Faster: it offers up to 450 MB/s read/write speed as well as 8000/21000 IOPS random read/write speed, which is largely due to the use of 3D Vertical NAND Technology. Here are test results of both Samsung and Seagate disk in ATTO, getting the results below: See: How to Measure Disk Performance
Samsung T1 read/write speed: 462.8MB/s and 441MB/S
Seagate read/write speed: 112.3MB/s and 113.1MB/s
Therefore, it is worthwhile to get one. Nevertheless, like using other hard disks, users may meet partitioning problems when using Samsung T1 SSD. For example, a certain partition on the SSD is running out of space. What should users do when these problems emerge?
The best choice is to resize Samsung T1 portable SSD drive reasonably with a professional partition magic. Here is recommended to use MiniTool Partition Wizard for Windows users, which is free but capable of solving most partitioning problems.
How to Partition Samsung T1 Portable SSD Drive with MiniTool Partition Wizard
To manage partitions on Samsung T1 SSD, MiniTool Partition Wizard Free Edition is enough. With its features like create partition, extend partition, resize partition and merge/split partition, you can reconfigure hard drive space on Samsung T1 Portable SSD flexibly.
Besides, you can optimize SSD performance by using its Align All Partitions feature and you can also upgrade HDD to SSD with the popular Migrate OS to HD/SSD function if necessary, which is very convenient.
Here I will demonstrate you how to use this partition magic with its Move/Resize Partition feature. When you find the Samsung T1 portable SSD is partitioned unreasonably, you can use MiniTool Partition Wizard Free Edition to resize SSD partition with ease.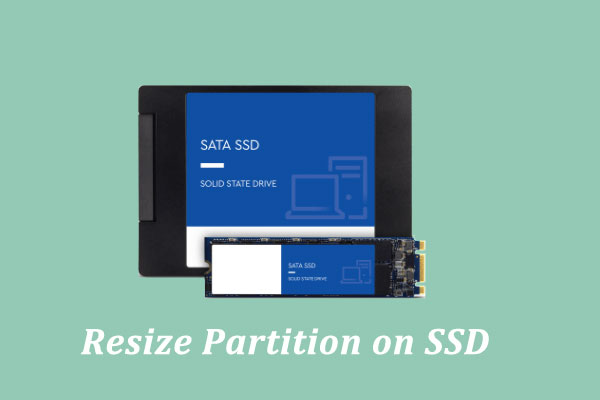 This article will show you how to complete SSD partition resizing in a simple way, especially for the system partition on SSD. Check this post for more information.
It is very easy to use this program and you just need to take the following steps.
Step 1. Connect Samsung T1 SSD to your computer.
Step 2. Download MiniTool Partition Wizard Free Edition by clicking the following button. Install it on your computer and launch it to get the main interface.
Step 3. Select the Samsung T1 SSD partition that you want to resize, and click Move/Resize Partition option from left action panel.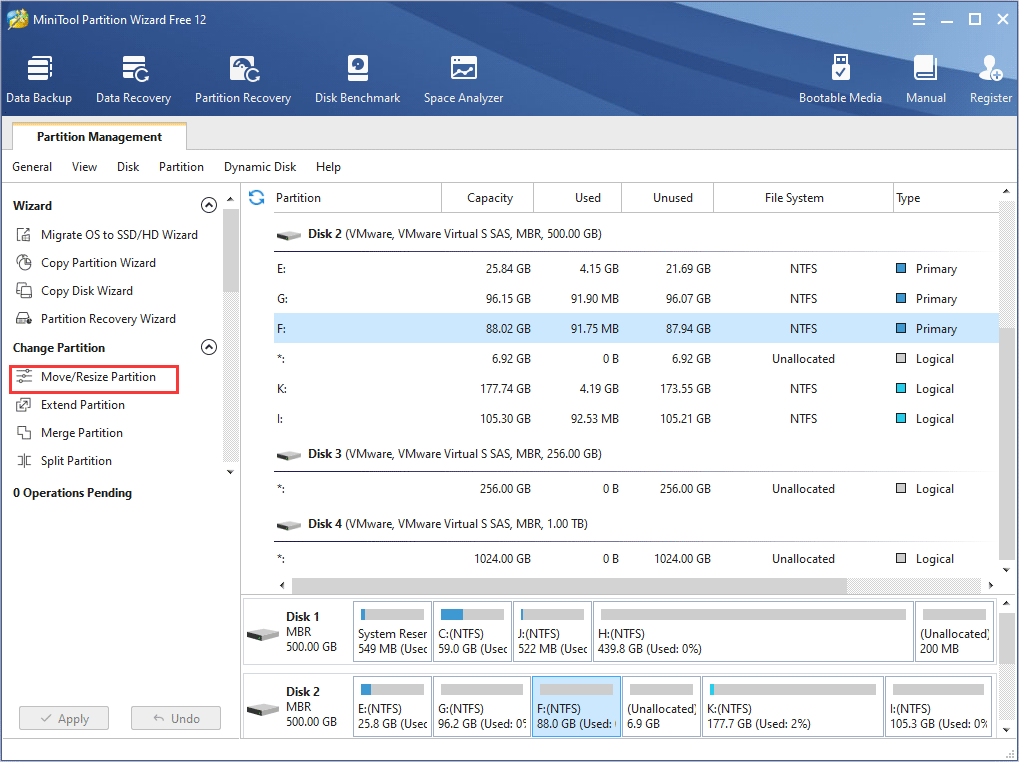 Note: If here is not unallocated space behind or before the partition you want to resize on the disk, you can use MiniTool Partition Wizard's Extend Partition feature to extend partition by taking free space from another partition.
Step 4. In the resizing interface, drag the partition handle rightwards or leftwards to extend or shrink partition. Then, click OK to go back to the main interface.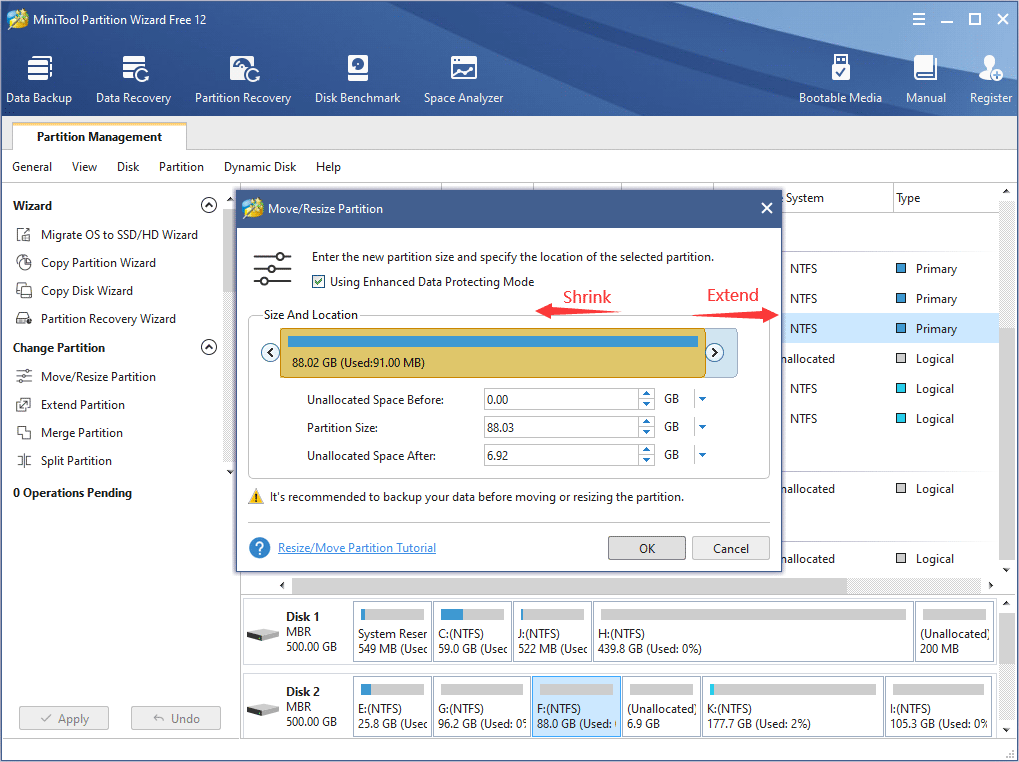 Step 5. Next, click Apply to perform the pending operation.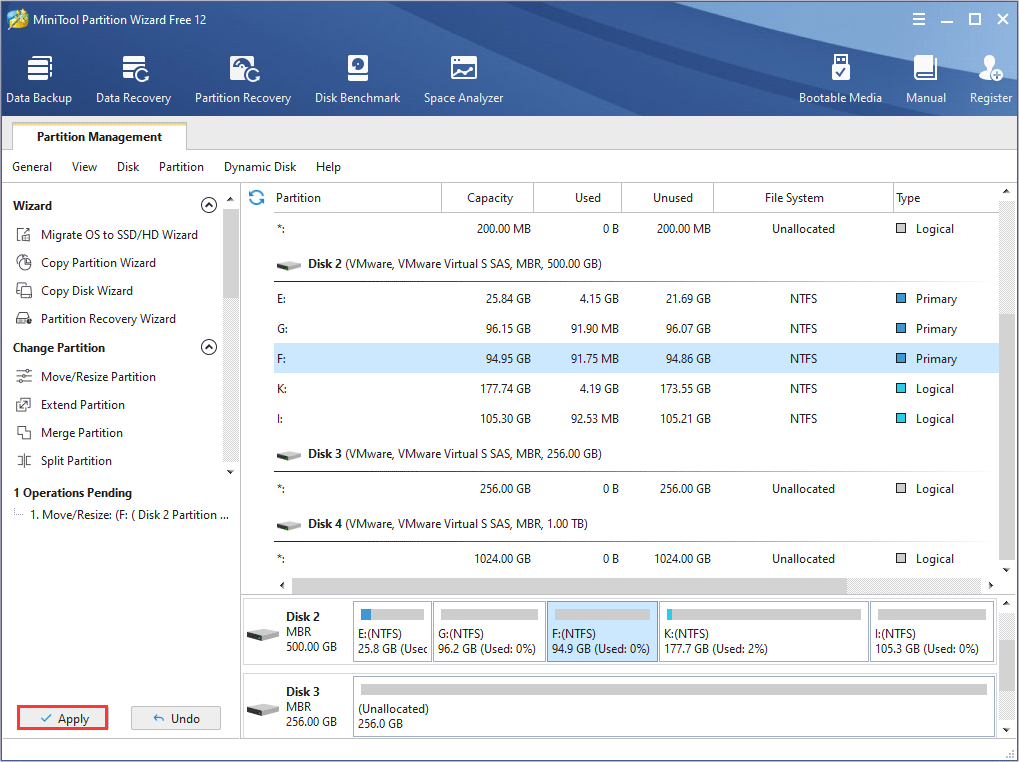 With the help of MiniTool Partition Wizard Free Edition, I successfully resized Samsung T1 SSD drive in just a few clicks. If you are using Samsung T1 SSD, don't hesitate to get one!Click to tweet
Verdict
If you want to resize partition on Samsung portable SSD T1, you can try using MiniTool Partition Wizard Free Edition, which can help you manage SSD partition in an all-rounded way.
If you have any question about how to resize Samsung portable SSD, you can leave a message on the following comment zone and we will reply as soon as possible. If you need any help when using MiniTool software, you can contact us via [email protected].
Samsung T1 Portable SSD Drive FAQ
How do I format my Samsung SSD?
Connect the Samsung SSD to your computer. Download and install MiniTool Partition Wizard Free Edition. On the main interface of MiniTool Partition Wizard Free Edition, select the Samsung SSD and click Fomat from the left action panel. After setting some parameters, click Apply at last to perform the pending operation and format the Samsung SSD.
What is Samsung Portable SSD t5?
The Samsung Portable SSD T5i s newly released and the fastest T-series SSD drive. Samsung Portable SSD T5 boasts a maximum transfer speeds up to 540MB/s for all capacities, which is fast enough. T5 has a compact and durable design and has password protection, which can store your data securely, and it is easy to carry.
What is a portable solid state drive?
Portable solid state drives (portable SSDs) is a kind of portable data storage. A portable solid state drive is extremely useful when you need to use the SSD on different PC or you need to take the SSD with you whenever you go. And compared with portable HDD, a portable solid state drive is lighter, faster, more durable, and use less energy.
Is SSD more reliable than hard drive?
Generally, SSD is more reliable than mechanical hard drive, as SSD doesn't have actuator arms or moving parts. Due to this reason, SSD can withstand accidental drops and shocks, vibration and extreme temperature, while hard drive is fragile under these conditions. So SSD boast better reliability compared with HDD.