As one of the most popular email services, Gmail provides many features that users can use while sending an email, such as adding attachments. However, not all files can be added to an email as an attachment considering the Gmail file size limit. Get further information in this post provided by MiniTool Partition Wizard.
Gmail, a free email service developed by Google, was first released on April 1, 2004, 16 years ago. Nowadays, it is one of the most popular email services in the world.
Gmail enables users to contact their friends, customers, and colleagues via emails. As a user-friendly service, it allows users to add attachments, such as files or photos, to their emails. They just need to go to Gmail and log in to the account. Then click Compose to edit a new email. In the pop-up window, click the icon for Attach files and choose the files to upload. Then click Open to add the selected files.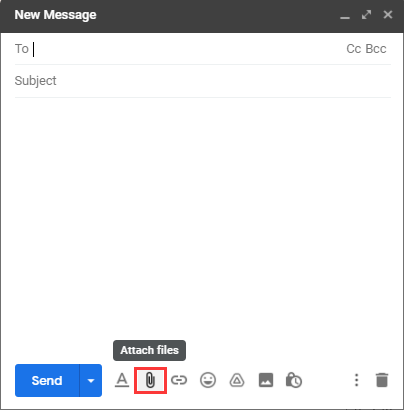 What is the file size limit for Gmail? According to Google, users can receive emails up to 50 megabytes (MB) in size, but there is a restrictive 25MB limit for uploading while they are sending an email. Now here is the problem: How to break the Gmail file size limit and send an email with files larger than 25MB? Here are some methods that you can have a try.
Method 1: Use Google Drive
Google Drive is a cloud storage service developed by Google. It is commonly used to store, synchronize, and share files. Users can get 15GB of free storage through Google Drive.
As you can see, Google Drive has been connected to Gmail. If you try to select a large file while editing an email, the following window "Large files must be shared with Google Drive" will pop up automatically. You just need to click the button "OK, got it".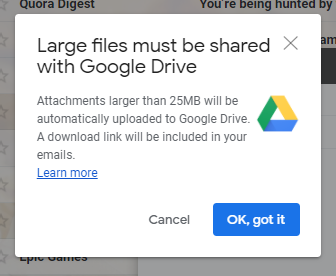 Then the selected file will be uploaded to Google Drive and sent as a link later. When your friend receives the email, they can click the link to download the file.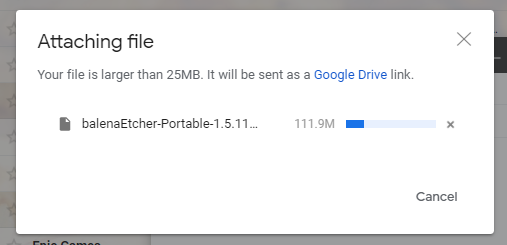 Alternatively, you can also follow the steps below to generate a link that includes the files you want to send at first and then add it to your email.
Step 1: Access the Google Drive service in your browser and log in to your account.
Step 2: Click the button My Drive and select Upload files or Upload folder to upload the file or folder that you want to share to Google Drive.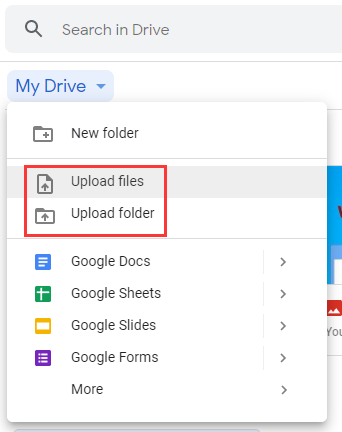 Step 3: Open Gmail and start to compose a mail. In the following window, click the Google Drive button to insert files.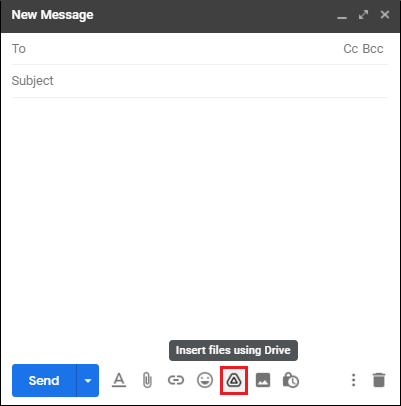 Step 4: In the pop-up window, all the files and folders in your Google Drive will be displayed and you can select the needed file or folder.
Step 5: At the bottom right corner, you can select Insert as Drive link or Attachment. If the selected file is larger than 25MB, the Attachment option will be unavailable.
Step 6: Click the Insert button.
Method 2: Compress Your Files in File Explorer
Another way to get past the Gmail file size limit is to compress your files. If you have multiple big files that need to be sent via Gmail, you can follow the steps below to compress them into a zip folder.
Step 1: Press Win + E to open File Explorer.
Step 2: Navigate to the location where the target files are stored and hold the Ctrl key to select them all.
Step 3: Right-click the selected files and select Send to > Compressed (zipped) folder.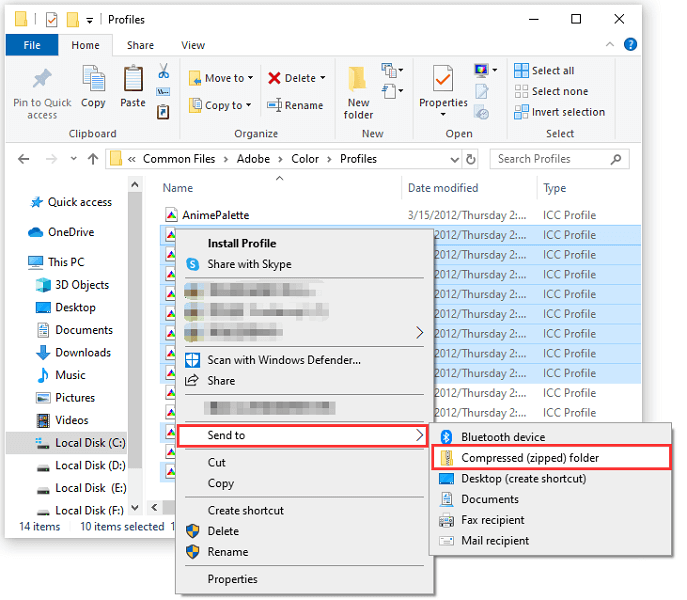 Then you can upload the zip file as an attachment to your mail. Unfortunately, your files can be reduced the size by about only 30 percent. If the zip file is still too large to upload, you have no choice but to use the cloud storage to add them to your mail.